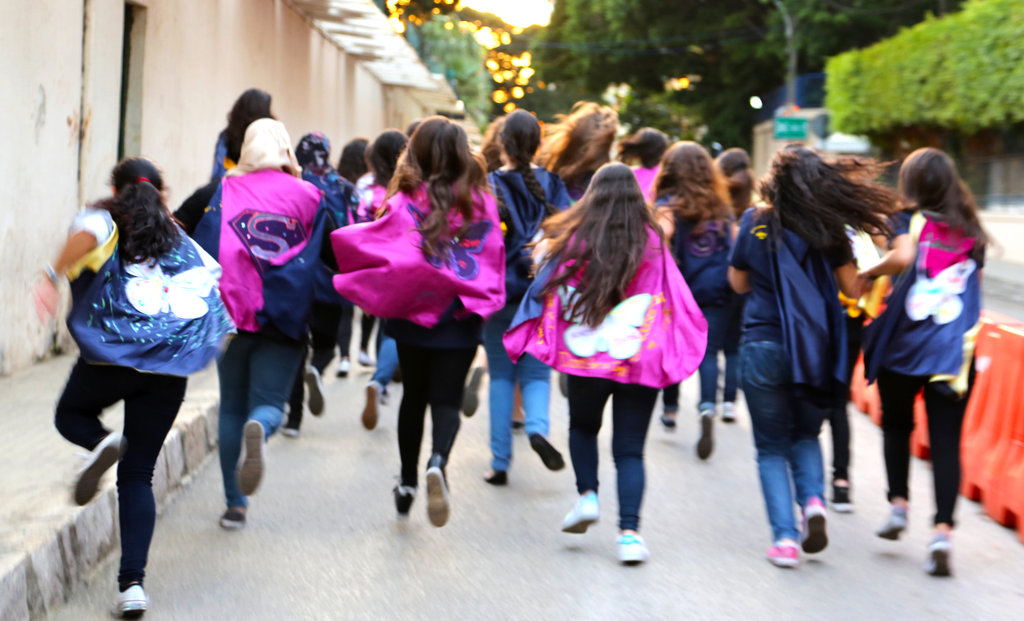 What does it mean to be a hero? I think most of us have an inflated idea of what it actually takes to be a real-life super hero. I've personally seen a lot of heroism lately from people who would not consider their own actions worthy of a cape, but who's everyday contributions make the world a safer, kinder and more Awesome place!
These caped crusaders are people who contribute their time, resources and heart, to support the things that are important to them. They don't get discouraged when they hear a story of need. They don't allow what they can't do, to get in the way of what they can do! They take action! You action takers are really the ones who make the biggest difference in the lives of people, animals and planet. Someone who cares about an issue and contributes in any small way that they can is a community HERO! and in my eyes you deserve a cape!
Our Global Sorority team has just returned from Lebanon where we delivered our elements of SUCCSESS Leadership education program in Beirut. Girls from two separate schools and the Bourj el-Barajneh refugee settlement received training and resources to help them live to their full potential and gained the tools and confidence to contribute back to their own communities. It was a beautiful and eye opening experience and our first mission to work with girls in the Middle East.
Lebanon is on pins and needles at the best of times, but given their relationship and close proximity to Syria and Israel, things are particularly tense at the moment and they are now dealing with ISIS encroaching on the northern border. So going there at this time was a risk we had to strongly consider. We collectively decided that all the hard work and funds raised to make this outreach a reality was worth the personal risk.
Lebanon is considered advanced in many ways compared to other countries in the region, but talking to the girls and young women about what it's like to live there, we learned a few things we didn't know.
Some facts that came up in conversation that seemed to bother most women were as follows.
It takes two women to bare testimony as eye witnesses in place of one man, marital rape is legal, girls are expected to be home makers regardless of education or personal desires, a Lebanese woman can not pass-on her nationality to her children if she marries a foreign national, but a Lebanese man can. We interviewed Lydia Canaan a musician, artist and UN Delegate, who told us when she was a girl she looked forward with excitement for her brothers birthday, because this day was exuberantly celebrated in the family but her and her 5 sisters birthdays went by completely unnoticed.
Girls are also prevented or discouraged from leaving Lebanon to go to university. One incredibly bright and gifted student told me that her parents didn't want her to go to college in the US despite the fact that she was being educated in an American school in Beirut. As she stated matter-of-factly. "It's because it's not safe for girls there" I found this statement to be fascinating, because we were trepidacious to come to her country for fear of war and violence, and they are afraid to send their daughters to us because it's not safe for girls… MY first internal thought was "really?" But when I think critically about this, I don't blame them! Given our rate of sexual assault amongst college age girls. According to The American Association of University Women's (AAUW) website "the chance of a woman being sexually assaulted during college is about the same as her chance of catching the flu during an average year" not to mention the CDC study that claims 1 in 4 teen girls in the US has a sexually transmitted disease. The rate of self harm is alarmingly high 1 in 5 girls will engage in self harm. And eating disorders are rampant with 25% of college-aged women engaged in bingeing and purging. And the list goes on! We have a whole set of issues and problems that from the outside seem much scarier to Middle Eastern parents than their own traditional paternally based inequalities. It's easy to look at the unfamiliar and criticize, whilst turning a blind eye to what seems normal to us.
This means we have to take a long hard look in our own back yard, instead of looking as far away as the Middle East and shaking our heads about the state of affairs for girls and women. Right here in North America girls are in need of support. It's our priority moving forward to offer more local programs for girls and young women in the US and Canada and you can make that possible by supporting our US initiative to become a 501c3 organization in the US. There are many advantages to donating this Giving Tuesday December 2, 2014
On top of all the great benefits of giving that day, matching funds of up to $500 per donor are available for a few minutes twice during this 24 hour period! So you can double your donation! Here are the times you can log in to meet your match! 00:00:01 PST / 03:00:01 EST / 08:00:01 GMT and end December 2, 2014 23:59:59 PST / December 3, 2014 02:59:59 EST / 07:59:59 GMT. Last time Microsoft's youth spark campaign did a 100% matching day the funds ran out in 6 minutes. So hopefully one of your super powers is being as fast as the speed of light!
Speaking of speedy our co-founder Loretta Cella and our community partner Sarah Jamison founder of RUN4ACAUSE Actually ran in the Beirut Marathon whilst we were there working! They both completed the 42k and did extensive fundraising during the lead-up to bring Global Sorority's programs to the girls in Beirut and a local school in Surrey BC where teachers also donated their time. HEROES!
The teachers from the Heritage School spent an extra 3+ hours each night after school to transport the girls to our program and contributed to our class for two weeks! Except on one day when the girls were in lock-down in their neighborhoood because of a religious holiday. HEROS!
The teachers and staff at the American Community School at Beirut organized and donated their classroom space and will be helping the girls moving forward with their community projects. They also brought us and introduced us to the refugee community of girls that they volunteer with . HEROES!
And to all of you who make this work possible! Our everyday community action heroes that definitely deserve a cape! Thank YOU!