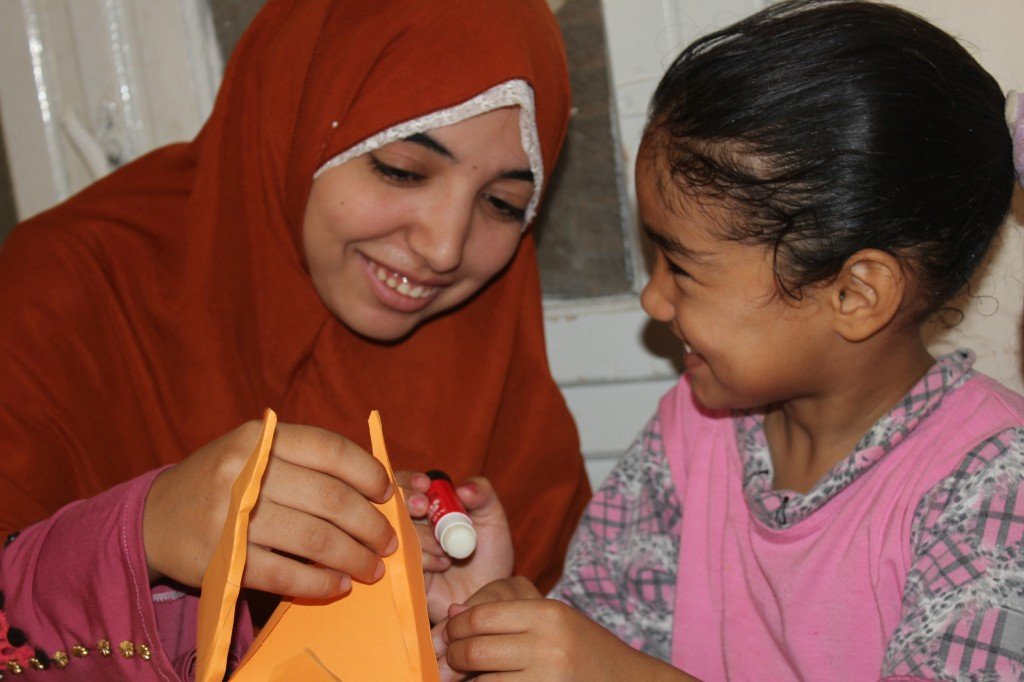 Many times, art can divide, with particular designs and motifs singling out one group of people as opposed to another.
But art can also unify. In fact, many of the Valuable Girls' day-to-day activities use art to teach. For example, making model pyramids in Big Sister-Little Sister teams is a way of conveying both artistic skills and pride in Egypt's shared heritage.
Here's the surprising way these values changed the life of one Valuable Girl, Dima, who approached me with this story:
"My university professor asked our class to make a drawing for our exam. He told us to choose between an Islamic design and a Coptic design. All the Muslim students chose the Islamic design and all the Christians chose the Coptic one.
"Everything I'd learned came rushing back to me, and I started thinking about how we're all the same regardless of religion."
"I told my classmates that I was choosing the Coptic design and that I'd need partners. I started talking with them about Valuable Girl and the trainings we had there, and I gave them a summary of what I had learned. I saw people changing — they were touched by what I said."
Dima said the resulting conversation gave her "a very nice feeling, the first one like it I've ever had in my life."
"Most Muslim students changed their mind and chose the Coptic design, and so did the Christians. The students kept applauding me and I was over the moon. I felt change was possible. I'd never have imagined that I could speak confidently in front of all these people and earn their admiration."
"I can't believe that me, Dima, who used to say everyone should stick to friends of their own religion, could do all that."
Dima's story embodies much of what the Valuable Girl Project aims to contribute to each girl's life. As individuals, the project boosts their belief in themselves, and their capacity to do things they never dreamed possible. As community members, the Valuable Girls are encouraged and prepared to create bridges that join people from different backgrounds.
Multiplied across project sites and hundreds of participants each year, the Valuable Girl Project is building respect from the grassroots up, powered by brave and creative young women. Thank you for your generosity, which makes it possible.