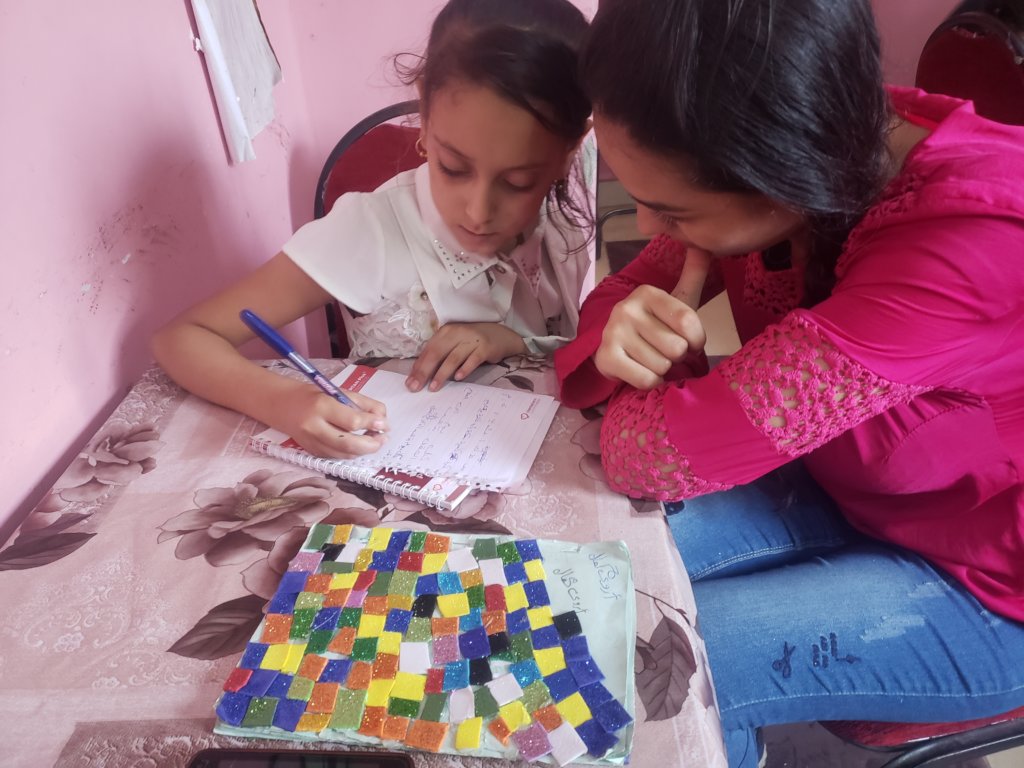 Several studies have proven that incorporating engaging and fun exercises in lessons increases the probability of students' knowledge retention after class time. Unfortunately, methods aimed at increasing student retention are not part of the curriculums used in the Egyptian educational system. Due to overcrowded schools, limited resources, and outdated curriculums, Egyptian children typically do not expect to have any "fun" in school. Rote learning is all that is expected and enforced.
For this reason, the Valuable GIrl Project designs distinct activities aimed towards building a lively, engaging, and fun experience for its participants.
The Valuable Girl Project incorporates diversified tools and activities in Big and Little sisters' mentoring sessions to make learning a truly enjoyable experience. First, the Valuable Girl Project cultivates and nurtures safe spaces where Big and Little Sisters feel emotionally secure, valued, and free to interact with their peers on a more personal level.
Second, all programmatic activities incorporate one-on-one interaction and are age apprioriate; activities include playtime, singing, arts and crafts, trivia, journal writing, special projects, team presentations etc.
Big Sisters, in particular, are always keen to find the next most engaging exercise or "challenge.". Together, Big and Little Sisters are comfortable enough to create their own world where they overcome artifical barriers and learn to be themselves. Valuable Girls discover their talents, improve their study and writing skills, acquire new abilities and internalize positive attitudes that will nurture their growth as women and as citizens. The changes observed in self-confidence and optimism levels have been widely observed and noted by family members and school teachers.
For example, we bring to you Nemaa's story and the changes her mother noticed after Nemaa joined the Valuable Girl Project as a Little Sister at the Qena site. Nemaa's mother shared the story with Coptic Orphans in her own words:
"I'm Salwa. I have been a teacher for over 20 years. I teach Arabic at a primary school where my daughter Nemaa is also enrolled. Nemaa is my youngest child. Her grades were consistenltly mediocre to poor although I've tried every possible study method to help her improve. At the beginning of 2017 school year, I learned that the local community development center in our neighborhood hosted tutoring classes for free. I immediately enrolled her in the tutoring classes. Honestly, I thought Nemaa would most likely get bored from the activities and would quit like she had so many times before.
But I was surprised this time. I found her to be so committed and eager to attend each and every session on time, and never letting anything take precedance over her meetings/sessions with her Big Sister. I was so surprised by Nemaa's improvement at school, and her new attitude at home that I decided to visit the CDA where Nemaa receives her tutoring. When I visited the CDA, I found an interactive and friendly learning environment. I met this intelligent, mature, and polite young lady who served as Nemaa's Big Sister. She walked me through their study exercises and discussed all the teaching strategies she would use to keep Nemaa engaged and focused, particularly in the areas where she was weak.

After speaking with her for over an hour, I immediatey recognized that so few of these advanced learning strategies were used in Egyptian classrooms; I know -- I am a teacher and had always been trained to use lessons that focused on rote learning. The lessons used by the CDA were entirely focused on bringing the child's focus to the lesson through a fun or engaging opener like a brain teaser, or trivia, or an icebreaker they could do with their peers.
So, believe it or not, I asked CDA's Management if I could borrow some of the lessons in their curriculum for my own use in the classroom. Most importantly, I was so grateful to the staff and to Coptic Orphans for doing something different in Egypt -- finding ways to motivate our girls to be the very best they could be."
In time, Salwa volunteered to become an Ambassador for the Valuable Girl Project in her district. She encouraged other mothers to enroll their daughters as Little Sisters, so they could receive the same academic support, personal mentoring, and self-esteem training. Salwa knew this program was not only vital for her daughter's growth but also for the girs who were her daughters' peers who also received the short end of the stick due to the deficiencies of the local school systems.
Thanks to Salwa and her daughter and the hundreds of other girls who have participated in the program, the Valuable Girl Project continues to broaden its reach in Egypt, giving thousands of girls the opportunity to unlock their potential, fulfill their dreams, and in turn, garner respect from their families and communities.