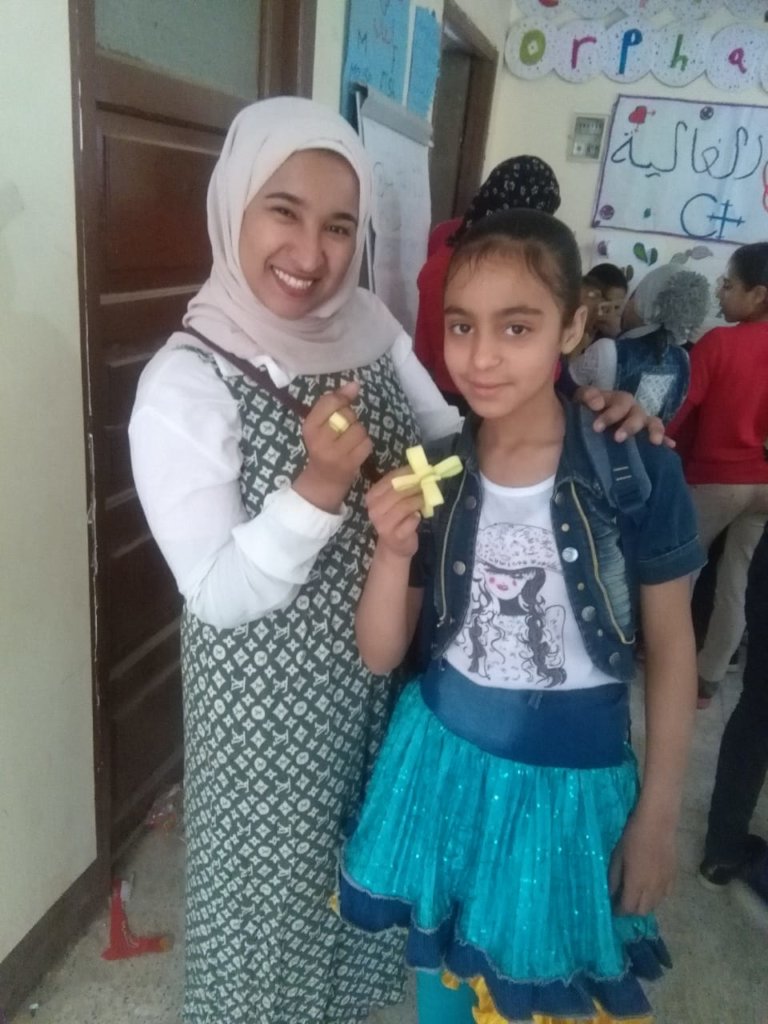 The Valuable Girl Projects aims to build a culture of tolerance and appreciation by celebrating the days of observance / religious holidays for members of both faiths.
Themes of religious tolerance and engagement have been central in international development, particularly in the Middle East, where minorities are still at risk of being targeted.. Despite global efforts to create safe spaces for all religious affiliations, communities still suffer from gaps in knowledge about people of an alternate faith and few opportunities exist for positive engagement. The lack of civil society actors sponsoring community events focused on dialogue and celebration of share identity also contributes to an environment where prejudice against minorities prevails.

On this point, the Valuable Girl Project stands out as an innovative program in Egypt, a part of the Middle East where religious tensions are still high. Based on a mentoring relationship that pairs Little and Big Sisters (of both faiths), Valuable Girl incorporates the critical theme of celebrating the identity of the other. Site teams use religious occasions, including Christmas and Ramadan, to teach the girls how to learn about their sisters' faith and develop a true bond of affection with each other.
For example, in April and May of this year, both Christian and Muslims sisters celebrated major holidays with each other. Just recently, Copts celebrated Palm Sunday and Easter. On Palm Sunday in particular, Copts collect the leaves of Palm trees to decorate their homes and their churches in honor of Christ's entry into Jerusalem. Parents and children typically make crafts together and have them blessed during Palm Sunday services.
This year, we were pleased to see all of our sisters, at each of our 16 sites, make beautiful crafts with their Muslim sisters. One of the Muslim Big Sisters said "It's the first time I've ever used palm leaves to make handicrafts. Every year, I used to see the palm leave decorations in the street but never really understand why they were there or how they were made. Now I know and it was really a lot of fun." Our sisters made necklaces and bracelets for each other and genuinely enjoyed the opportunity to be creative.
Similarly, just this month, all 16 sites are celebrating the month of Ramadan. During Ramadan, the streets of Egypt are even more animated, with decorations, bright lights, and joyful gatherings at every corner. Our Valuable Girls joined in the festivities. Together, they celebrated Ramadan's Iftar (a meal that breaks the day's fast at sunset) and also participated in acts of service to benefit the more needy members of the community.
For example, the Big and Little Sisters (Muslims and Christians) took it upon themselves to use their saved allowances towards the purchase of food supplies for poor families who did not have enough for an evening meal. This exercise showed that the Girls, rather than concentrating solely on their own enjoyment, used the holiday to bring relief to neighbors of both faiths. Moreover, our Valuable Girls refused to take any photos of their service activities during the month, in order to protect the identity of recipient families and prevent any awkwardness or embarrassment.
One of our Muslim sisters said "My father passed away 5 years ago. Since he died, I've haven't really felt the joy of Ramadan, but now with Valuable Girl, I feel happier and some of the joy I used to feel when he was around."
In closing, we're grateful that more than 450 of our girls participated in Ramadan Iftar meals, and we still have many more gatherings planned.
Also, local newspapers covered Valuable Girl's Ramadan Iftar meal in Assiut. Community religious leaders also praised the Valuable Girl Project impact and the role the program played in unifying communities.

Together, these young girls have shown adults in their community that it is very much possible to honor neighbors of different faith and use Days of Observance to celebrate shared identities, not only as Egyptians but also as children of God.
We're continually grateful to our sisters and their families. We're also grateful to the partners who make the creation of this safe possible. Of course, we believe God, who loves all His children, has blessed our work and made real progress possible in a social issue that many believe to be intractable.