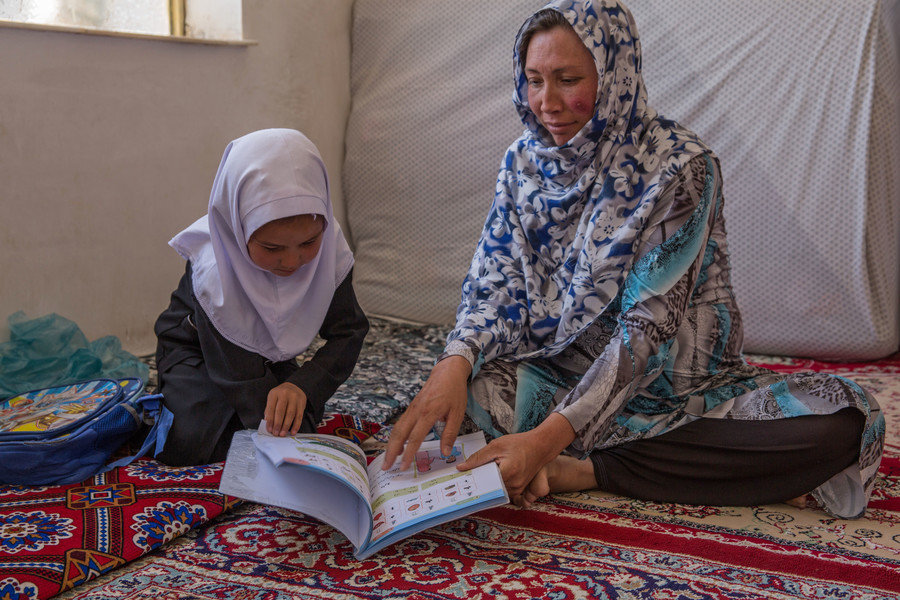 Afghanistan is one of the least developed countries in the world. For decades, conflict, terror and poverty have shaped people's lives. The education system has also suffered: many children cannot attend school regularly because the situation is too uncertain. Over 60 percent of the country's adults are illiterate.
Street signs, the names of businesses, the numbers on their phones. Fatima wasn't able to read any of that. "It was so humiliating," says the 31-year-old woman from Afghanistan. Until recently, she was one of over 750 million illiterate people in the world. These are people who can neither read nor write.
The war uprooted Fatima's family; forced them to leave their home village. Going to school, learning to read, write and do arithmetic - there was no room for that in her life on the run. Like many girls in Afghanistan, Fatima married early.
The aid programme gives Fatima courage: Thanks to World Vision, a member of the German alliance Aktion Deutschland Hilft, Fatima got a new chance!
Today Fatima lives in a camp for internally displaced persons in the west of the country. World Vision supports the refugees - among other things with an educational project for children and mothers. When Fatima heard about that, she was one of the first to register. "I was so excited," she remembers.
The aid programme is aimed at children between the ages of five and ten. Mothers like Fatima are also taught in the classroom next door: Helpers teach them about child rearing and hygiene. And the women gradually learn all the letters and numbers.
Fatima is happy that she can now help her little daughter Nikbar with her homework.
As a woman who can read and write, Fatima is discovering the world anew. She looks to the future with gratitude and confidence: thanks to her schooling, her daughter will later start her adult life with numerous opportunities.
Thank you for supporting the work of our Alliance with your donation!