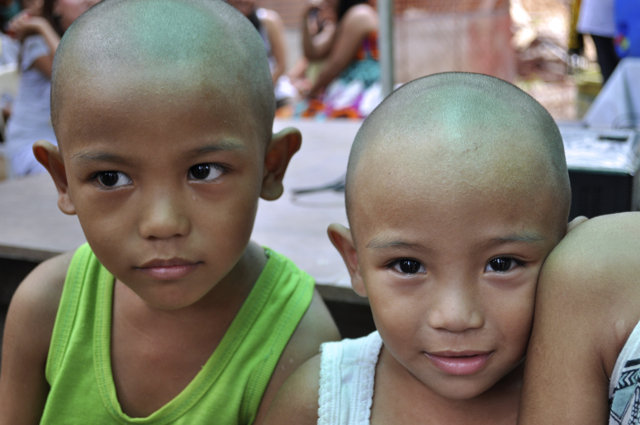 Ryan and David are brothers. They live in a shack by the rivers and when floods come they need to evacuate. But their nearest evacuation centre is miles from their home. That means that in the past they've had to walk for over an hour in the pouring rain to reach safety.
Their parents would love to live somewhere safer, but they can't afford to move. So they cling on living by the river.
Before the disaster preparation efforts that you've helped fund, the family lived in fear of the rain. They never knew which rain storm would lead to a flood, when they should evacuate, and if anyone would be there to help in the event that they were trapped in their home.
Now, thanks to the funding you've provided, David and Ryan's family takes part in community based disaster preparation. That means that, during rain storms, they receive text updates on the river level which let them know when they need to evacuate, they participate in disaster preparedness training, and, after the flood, they know how to stay safe and healthy.
Your generosity means that David and Ryan's parents know how to keep them safe during floods, but there are hundreds of other families in their area who face the same risks but haven't yet received disaster preparedness training. We hope that, this Christmas, you'll help us change that.
When you set up a monthly recurring donation between today and the New Year GlobalGiving will match your gift, and we'll be able to help families like David and Ryan's prepare to survive the multiple floods that affect them every year.
We hope you'll consider setting up whatever monthly donation you can afford to support families like David and Ryan's.
Not ready to commit to a monthly donation? No problem. Whatever its size, your one-off gift will help vulnerable families learn to survive floods.
Thanks so very much - and, if you're celebrating this year, we wish you a very Merry Christmas!