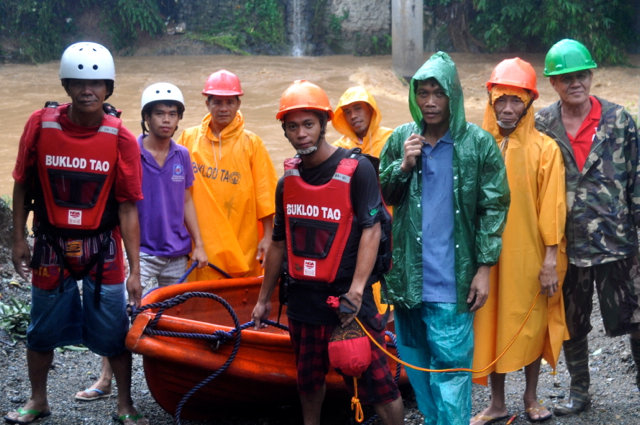 During the week starting August 18th, a nearby typhoon caused the normal monsoon rains to go into overdrive. It rained for almost five full days – more than a month's worth of rain fell in August 19th alone.
Rivers were already at bursting point on August 19th, and as rains continued thousands of residents were forced to leave their homes. In Banaba alone 2,300 people found themselves in overcrowded evacuation centers.
When the waters began to rise and forced families to evacuate, the systems you've funded sprang into action. The mothers of Buklod Tao assessed the needs of families in the evacuation centres and opened their community kitchen to feed evacuees.
Meanwhile, Buklod Tao's flood warning system was activated. This simple but effective system was devised by community leaders and streamlined by your generosity. Basically, designated river waters check on the river's height and then text that information to the president of a local people's organisation named "Noli".
Noli then uses the FrontlineSMS system to text-blast community response teams to let them know how severe the floods are and where help is needed. Those teams then alert their designated areas about water levels and the need to evacuate. The teams also respond to any emergencies.
Your donations made the setup and use of the FrontlineSMS system possible. Previously messages could only be sent to a few people – now each message is received by hundreds of people in parallel, allowing much faster and wider dissemination of life-saving flood warnings.
Thanks to these investments in helping Banaba prepare for disaster, not a single life was lost during the most recent floods! We've now seen the disaster risk reduction measures you made possible in action first hand – and they work.
The rains are gone for now, but they're sure to return. As we keep working hard to get Banaba ready for the next floods, we wanted to thank you for making these investments possible! Without you, the last flood would have been so much worse for thousands of people.
As always, if you have any questions about how we're using your donation to change lives here in Banaba, don't hesitate to email Emma@IDVolunteers.org. We'd love to hear from you!
Thanks again for all you've done, and very kind regards!