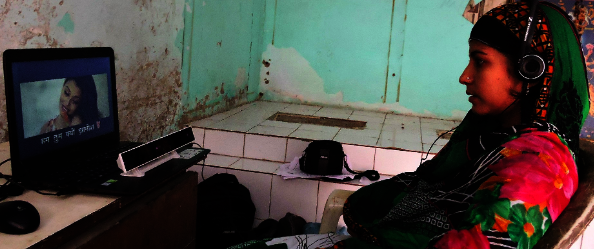 Facebook Research recently announced the winners of their Global Literacy & Accessibility Challenge, and one of the four winners is PlanetRead founder Brij Kothari's proposal, "Eye-tracking of Same Language Subtitling on Film Songs and Dialog." We are very grateful for this award, which will support PlanetRead's development of eye-tracking research on same-language subtitles for televised films and songs.
As Facebook Research notes, the awards, given to PlanetRead's proposal and three other studies, will support "new and innovative research to understand and address global literacy and accessibility issues."
Half a billion people in India are "early literates" whose quality of basic education and digital access is severely compromised. PlanetRead has been working to solve this problem with a well-researched solution that can potentially transition a majority of early literates to functional reading: same-language subtitling (SLS), which involves subtitling audio-visual content word for word, in the same language and script as the audio.
Studies have found that regular viewing of existing film songs on television with SLS results in reading skill improvement. Within two to three years of frequent exposure, without conscious effort, an early literate who can only make out letters can transition to a functional reading ability; the brain cannot help trying to match sounds with text that is perfectly synchronized.
Most of the existing research on subtitling relates to second-language learning and or media access, but only a handful of studies have explored subtitling's links with basic reading and literacy. Thanks to the Facebook Research Award, PlanetRead will be able to add to studies measuring the effectiveness of SLS.
PlanetRead will explore the following research questions: How much reading along occurs with SLS on film songs and film dialog? Does reading along depend on the person's existing reading ability and/or prior knowledge of the song lyrics or dialogue? We propose to use eye-tracking software to measure the viewing of film songs and dialogue by 200 early literates. To determine the quantum of reading caused by SLS, the same content will be shown with and without SLS.
According to Facebook Research, findings from all four award recipients' studies will be presented in California later this year and "will be shared publicly with the research community." We look forward to sharing our findings with our supporters as well.
Links: