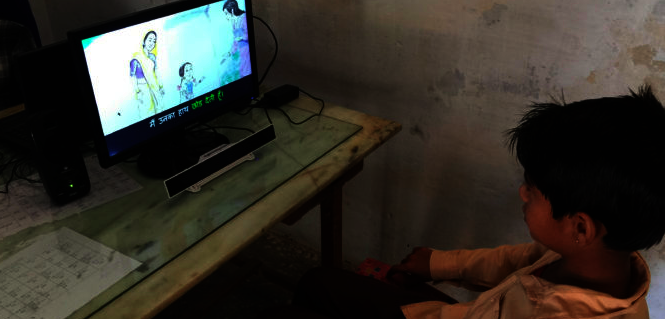 PlanetRead founder Brij Kothari was recently featured in the Harvard Economics Review blog with a post about two studies measuring the efficacy of same-language subtitles (SLS) to improve reading ability in Indian schools.
"The Reading Revolution Will Be Televised" describes one study measuring whether children pay attention to SLS when subtitles appear on animated stories ("AniBooks" created by PlanetRead's sister company BookBox) and a second study investigating whether the addition of SLS leads to improved reading ability.
As the post describes, thanks to the 2009 Right to Education Act, India has been extremely successful in getting school-age children into classrooms, but far less successful in teaching them to read in those classrooms. Kothari estimates that half of the children in grades 1-5 are falling behind in reading and are likely to remain functionally illiterate—unable to read at a second-grade level or better—unless action is taken to help them.
PlanetRead's first study, supported by USAID and Tata Trust, followed children at a government school in Rajasthan. Using eye-tracking, PlanetRead researchers found that even those children with the weakest reading skills were automatically drawn to reading along with SLS. The study demonstrates that adding SLS to children's cartoons on television could offer inescapable reading practice for the vast majority of India's children who watch children's television programs at home.
The second study investigated whether reading along with SLS would result in improved reading skills. PlanetRead researchers worked with children at low-income schools in Delhi, with half the schools getting regular classroom exposure to AniBooks with SLS and half serving as a control group. As Kothari explains, "The AniBook intervention alone contributed an additional 70% of an entire school year's achievement in reading score."
Read "The Reading Revolution Will Be Televised" for all the details of PlanetRead's ongoing research, and please consider supporting our work to advance the cause of same-language subtitling for literacy!
Links: