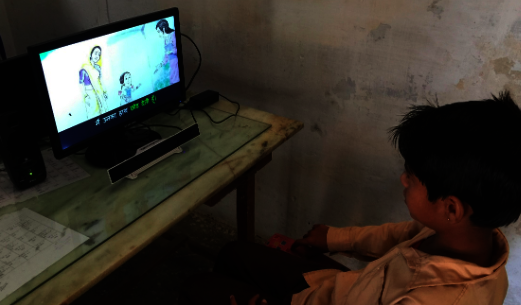 For many years, PlanetRead has been working to convince governments, teachers, parents, and anyone who would listen that same-language subtitling (SLS) of media content could make significant improvements in viewers' literacy rates.
This summer, the good news has been spreading. In May, former UK education secretary Justine Greening observed that even a parent who is "not a great reader" can help a child become a better reader by taking one simple step: turning on the subtitles on television.
Social innovators Oli Barrett MBE and Henry Warren heard about Brij Kothari's research on same-language subtitling for literacy and began to wonder about this simple "life hack." They approached the National Literacy Trust, whose director, Jonathan Douglas, agreed that evidence shows the effectiveness of SLS.
In July, Oli Barrett published an article advocating for a "Turn On the Subtitles" (TOTS) Campaign in the UK and urged others to share it. Quoting Brij Kothari's statement, "If you want to teach a nation to read, just turn on the subtitles," Barrett has emphasized the need to encourage broadcasters to subtitle more media content—a longtime goal of PlanetRead's work.
"When I found out about the powerful link between subtitles and literacy, I couldn't believe more hadn't been done to join these dots," Barrett told the Manchester Evening News.
Other publications in the UK and Australia are helping to connect those dots at last with stories about PlanetRead's research and Barrett's ongoing campaign to support SLS. It's exciting to see word get out about this simple, scalable literacy solution!
We hope you'll support our efforts to expand same-language subtitling in India—and we would love it if you would share one or more of the articles in this report with friends, family, and followers. Thank you for supporting SLS and PlanetRead!