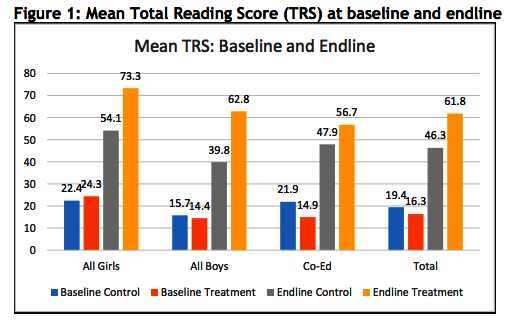 Since July 2016, PlanetRead has developed forty leveled AniBooks in Hindi, ten each for grades 1-4 (roughly ages 6-10), to help children become better readers. AniBooks are animated stories with same-language subtitles; each word in the subtitles is timed to appear as it is spoken in a recorded narration. Our goal was to integrate AniBooks into schools and then evaluate the impact of AniBooks on the reading abilities of children from very low-income backgrounds.
Over a seven-month period, in five schools in rural Delhi that had been selected to receive the AniBook intervention, teachers showed AniBooks in class three times a week. A control group of five schools with similar student populations received no AniBook exposure.
The reading skills of the children in both the treatment group and the control group were measured at the beginning of the study. The baseline measurements showed that the two groups had comparable reading abilities, with the mean scores of the control group slightly better than those of the treatment group.
After seven months, the children in both groups were tested again. All the children had made strides in reading, but the target group's reading scores had substantially surpassed the scores of the control group. The control group's mean scores went up by 26.9 points, while the treatment group's mean scores went up by 45.5 points. The difference in group means was highly statistically significant. (See the chart above.)
In seven months, children who got the AniBook intervention scored 69% higher on reading than children in control schools. Schooling alone got 51% of the absolute non-readers started on the path to reading. Schooling plus the AniBook intervention got 84% of the absolute non-readers on the path to reading. The treatment schools' mean comprehension score went up 80% more than control schools. The strongest measurable impact of SLS on reading was on children in Grades 2 and 3.
We're excited that this project produced such strong evidence of the efficacy of AniBooks for students from backgrounds without many other opportunities to read. We hope you'll continue to support PlanetRead's work with same-language subtitles for literacy!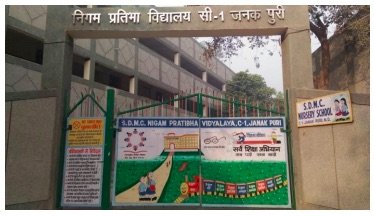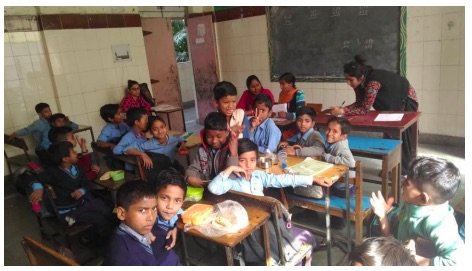 Links:
Attachments: