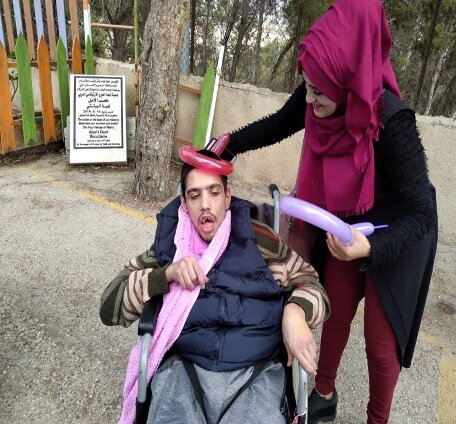 As part of program to help the differently abled in Palestine who live at home, we work with families to educate them about the rights of the differently abled, and support them as they strive to get those rights provided to their loved one(s).
This is especially important for families where their loved one, because of disabilities, is unable to express his or her needs.
We invite these families to participate in the Family Support Groups program held at the Homes. In these sessions, we provide the families with new-to-them knowledge about the rights of their loved ones. In addition, soon we will be connecting with the few similar organizations in Palestine conducting workshops for the community about the rights of those with disabilities.
One of the families we have so served have two impaired sons: Fuad, with severe Parkinson's disease, and Mohammed, with severe cerebral palsy and epilepsy. Both young men are totally dependent and unable to speak.
Because of their participation at the Homes, mother and sons know a place where they are socially accepted. Additionally, the mother now knows better how to bathe, and move her sons more easily, and how to provide them with emotional support. She's also better understands their medications and the side-effects—and knows the Homes will respond immediately to any urgent need.
Additionally, the Homes has provided these young men with air mattresses to prevent bedsores, and a new wheelchair.
Thank you for all your help that has made these services possible to this family, and to others.