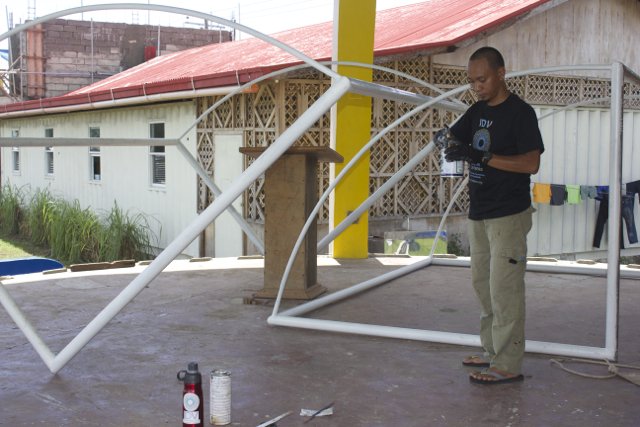 Thanks to your fantastic support we're continuing our work supporting long-term recovery from typhoon Haiyan.
In our last project report we introduced you to Siggy, and described his personal journey from typhoon survivor to becoming IDV's local Project Manager in Tacloban.
Over the last few months Siggy's been continuing to partner with other local organisations, and for this report we asked him to provide an update about this work in his own words.
He first said this about working with Football for Life (a programme of FundLife International).
"Football for Life (F4L) aims to restore childhood to children through psychosocial support in the affected areas hit by the Typhoon Haiyan. Through organised sports and play activities F4L helps children by restoring normalcy, [providing] hope, build resilience, and increase morale.
With nine different location of all over Tacloban city, one of their challenge is how to bring the coaches with the equipment to their respected area.
So Marko, founder [& Programme Director] of F4L, he made a communication to me requesting a support in transporting the coaches to the sites. With the approval granted, F4L were able to use one of the vehicles owned by IDV. For this simple help we made more or less 900 kids to smile and give new hope through Sports Therapy.
I also help in fabricating a set of football goal for RTR Plaza as one of their site of training"
Siggy then talked about our continued partnership with Volunteer for the Visayans to help typhoon affected schools, this time in the town of Tanuan.
"Tanuan is also another town that was hit by Typhoon Haiyan. Some part of the town was affected by the storm surge, some severely affected by strong wind.
One [affected building] is the elementary school located at Brgy. Talolora in Tanuan, it is located at the interior part of the town with a rough terrain and with distance of 30 km from the city of Tacloban.
Talolora Elementary School caters from grades one to six, and only have three classroom that is functional. So every classroom consist of two grades with one teacher; it is a big challenge for the teachers to teach two different grade at the same time!
For a temporary solution while waiting at the on-going construction of their new school building, Volunteers for Visayas provided the school with thirty new chairs to equip a temporary learning space . To support this project IDV in Tacloban provided transportation to deliver the new chairs for pupils"
We delighted that Siggy is able to partner with these great local organisations so that we can support Haiyan recovery together. We're also delighted that Siggy himself is continuing to grow and beginning to tell his story in his own words.
None of this would be possible with you. Thank you so much.
As always, if you ever have any questions, please don't hesitate to email Andy@IDVolunteers.org. I would be delighted to hear from you.
For more updates about our work please like us on Facebook or follow IDVExec on Twitter. You can also email Andy is you would like to be added to our direct mailing list.