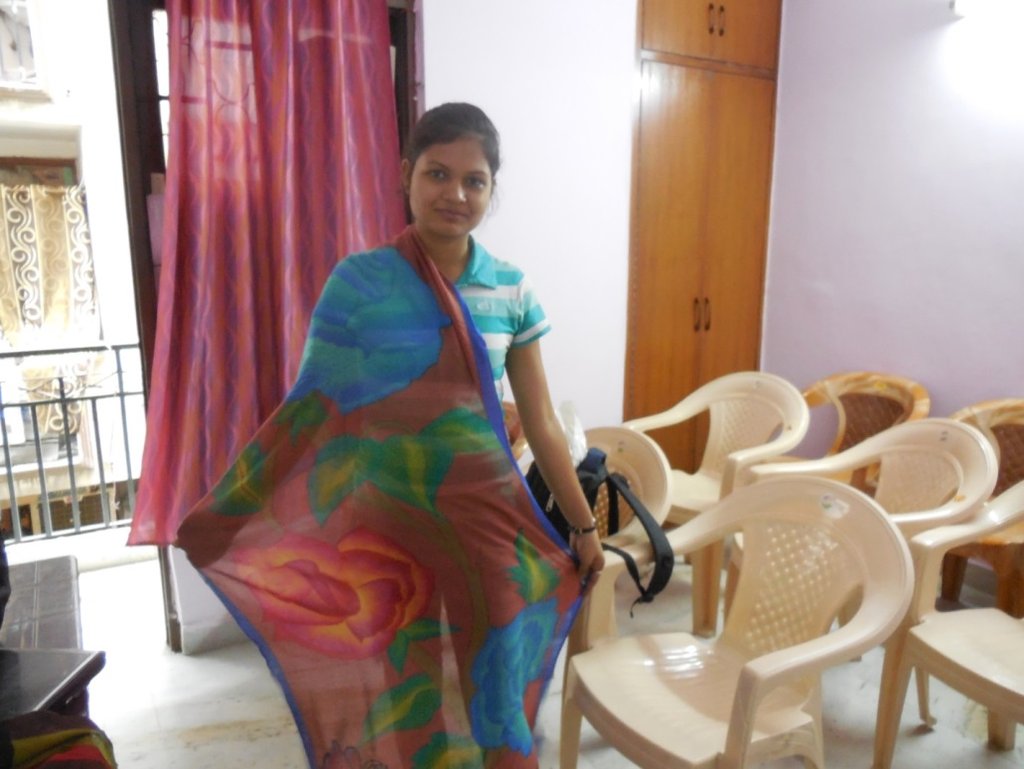 The Young Entrepreneurs program provides comprehensive training and support to aspiring youth entrepreneurs in Delhi and Mumbai. Since the last report the program has focused its efforts on linking the over 1,000 participating youth to skills training, group mentoring, and field visits to local businesses.
The program has linked 450 youth with adult business mentors from diverse sectors and sets of expertise, including banking, fashion design, food production, business management and small business development. The mentors are paired with youth for a minimum of two months and many continue to meet longer. Additionally, 235 youth have participated in field visits to local businesses, including tailoring shops, boutique clothing stores, and cloth manufacturing and export businesses. The visits have allowed youth to gain hands-on knowledge of running a business and to ask the business owners questions.
Below is a short story of Natasha, who has started a small printing business in Delhi.
Living with her two younger siblings and parents, Natasha is an independent, creative, and driven young woman. Her parents, especially her mother, have been strong motivators and have taught her the importance of education and financial independence.
Natasha currently works for a small textile printing business and has been given many responsibilities, including producing the ink, creating the designs, and overseeing a small staff. Natasha's creativity allows her to take fabric that has been misprinted by her staff to create a new and innovative design so that the fabric can still be sold.
As much as she enjoys her job, Natasha's passion is to have her own textile printing business. So, she started a t-shirt printing business with a friend. With her knowledge of the field gained through work experience and the completion of several printing courses, Natasha thought her business would be a success. She was able to build a customer base, however, she quickly realized she lacked the business acumen and capital needed to make her dream a true reality. She also faced other challenges such as managing her time and customer expectations.
When Natasha heard about the Young Entrepreneurs program she quickly registered. Through the program's comprehensive business and life skills training, Natasha has gained valuable and relevant business skills, including conducting market research, budgeting, and creating a business plan, as well as life skills such as goal setting, making a positive first impression, and dealing with customers.
Now that she has completed the training, Natasha has a new outlook for her future. She is confident that her business will be successful. She will soon apply for a micro-loan from the Young Entrepreneurs program which will enable her to purchase supplies and materials that, along with her newly gained knowledge and skills, will help her take her business to the next level.