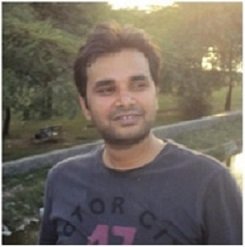 The Young Entrepreneurs program equips youth in Delhi and Mumbai with skills, guidance and support, and access to finance to allow them to successfully start or expand their own small businesses. Since the April progress report we have done another round of trainings in both Delhi and Mumbai, and the total number of youth reached has increased to 1020.
Manish is one of these young entrepreneurs.
Twenty-four-year old print shop owner Manish was facing many challenges in sustaining his banner making business in Hauzkhas, Delhi. New clients were hard to find and current print orders were dwindling. On top of this, Manish was having difficulty managing his staff, which was forcing him to do much more work to keep the business running. He needed to get his business back on track, but didn't know where to turn.
Then, last year, he heard about the Young Entrepreneurs program and quickly applied. The training program, he discovered, was a perfect fit for him. Manish was able to gain the skills and knowledge he needed to successfully operate a business, and he soaked up every piece of advice he could. He was particularly interested in the lessons on resource management, marketing, and working with and managing others.
Manish also received further support from the program, including one-on-one mentoring and a loan of Rs. 15,000 from the program's micro-loan fund. His mentor reinforced what Manish learned in the classroom and helped him to prepare a business plan. The loan allowed Manish to purchase new equipment to make his business more competitive.
Young Entrepreneurs has changed Manish's outlook on the future. With new equipment and marketing ideas, this emerging entrepreneur has been able to increase orders and secure new clients, especially school and event management firms. He is now confident and excited about his business. After conducting market research, he is looking to change business locations to be more competitive. He is now better able to manage his staff and can re-focus his attention on building and growing his business.
Manish has become an inspiration for other youth in his neighbourhood, and he wants to give back to Young Entrepreneurs to help them. He has become a peer mentor for the program and enjoys working with other young people to help them start and grow their own businesses.
From almost shutting down to now growing and expanding, Manish's business has completely turned around and gotten back on track. So has his vision for the future.