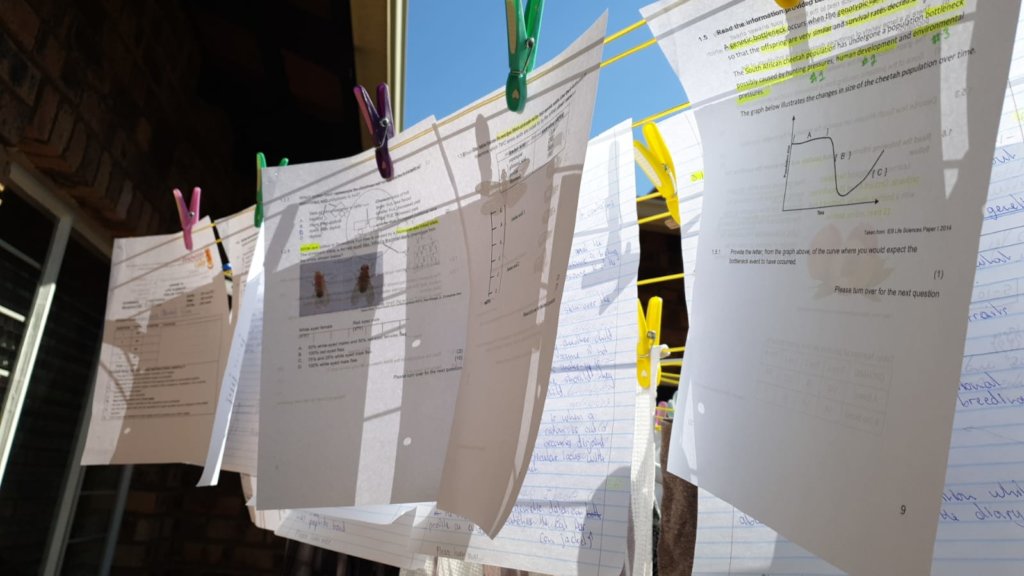 As I look back on my reports over the past 18 months it seems that Covid has featured in almost all of them, and I guess it's a sad reflection on the state of the pandemic worldwide and the disruption it has caused to everyone, not least to Thandanani. I previously reported that we had managed to evade any Covid infections at the Home, but sadly it eventually caught up with us in the last 3 months.
Xoli, who is in his final year of high school, was in the midst of writing his mid-year exams when he tested positive and had to stay at home. But not to be outdone he was able to continue writing at home under supervision, and then to make sure that he didn't pass any virus back to his teachers, the exam papers were hung out on the washing line for an airing, from where they were collected in due course by our house manager and returned to the school – definitely not an everyday sight to see exam papers on a washing line.
The access road into Thandanani is rather rough to say the least, so it was not surprising when one of our 2 vehicles (which was 12 years old) finally decided to call it a day. As our public transport system is less than adequate we had no choice but to start looking for a replacement, otherwise we'd have had a problem getting the kids to school, visiting the doctor, doing the shopping, etc. So we are now the proud owners of a new Suzuki Ertiga which can transport 7 children, however, it was not an expense that we had anticipated this year, so it has put a strain on our financial resources.
The South African economy has been hit hard by Covid, and the knock-on effect is that many donors are thinking twice before making a donation, resulting in many charities taking strain, and in fact some have had to close due to the reduced income. Thandanani has felt the pinch as well, resulting in our income being somewhat lower than the same time last year, plus we've had the expense of the vehicle, so if you are able to assist it would really be appreciated.
As we move out of winter and into spring (in the southern hemisphere), and as the 3rd wave of Covid seems to be receding rapidly, we look forward with renewed hope and optimism to what the future may hold.
Kind Regards
Paul
Links: