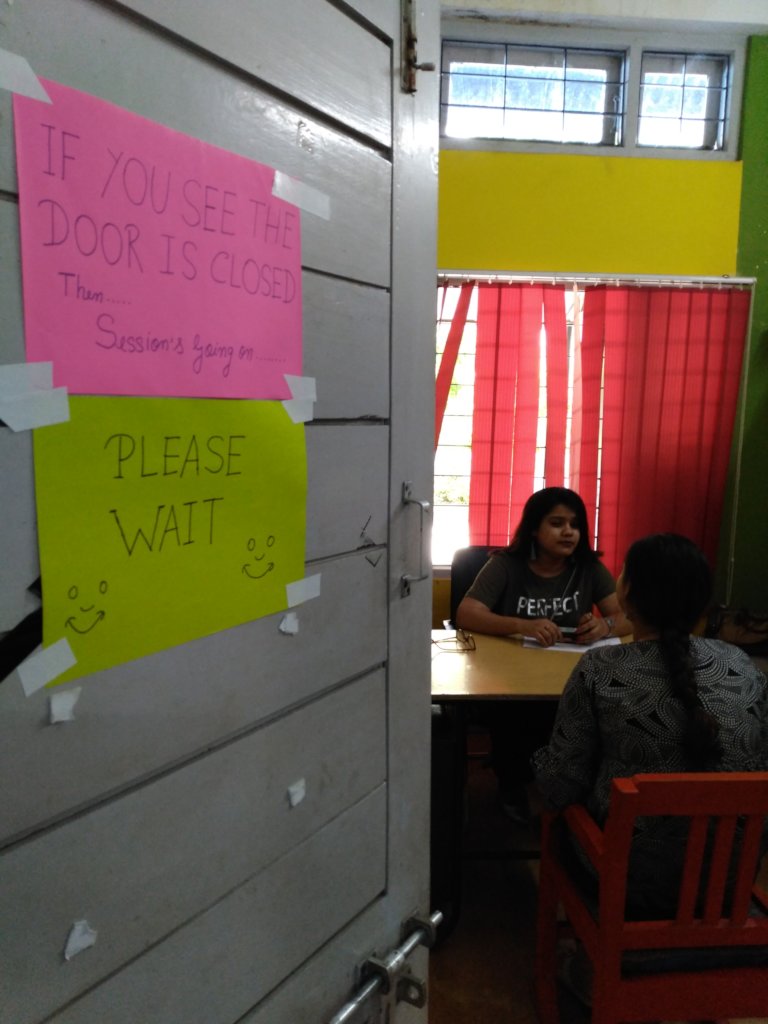 Apurva* was diagnosed with Cerebral Palsy with Hypotonic and Delayed Speech and language development. She was unable to control her head and was unaware of her surroundings. She also had low muscle tone in both her upper and lower extremities with postural tightness in the distal muscles when she came to us.
At our Early Intervention Unit (EIU), intensive Occupational and Physiotherapy sessions along with play activities were introduced, that have enabled her to hold her head upright in sitting position with back support. Her oro-motor control has also improved. She also responds to his name and follows simple instructions like "look here", "move your legs" etc.
The team at Shishu Sarothi's EIU continues to work with her to improve her sitting stability, strengthening of weak muscles and relaxing the tightness of muscles.
The Early Intervention Unit of Shishu Sarothi provides early detection, screening and management services for infants, high risk babies and young children with delayed development milestones and disabilities through therapies and child specific home management programs. The need for such early intervention is imperative so that children with developmental delays which include cognitive, motor, socio-emotional, communication and self-help can avail the necessary services at the earliest, so as to mitigate the impact of the disabilities and improve the quality of life for them.
In addition, Shishu Sarothi's Centre for Inclusive and Vocational Education (CIVE) provides all round special and inclusive educational and therapeutic inputs to the children attending different Units under the centre. A reverse inclusion initiative in the Playgroup works with children and without disabilities. A school readiness program uses the medium of play and activities to teach preschool concepts to the children. Children with more profound disabilities continue to receive special education inputs which are holistic in nature and cover all aspects of development - physical, cognitive, communication and activities of daily living.
Furthermore, at CIVE, Individualized Educational Programmes (IEP) are prepared for each child which helps in imparting appropriate lessons and need based therapies such as physiotherapy, occupational therapy, speech therapy to the child. A new initiative of alternate Yoga therapy for children with disabilities using sensory materials has recently been introduced.
The yoga therapy is aimed at greater wellness (mental and physical) of children with disabilities and complements other therapies already underway at the centre. The alternate yoga therapy is customised to the specific needs of the children and helps them benefit from breathing exercises, asana or postures of traditional yoga practices and activities around mindfulness, with the use of glitter jars and props for breath awareness.
Rishita* is an 8 year old girl with Cerebral Palsy and Hypotonia, enrolled in the Special Teaching Unit of CIVE. She has hypersensitivity and is overwhelmed by the sensation of touch. With the introduction and practice of alternate yoga therapy Rishita has shown greater resilience through techniques of self-regulation and self-calming.
While we continue to work with children with disabilities, we also extend our services to parents whose children attend different units of Shishu Sarothi. Our Counselling Unit conducted 23 individual sessions with parents to counsel and assist them in having a better understanding of their child's disability and potential. Parent Support Group meetings are also held regularly to create a space for parents to interact with each other and share and learn from each other's experiences. The Counsellor also went for 30 home visits to take feedback and follow-up on progress made by the children and better understand the reality of their home situation.
Events and activities are organised by Shishu Sarothi regularly on a range of issues, to promote inclusion and awareness, on different aspects of disability and create a platform for all to participate and contribute. During this period, a number of such events were organized such as World Autism Awareness Day on 2nd April 2019; 'Quiet Hour' observed at Big Bazaar, a departmental store in Guwahati, to create awareness on Autism and Intellectual Disability; a fun filled celebration of Bihu - the harvest festival of Assam ; a Ring the Bell Campaign in the 3rd week of April to promote inclusion of children with disability in mainstream schools; and a joyous celebration of Shishu Sarothi's 32nd Foundation Day on 1st May 2019.
Shishu Sarothi is extremely grateful all the donors of our campaign – 'Help educate 150 Children with Disability in India' without whose generous support our work with these children and their parents would not have been possible.
Thank You once again!
*names of children have been changed as per the Child Protection Policy of Shishu Sarothi