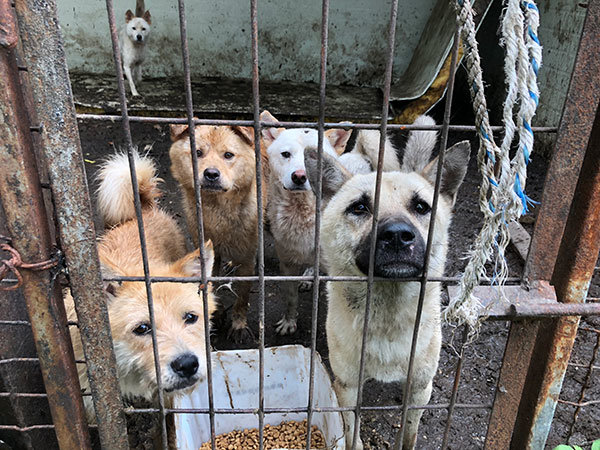 A petition launched by the animal activists of South Korea, was recently run, and thanks to the help of Soi Dog supporters like you, the target was reached, ensuring it would be reviewed by government officials. This petition demanded that South Korea's government take action so that dogs are no longer classified as livestock, and to create laws to ban the consumption of dogs and cats.
The target for this petition was 200,000 signatures, and thanks to the help of Soi Dog's supporters, currently stands at 214,634.
In recent weeks, Soi Dog Foundation received an urgent request from CARE (Coexistence of Animal Rights on Earth), an animal welfare foundation based in South Korea.
Following a crackdown on the notorious Moran market, where on-site slaughtering of dogs was happening, dog meat butchers were banished from the area. In turn, some of those butchers illegally occupied land owned by the Korea Land & Housing Corporation, claiming that they had facilities on the land prior to it being bought. The group demands that the housing corporation pay them compensation.
To provide backing up to their claim, they built dog enclosures on-site and then proceeded to dump around 200 dogs there. Around 60 dogs have already been rescued but the rest remain and they are in critical condition. The conditions are horrific, and many of the dogs have not survived. Those that still survive are only been given rotting food to eat. The enclosures are filthy and covered in faeces, flies, and insects. Decaying bodies of dead dogs lie everywhere. The survivors are fighting terrible skin problems, with many having lost all their hair whilst some others have tumors. All are severely emaciated.
These innocent dogs are being used to add weight to the claim that the butchers are owed compensation. Soi Dog is providing financial help to fund CARE's rescue mission as their shelter is already operating at full capacity and unable to cope with all 142 remaining dogs at once.
This horror is a devastating emergency but with your help, we can stop it. Thank you for being the voice of these innocent dogs.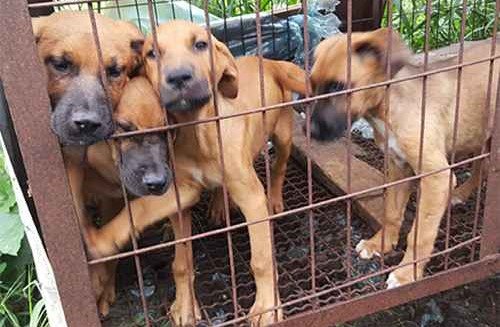 Links: