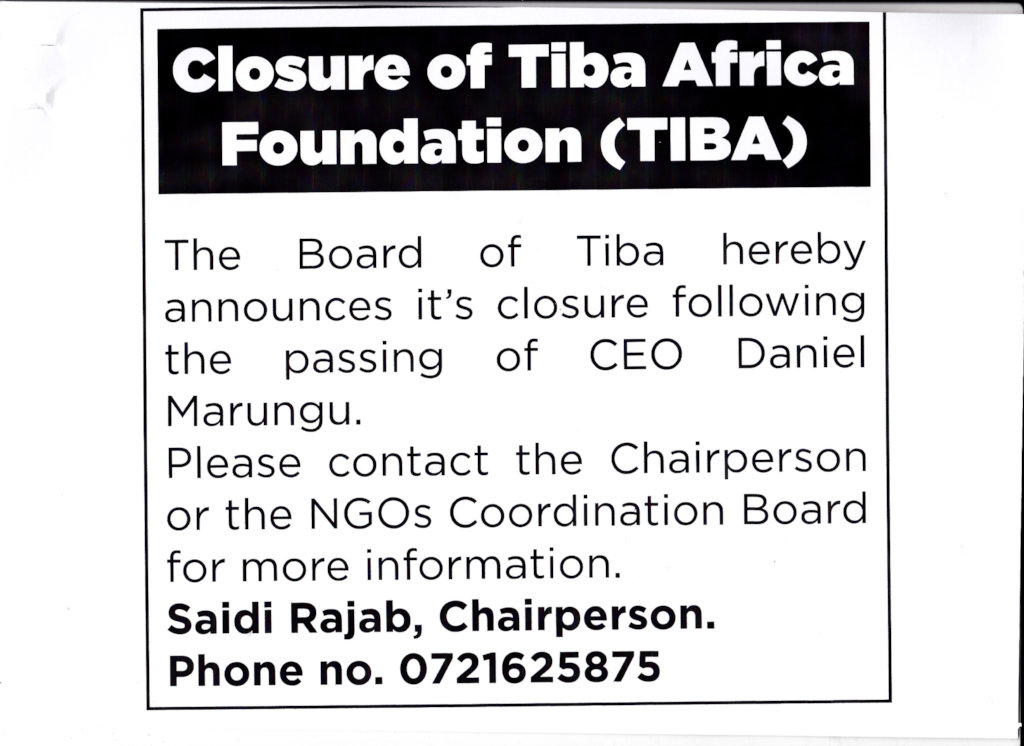 Feedback from Andria's Falk's
second visit to Nairobi
to finalise the closure of
Tiba Africa Foundation

February/March 2019


Visitting the Tiba projects was my first priority when I arrived in Nairobi

Vincent Oloo was quick to offer to show me around. As Consultant to the Tiba Board and former colleague of the Late Daniel Marungu he was the perfect guide
Joy Baby Care

We found that Joy Baby Care was flourishing: in the safe hands of Mrs. Elizabeth MBati, Head Teacher of Alpha Glory School and the lovely carer, Wilkister Khamadi, now back from maternity leave
Abundance School

It was great to catch up with the children and teachers again - though a big shock to find the landlord is constructing houses on the playground.

Head teacher, Fred Chavulimo is very keen to find new premises and to build on what he and Daniel have achieved
It was wonderful to be able to allocate the final outstanding donations from GlobalGiving donors ($ 1,900) to the Tiba projects

Joy Baby Care: we were able to allocate money for a further 5 months enhanced salary for the care giver, a new microwave and new potties and emergency nappies


Abundance School: we were able to pay for the final batch of new curriculum text books, rent for the Easter holiday, money to set up as a self-help group, exercise books and a first aid kit


Give Me Another Chance AIDS/HIV Project: we paid for sponsored places on a public workshop and two designated workshops

And we were able to put $475 aside for admin costs linked to the closure of Tiba, with left-over monies to be shared between the projects.
Planning for the future of the Tiba Projects

I was very moved by the enormous concern and determination I found to continue Abundance School and Joy Babycare without the support of Tiba. Teacher Fred, head teacher of Abundance School has decided to set it up as a 'self-help group', - a formal organisation with legal status that can fundraise independently. They plan to fundraise for a new school building, that is desperately needed.

Joy Babycare has the resources to run independently for another 5 months and Mrs. MBati advises they will also need to fundraise to ensure its future.

Both these projects are very important to the local community and families that they support.

Vincent Oloo and his breathwork colleagues are also highly motivated to continue to support the 'Give Me Another Chance' project in the short term, and have a further workshop planned to take place at the end of May.

Meanwhile, Vincent has begun to plan for and dream about a new retreat and healing centre in the countryside!

.... let's envision the highest good and outcome for these projects, enabling a strong base, to build on Daniel's work.

All the projects will be represented at a GlobalGiving training day for new projects to learn fundraising skills, to be held on May 17th in Nairobi.



A Huge Thank You
to everyone in Kenya and from around the world who supported me at what has been a challenging time for everyone. To name some of them: Lillian Omwenga, wife of the Late Daniel Marungu, and Vincent Oloo and his wife Ruth for their support, love and hospitality; to my colleagues in Tiba Africa Support, Sue Geary, Morag Wylie, Julie Ann Horrox , and especially Ange Leake (who patiently put up with many late-night phone calls and texts); to Judith Kravitz, Director of the Transformational Breath Foundation and the Officers of TBF-UK who believed in the importance of Tiba and who supported me financially during my second visit to Kenya; to the staff of GlobalGiving, especially Eleanor Harrison, its former London-based CEO, whose professional advice and knowledge of Kenyan non-profit regulations was second-to-none; to the GlobalGiving donors who generously donated to support the projects into the future; to the Members and Executive of the IBF for their heart-centred concern for Tiba; to the Tiba Sub-group who painstakingly visited and supplied extra information about the projects: Elizabeth MBati, Stanley N'juguna, and Vincent Oloo; to the Sisters and staff at Tumaini Centre for their nurturing care and amazing admin support; and especially to the Chairman, Rajab Saidi, and the Board and Consultants of Tiba Africa Foundation, whose patience and clarity helped us make difficult decisions in a very short space of time. And. of course, to the Late Daniel Marungu, whose friendship I treasured and whose inspiration and unique vision was an example to all of us.


Please contact Andria Falk on andriafalk@blueyonder.co.uk if you would like more information concerning the closure of Tiba Africa Foundation or about the future of its projects