AAR JAPAN Aims to Heed the Voice of Every Survivor
Since Friday, March 11th, AAR JAPAN has been engaged in aid activities for survivors of the Great East Japan Earthquake. With its hardest-hit areas located far from major city centers, Iwate Prefecture has been slow to recover compared to neighboring Miyagi Prefecture. Yuki DAIZUMOTO, who has been based in the Morioka Office and engaged in aid activities in Iwate Prefecture, reports on the present situation of AAR JAPAN's efforts in the area.
From Sudan to the Disaster Area
On April 1st, AAR JAPAN opened its office in Morioka City as a base for relief operations in Iwate Prefecture. Many of our target facilities for people with disabilities and the elderly are located on the coast, so we spend a few hours every day going to the disaster zone.
I heard about the Great East Japan Earthquake while working in Sudan. I came back to Japan at the end of March, and then started to work in Morioka on April 7th. When I first visited the disaster area, it was some time before I could truly believe that the scene I had seen on the news now lay before me. I still clearly remember an old woman pointing to it all and murmuring, "There was a house there, and a bookshop next to it." Not even the slightest sign of a building could be recognized.
Survivors are pleased to receive fresh food, which is rarely provided due to the difficulty of long-term storage. Yuki DAIZUMOTO (center) distributes oranges at a facility for people with disabilities. (Photo by Satoshi TAKAHASHI)
Rapidly Changing Needs
More than two months have passed since the earthquake, and circumstances have been changing in the disaster area. Rubble removal has progressed, supplies are being distributed, and there are more cars on the roads. In some areas, traffic jams occur where roads are closed for reconstruction work on the power lines. However, there are still other areas where the Self-Defense Force is searching for the missing, where water has yet to be reconnected, and there are no shops at all. While we refer to it all as the "disaster zone", each part is different.
Requests from survivors have been changing. While previously they asked for drinking water and food with a long shelf life, these days we have been distributing fresh food such as vegetables and fruit, clothes for spring and summer, electric fans, and office supplies such as computers and printers that are necessary for facility operations. Local needs have been changing rapidly from fundamental life support supplies to the resources needed for a normal, productive life.
Strengthening Support for People with Disabilities, the Elderly, and Evacuees in Their Homes
Compared to Miyagi Prefecture, in Iwate Prefecture there is less information available about groups involved in supporting people with disabilities and the elderly, so we keep in close contact with each individual group and facility to keep abreast of their situations. Some people visit care facilities from their homes, which means they are likely to be omitted from lists of supply distribution, as these predominantly focus on evacuation centers. We need to strengthen our support for survivors in their homes to ensure that help gets to everyone.
At the request of the Iwate Prefectural Office, AAR JAPAN has also been cooperating in establishing systems to support a variety of tasks such as confirming the safety and whereabouts of survivors and distributing donations in order to contribute to each survivor's quick recovery.
As Iwate Prefecture covers a large area, the number of groups working here is still not sufficient to meet the region's needs. We will continue to watch the situation carefully to ensure that no-one is left out, and that we do not overlook even the smallest voice calling for support.
Aid activities in both Miyagi and Iwate Prefectures still face many challenges, and we thank you deeply for your continued support.
AAR JAPAN has also been aiding in the reconstruction of damaged facilities for people with disabilities and the elderly.
See where AAR JAPAN is delivering aid and relief!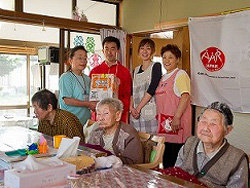 The following are excerpts from our English blog which highlight some of AARJ's work in Tohoku in the past few weeks. To find a complete list of articles, visit our English blog at http://aarjapan.blogspot.com.
Difficult to Reach Survivors in Fukushima Prefecture Await Aid in Limbo
In its continuing efforts to provide aid and relief to survivors of the Great East Japan Earthquake, on May 19 AAR JAPAN delivered electric cookers, electric kettles, garbage bags, towels, underwear, socks, and snacks to Senior Garden, a facility for the elderly in Fukushima City, and Ekuseru, a group home in Soma City, both in Fukushima Prefecture. The following report contains details for each.
Finding Shelter After the Storm: The difficult search for a new home for the residents of Senior Garden
Senior Garden is a group home for the elderly who suffer from dementia which operated in Tomioka Town, Futaba County in Fukushima Prefecture. Located just 9km from the Fukushima Dai-ichi nuclear power plant, the residents and staff were required by the government to evacuate to a noodle restaurant in Kawauchi Village in the same county. In Kawauchi however residents were on orders to remain confined to their houses, but for the uprooted residents of Senior Garden, staying together in big evacuation sites was difficult. Fukushima Prefectural Group Home Council for Dementia assisted the seniors by finding them an apartment in Fukushima city to rent out and use as a group home. Starting March 22, fifteen people have been receiving continuous care in the home.
For elderly individuals with dementia, even small environmental changes can induce great stress. The trauma of the evacuation had emergency-level medical consequences for some. A 70-year-old man, one of the residents of Senior Garden, suffered a hemorrhage due to a stomach ulcer, causing him to vomit and discharge blood. With his blood pressure falling, he was immediately taken to a hospital, but it his admittance and care was delayed until he was given a screening test for exposure to radiation.
Yasuhiro SUZUKI, Managing Director of Senior Garden, and his wife Yoko, Executive Director, are committed to overseeing the facility. Ms. Yoko SUZUKI said, "This group home is a second family for us. We don't know when we can go back to Tomioka Town, but we've been trying to keep our spirits up, and are determined that we will remain at the sides of those whom we are caring for, even as they pass on." Despite this determination, two residents are currently receiving care in a professional hospital, and it is clear that living as evacuees has undermined the health of many residents, and it is clear that despite the staff's best efforts, they are undersupplied and understaffed. AAR Japan has responded by supplying food and goods to support the continued operation of the new Senior Garden.
While I had a chance to witness the improvement AAR's supplies had on the conditions in which the staff and residents of Senior Garden lived, I realized it was in the smiles and warm words they exchanged that each found a reason to persevere in the face of this disaster. In their hearts was a greater medicine greater than anyone could ever provide.

May 19th – Ms. Yoko SUZUKI (center), Executive Director of Senior Garden, is taking care of a resident whose health has deteriorated due stress resulting from evacuation. On the right is Yasushi TANAKA, AAR JAPAN. (Fukushima City, Fukushima Prefecture)
The Fukushima Fallout: Nuclear accident continues to disrupt aid to Fukushima prefecture.
Ekuseru is a group home for people with dementia in Soma City. It is located 37km from the Fukushima Daiichi nuclear reactor, and is now taking care of 9 elderly people, including 3 who are bedridden.
In the aftermath of the Fukushima Daiichi incident, supplies have been slow to arrive in the region. In the summer, temperatures can rise as high as 33°C (91°F), and in the face of electricity shortages, the staff of Ekuseru continues to worry how they will mange in the summer heat. While other people have relocated, drastic environmental change can cause panic among for the residents of Ekuseru, which can have serious medical consequences (as happened in the case of the Senior Garden).
The situation at Ekuseru embodies much of the anxiety that afflicts the entire the seacoast of Fukushima prefecture, where persisting concerns over the nuclear power plant, radiation, evacuation orders, and insufficient supply distribution continue to plague the population. Today's visit helped show us how this anxiety particularly troubles the staff and residents of welfare facilities, who are left with little other choice but to desperately wait for outside aid to arrive.
It is to this cause AAR Japan is committed: to continue our efforts to provide aid for hard-to-reach people, like those at Senior Garden and Ekuseru, and to ensure that relief finds it's way to those most in need of help.
May 19th – AAR JAPAN delivered supplies to people at Ekuseru. (The back row, the second from the left is Yasushi TANAKA, AAR JAPAN) (Soma City, Fukushima Prefecture)
Yasushi TANAKA (Sendai office)

Yasushi TANAKA, born in Yamaguchi prefecture, has worked to provide aid for survivors of the Great East Japan Earthquake since April. After graduating from university, he worked in at a financial firm for 14 years. He continued his studies in Environmental Studes in Japan, and AAR JAPAN after working it a Japanese company in Vietnam.
Stories from the Evacuees – The search for clean water, recycling wood buried in the rubble, and communities coming together.

Nearly three months

have

passed since the Great East Japan Earthquake. Schools have resumed, and as many survivors move back into their own homes or into temporary housing, the number of people living in evacuation centers continues to fall. Staff at AAR JAPAN who

have

been involved in Miyagi and Iwate prefectures have provided these illustrations of the hardship evacuees continue to endure, and the tasks survivors have faced while working towards recovery.

The Search for Clean Water in the Tsunami's Wake
AAR JAPAN delivered drinking water, a water tank, and diapers to Ms. Chiba, who has been living as an evacuee on the outskirts of Kesennuma City in Miyagi Prefecture. Residents in the area once drew their water from the town well, but the water has become undrinkable after the tsunami contaminated it with seawater and heavy oil. A temporary waterworks was set up at a local stream, but residents had to trek for nearly an hour to retrieve their water for the day.
Water tanks like the one AAR has provided to Ms. Chiba will give residents to have access to a stable reservoir of water when deliveries are delayed and emergencies necessitate immediate access. After the exhausting task of installing the tank, Ms. Chiba and I looked upon a still untouched heap of rubble near her house. It is clear that despite progress, there is still much work to be done.
(Reporter: Takeshi ABE at Sendai office)
May 30th – Takeshi ABE delivered a water tank to Ms. CHIBA who told us that water is essential. (Kesennuma City, Miyagi Prefecture)
Making use of wood buried in rubble to stimulate independent recovery

Murakami Sawmill has supported the carpenters in Rikuzen-Takata City in Iwate Prefecture for a long time, and once again is coming to the rescue with a plan to put carpenters back to work while helping the survivors of the tsunami find comfort in their new homes. Murakami has provided shelter for the carpenters who have lost their homes and workplaces, and in turn is having them recycle wood from the rubble of destroyed buildings to make benches and furniture for residents moving into temporary housing. The carpenters of Kikuzen-Takata have worked hard in their free hours to craft these benches, and will provide them to residents with no charge.
These benches offer a small glimpse at normalcy for the survivors, and as Iwate begins the long process of reconstruction, these benches perfectly embody this rebuilding sentiment. Murakami hopes that the benches can help connect the survivors to each other into the coming summer.
While AAR JAPAN continues to provide relief and support to the area, it is clear that the people of Iwate are beginning to find their own ways to rebuild. AAR JAPAN will continue to support these survivors as face forward and take their first steps towards recovery. (Reporter: Yuka YOKOTA at Morioka office)
May 27th - Yuka YOKOTA, AAR JAPAN (right), is interviewing Mr. KIN, a carpenter who has been sheltered at Murakami Sawmill after his workplace and house were swept away by the tsunami. (Rikuzen Takata City, Iwate Prefecture)
Widening the Circle of Support Hand-in-Hand with Local Communities
Yamada Kyosei Workshop (Yamada Town, Iwate prefecture) has served as a supply distribution base for the elderly and persons with disabilities in the area. Regular patrons of the supply center include a person with a mental disability who lives alone deep in the mountains, a person with a visual impairment whose shop and house were completely destroyed, and an 83-year-old woman who has been is running her own shop out of a shed, which doubles as her home.
For suvivors who have been able to remain in their homes, it is not easy to understand the difficulties which evacuees face, especially by those who are elderly or have disabilities. We hope to widen the circle of support for these people with the help of companies like Yamada Kyosei Workshop. Mr. SATO, chief of Yamada Kyosei, said, "We would like to keep close contact with AAR JAPAN and cooperate to support people who have been in trouble in their houses in Yamada area."
(Reporters: Ryo OIKAWA and Teruyo MIYAGAWA at Morioka office)
May 31st – Ryo OIKAWA (right end) and Teruyo MIYAGAWA (left end) delivered food such as vegetables and fruits to Mr. Sato, Chief of Yamada kyosei workshop. (Yamada Town, Iwate Prefecture)
"Please Enjoy a Delicious Meal!" – Reports From Our Soup Kitchens
AAR JAPAN has operated a series of soup kitchens throughout the Tohoku prefectures, and to date has distributed over 16,500 meals at 26 locations in Fukushiuma, Iwate, and Miyagi prefectures.
The following stories relate to soup kitchen operations from April 30 to May 7 (during Golden Week) at Seiyukan (a welfare facility in Ishinomaki City, Miyagi Prefecture), Osawa Furusato Center, Osawa Elementary School and Yamada Town Hall (the last three in Yamada Town, Iwate Prefecture).
This is a report from Akiko KATOH, who worked in the soup kitchen at Seiyukan.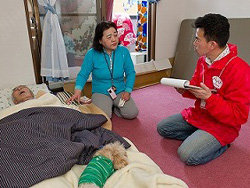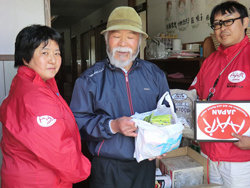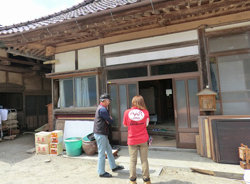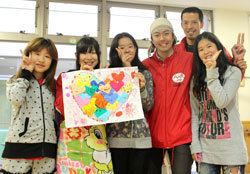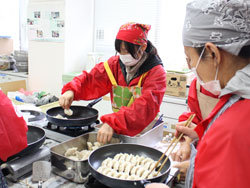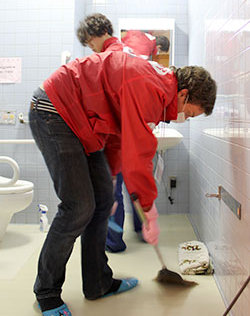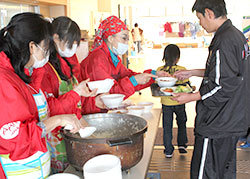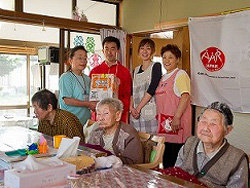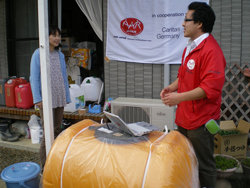 Links:
May 10th, 2011
AAR JAPAN initiated its Tohoku aid and relief activities on the day of the Great East Japan Earthquake, with two new offices opening in Sendai (Miyagi Prefecture) and Morioka (Iwate Prefecture). As of April 25th, 57 people have been dispatched as members of our Emergency Relief Teams.
AAR JAPAN has been delivering relief supplies such as food, water, fuel, daily necessities and electrical appliances to facilities for people with disabilities, senior care centers, hard-to-reach evacuation centers, and isolated islands in four prefectures, including Miyagi, Iwate, Fukushima and Yamagata. We have also started preparing soup kitchens, providing traveling clinics, supporting the operations of regular bus services, and aiding in the reconstruction of damaged facilities for the elderly and people with disabilities.
Sayako NOGIWA, Tohoku Office Representative, reports on AAR JAPAN's relief activities.
Coordinating to Support the Elderly and People with Disabilities
I have experienced emergency relief activities after massive natural disasters such as the Myanmar Cyclone, the Sumatra Earthquake, and the Pakistan Flood, but the damage inflicted by the Great East Japan Earthquake is the most extensive I have ever seen. Time and again I have been at a loss for words, overwhelmed by the power and brutality that has completely destroyed so many people's lives.
AAR JAPAN has learned from its overseas experience that the elderly and people with disabilities are easily forgotten in times of crisis, and we focus our efforts on these groups when undertaking aid activities. People with disabilities and elderly people often have difficulty in moving or need special assistance in their daily lives, making it hard to adjust to living with others at evacuation centers. As a result, they often take shelter in facilities that are not officially identified as evacuation centers, and do not get enough support.
Immediately after the earthquake, AAR JAPAN went to the disaster zone and compiled a list of facilities in the affected areas based on lists provided by the Miyagi Prefectural Office, the Iwate Prefectural Office, the Social Welfare Council, and network groups for people with disabilities. With telephone lines often going dead, we relied on the list to visit the various facilities one-by-one, loaded with as many supplies as our cars could carry, including food, fuel and daily necessities. We confirmed the safety of the people staying in each location, distributed supplies, and inquired about their needs. We would then return with any requested supplies as early as the next day. Whenever we receive requests for such things as fuel or water, AAR JAPAN provides the supplies directly on a case-by-case basis.
May 5th – AAR JAPAN delivers food to the Yamada Kyosei workshop. In the center is Shuya FUKUDA of AAR JAPAN. (Iwate Prefecture)
Working to Improve Coordination Meetings
When undertaking overseas emergency relief activities, coordination and communication meetings called "cluster meetings" are held regularly, with participants including United Nations agencies, international and local NGOs, and other groups engaged in relief activities. These meetings are very effective for avoiding duplication and bridging any gaps in support efforts.
AAR JAPAN has been working to strengthen the function of these meetings by calling for active involvement from aid-related groups in Miyagi and Iwate Prefectures. In these meetings, each group reports on the previous week's activities, and when we learn that some facilities lack supplies, AAR JAPAN offers to deliver them, including the task in our schedule from the following day.
April 7th – An information exchange meeting was held with 70 representatives of groups engaged in supporting survivors with disabilities in Miyagi Prefecture. To the left at the back are Mr. Hiroshi UENO, Director of AAR JAPAN, and Ms. Sayako NOGIWA, Tohoku Office Representative. (Photo provided by Japan Disability Forum)
Leave no one Behind
In addition to strengthening coordination with related aid groups and providing support focused on people with disabilities and the elderly, AAR JAPAN's aid activities are characterized by the diversity of its supplies and speed of its distribution. While food, daily necessities and fuel remain our key supplies, we have also delivered computers, printers, rice cookers, refrigerators, fresh vegetables, artificial respirators and more, all to match survivors' particular needs. We deliver supplies at the earliest the next day, and in most cases within 3 days of receiving a request.
We will also strengthen our efforts to support survivors in their homes. It is said that half of the disaster survivors are staying in their homes, but even prefecture offices have not yet grasped the real situation. Many evacuees are now without an income, and coupled with the slow recovery of infrastructure, many now lead difficult lives without enough food. AAR JAPAN has been engaging in aid activities with the aim that no-one will ever lack sufficient support.
AAR JAPAN will continue to support survivors who are struggling to get by, with an eye on both mid- and long-term solutions.

Sayako NOGIWA (Tohoku Office Representative)
AAR JAPAN Senior Program Coordinator
Largely responsible for AAR JAPAN's projects in Myanmar and other parts of Asia.
Involved in a number of emergency relief operations in the past, including the Myanmar Cyclone in 2008, the Sumatra Earthquake in 2009, and the Pakistan Flood in 2010.
(34 years old, born in Tokyo.)

May 12th, 2011
Continuing Relief Efforts for People with Disabilities and the Elderly

May 2nd - "AAR JAPAN was the first organization to deliver us relief supplies," say evacuees from Yokoura Evacuation Center. Left is AAR JAPAN's deputy director Taki KATO (Onagawa Town in Oshika County, Miyagi Prefecture). Photo by Yoshifumi KAWABATA.
Since March 13th, AAR JAPAN has been carrying out relief activities for the victims of the Great East Japan Earthquake. In addition to delivering emergency supplies, AAR JAPAN is also providing medical support and soup kitchens, operating regular buses, and engaging in efforts to rebuild local institutions.
Here we report on the progress of activities that have been made possible thanks to the efforts of our supporters. AAR JAPAN will continue to deliver relief to people with disabilities, the elderly, people taking refuge in their homes, and other hard-to-reach survivors.
Miyagi Prefecture

: Sendai City, Ishinomaki City, Kesennuma City, Natori City, Tome City, Higashi-Matsushima City, Onagawa Town, Tagajo City, Iwanuma City, Minami-Sanriku Town, Yamamoto Town, Shiogama City
Iwate Prefecture

: Otsuchi Town, Ofunato City, Rikuzen-takata City, Kamaishi City, Yamada Town
Fukushima Prefecture

: Soma City, Minami-Soma City
Yamagata Prefecture

: Yamagata City
Relief Supplies Delivered to Affected Areas
Diesel oil (13,600 liters)
Potable water (13 tonnes)
Sweet-bean cakes (25,900 units)
Vegetables (Potatoes, carrots, onions, spinach, etc. – 25 kg each)
Other food (Retort foods, food for the elderly, canned food, miso, soy sauce, nutritional supplements, etc.)
Underwear, scarves and clothes (25,000 units)
Towels and hand cloths (50,000 units)
"Furoshiki" wrapping cloths (3,000 units)
Face masks (70,280 units)
Hand warmers (5,000 units)
Sleeping bags (3,400 units)
Toothbrushes (10,000 units)
Paper diapers (60,232 units)
Women's sanitary products (17,000 units)
Baby products (Baby food, pacifiers, etc.)
High-pressure washers (32 units)
Books and picture books (20 boxes)
Cell phone chargers (120 units)
Washing machines (11 units)
Links: