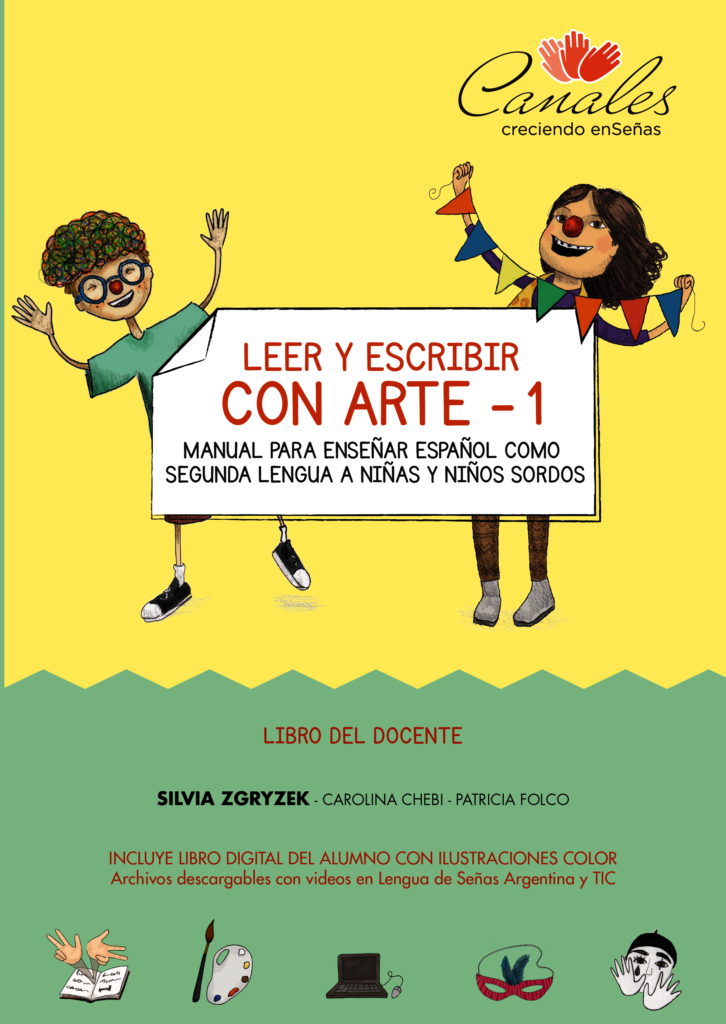 In 2015 we started an innovative project to teach Deaf children written Spanish as a second language. Our first textbook aimed to deaf children in first and second grade in primary school was created based on the field of Arts: circus, cinema, painting, and photography… In 2017 we started to think of the second teaching level: a textbook based this time on Science that was released in early 2019.
Today, and thanks to YOUR HELP, we are proud to present our next project: we are starting to design a new textbook for Deaf children finishing primary school. This third level Textbook aimed at deaf students learning Spanish as a second language will be based on topics related to Deaf community: sign language, Deaf culture, bilingual education, famous Deaf people in sports, arts and science.
Due to the quarantine, our meetings are organized via zoom. Two professionals are in charge of the design of activities related to teaching Spanish as a second language, two deaf women provide material abut deaf culture, language and community matters, the team is accompanied by a Sign Language/Spanish interpreter, and the general coordinator is also present in order to have a holistic glance about the whole educative product.
As in the first two textbooks, we plan to illustrate all the activities and to incorporate sign language videos in all the units.
Now more than ever, Deaf children need to have accessible educational material. The pandemic situation left deaf children isolated in their homes with families that do not speak sign language and consequently cannot communicate with them. In Argentina, schools for the deaf are the only space in which children can freely learn and use their natural language (sign language). We must create material for deaf students to have the opportunity to learn in spite of being far from school.
Let´s help deaf children have a Textbook to learn how to read and write in Spanish!