Dear Amazing Leadership Initiatives donors,

Our Young Innovators Program has taken off with astonishing success because of your support and the hard work of hundreds of high school students from across the United States.

As of March 3rd, our International Business Alliance Program has expanded to 30 schools across the USA, transforming over 155 lives and it is our goal in 2016 to have 60 plus schools across the United States. Expanding leadership capacity of hundreds of high school students on a local and regional level throughout the world creating a new generation of leaders with a greater understanding and depth of experience in international development.

One such individual whose live you have helped change is Lily who recently wrote about her experience in the program.
Working with Leadership Initiatives has been the most amazing experience. I first heard about Leadership Initiatives and the IBAP program while attending the Envision National Youth Leadership Forum: National Security. Mr. Marshall Bailly III was one of the speakers for the diplomacy aspect of the forum and I was immediately interested in what he had to say; when he asked for students interested in becoming active with the organization to come speak to him after his presentation, I immediately rushed to the front.

Soon after, I received an email from Mr. Bailly about the process to become a partner school for the IBAP. I seized the opportunity, immediately rounding up a group of friends and completing the application. After formally becoming a partner school, Mr. Bailly and I organized a time to videochat with the entire team and introduce us into the program. Mr. Bailly introduced us to our mentor, Ms. Kinzer, as well as our partner business, a mobile textile business. We figured out our roles as a team as well as what was expected of us, and we went to work immediately, making sure to use the wonderful resources provided to us including free SAT preparation, mentorship, and sponsorship by various organizations. The whole process progressed very quickly. Within a month, I had gone from a girl with a dream to change the world to one with a team and a real opportunity to make a difference.

The program has been an amazing experience. My team's mentor is such an amazing role model; she serves as an advocate, advisor, and, of course, dear friend. After only a few calls with her, I know that she is such an amazing person and she has already provided me with so many resources I never would have had access to as well as insights into the future. For example, after talking to her about what I hope to achieve in my career, she connected me with her brother who followed exactly the same path I hope to. I have gained so much direction and she has helped me to plan my future. Mr. Bailly himself has been an incredible mentor as well. He is always available should my team need any help and is always very kind, clear, considerate, and timely in his communications with my team.

The IBAP program means so much to me personally and I know that it will help me with my goals and pursuits. I love knowing that every day I am making a real impact on someone's life and, in my own way, am making the world a better place. In addition to that personal satisfaction, the IBAP program will also help me achieve my ultimate goals for the future. My team feels that same way and we are all so grateful for this incredible program!

If you would like to learn more about our IBAP program or their business partners visit our new website at www.lichange.org. There you can find out about their personal stories, meet members of the community, view photo galleries, or even set up a skype call with a business owner!

Also if you had a moment could you tell us why you donated and how you heard of us, we are always trying to better refine our message and reach more people with our call to change. Thank you for also helping us, understand wonderful people like you better!

Wishing you, your friends and especially your family the absolute best this Holiday Season!

Sincerely,



Marshall and the entire LI family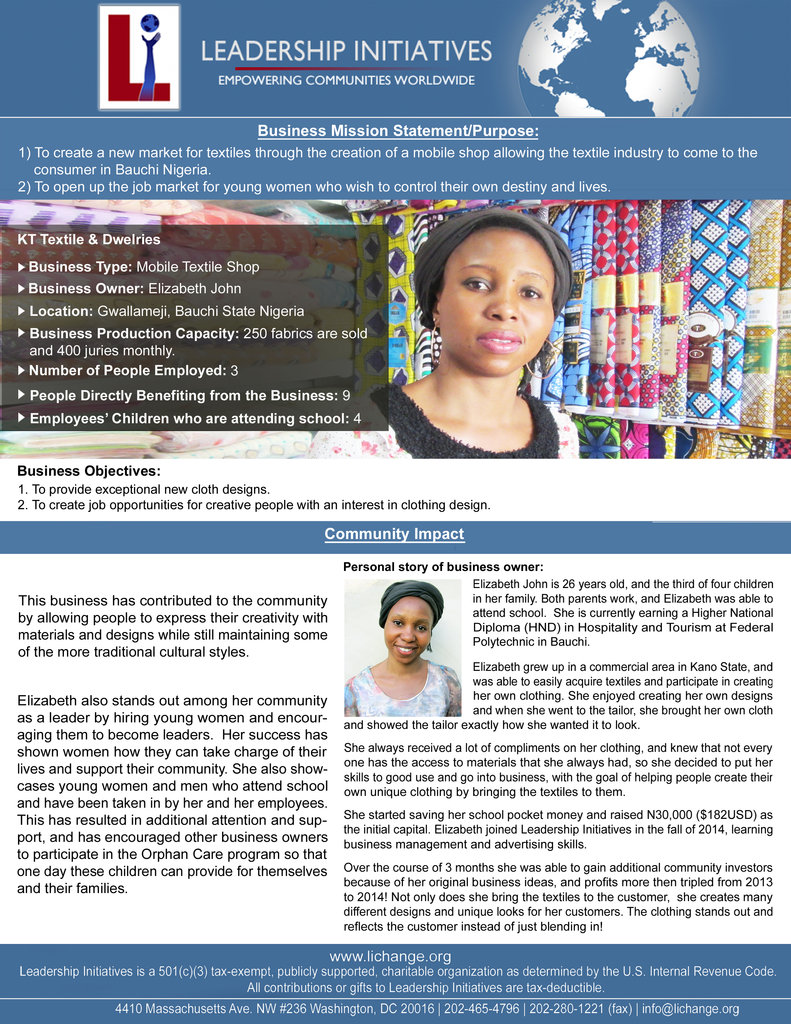 Links: