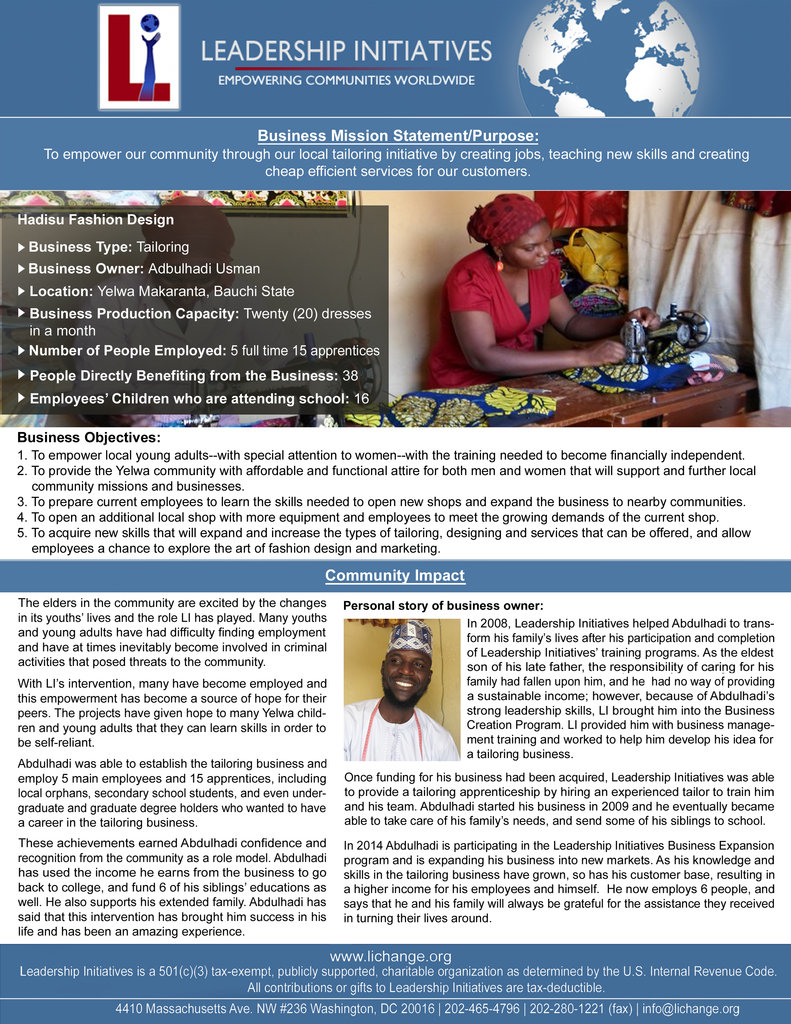 Dear Amazing Leadership Initiatives donors,
Our Young Innovators Program has taken off with astonishing success because of your support and the hard work of hundreds of high school students from across the United States.
As of December 16th 2014, our International Business Alliance Program has expanded to 30 schools across the USA.

The program you helped crated titled the International Business Alliance Program or IBAP is designed to inspire and coordinate the efforts of young leaders in high schools to create global change. Leadership Initiatives expands leadership capacity of hundreds of high school students on a local and regional level throughout the world creating a new generation of leaders with a greater understanding and depth of experience in international development.

Student leaders are paired directly with individual program participants/business leaders from around the globe with a mission to assist in solving local development issues through business development, thus fostering cross-cultural collaboration that strengthens developing leaders in both nations. LI IBAP benefits students in the development of character, motivation and drive for the future. Once in the program many opportunities become available to participating high school students.
In the past 5 months alone students have begun creating new ways to irrigate farms across Bauchi, develop new photography methods for our photoshop in Yelewa, recycle fish who die prematurly within our fish farms by turning them into feed and fertalizer, taught new soddering methods to our welders and help create new patterns of dresses for our tailoring shops.
In the next six months students will begin creating advertising plans for their parnter businesses while raising money for skills training for new and upcoming LI business intiatives.
You can learn more at www.LIIBAP.org or view the program pamplet and benefits sheet attached along with our highlighted business partner the Hadisu.
If you would like to learn more about our IBAP program or their business partners visit our new website at www.lichange.org. There you can find out about their personal stories, meet members of the community, view photo galleries, or even set up a skype call with a business owner!

Also if you had a moment could you tell us why you donated and how you heard of us, we are always trying to better refine our message and reach more people with our call to change. Thank you for also helping us, understand wonderful people like you better!

Wishing you, your friends and especially your family the absolute best this Holiday Season!

Sincerely,



Marshall and the entire LI family
Links:
Attachments: