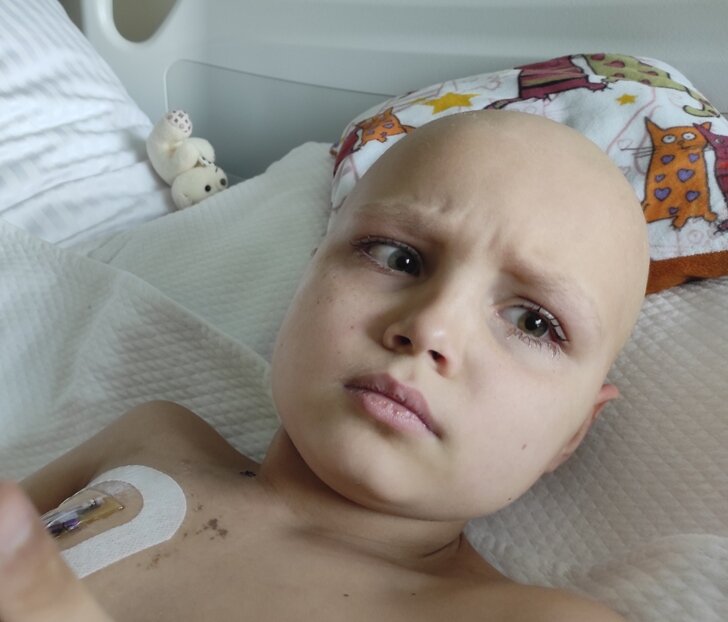 With Russia's invasion of Ukraine and bombing campaign involving most of the country, including residential areas, millions of Ukrainians fled the country. Among them are hundreds of children with cancer who are longer safe in their own country or don't have access to cancer care. Many medical facilities have been destroyed and remaining hospitals are overhelmed with the war's casualties.
We have heard from several Ukrainian families whose children are now treated abroad. Some were on treatment before the war, but are unable to return home. Others had to flee across the border to Poland to escape fighting. All of them need our support to remain on treatment and have a chance to beat cancer.
Timur's story illustrates how much harder life has become for families of children with cancer. Two years ago Timur's family learned that he developed blood cancer (acute lymphoblastic leukemia). He went through many different tests and high-dose chemotherapy. The treatment went for two years and seemed to be working. Timur got better, even though he still had to deal with side effects of chemotherapy.
After 4 months of remission, Timur's family received terrible news that his cancer returned and transformed into myeloid leukemia (AML). In Ukraine Timur was given only 15% chance of survival and the family opted to take him to Turkey, where the treatment would be more aggressive but his odds to survive would be higher. One of the Turkish clinics agreed to admit Timur for further chemotherapy and a bone marrow transplant.
While his family is more hopeful for their little boy, there is no way for them to afford to pay for Timur's treatment on their own. When Russia attacked Ukraine, Timur's family got divided. His mom is taking care of Timur in Turkey, while his dad enlisted in the army, and his younger brother is staying in Ukraine with his grandparents. No one in the family is able to work, but Timur's treatment has to continue to keep his cancer in check.
Please mark your calendars if you would like to help Timur and patients like him. Next week, you will be able to grow your impact when you support our project during Little by Little campaign. It is taking place April 4-8 and matching online donations up to $50 at 50%! Even a small donation can make a big impact when it receives a bonus match and brings hope to patients like Timur. We are looking forward to your participation next week!