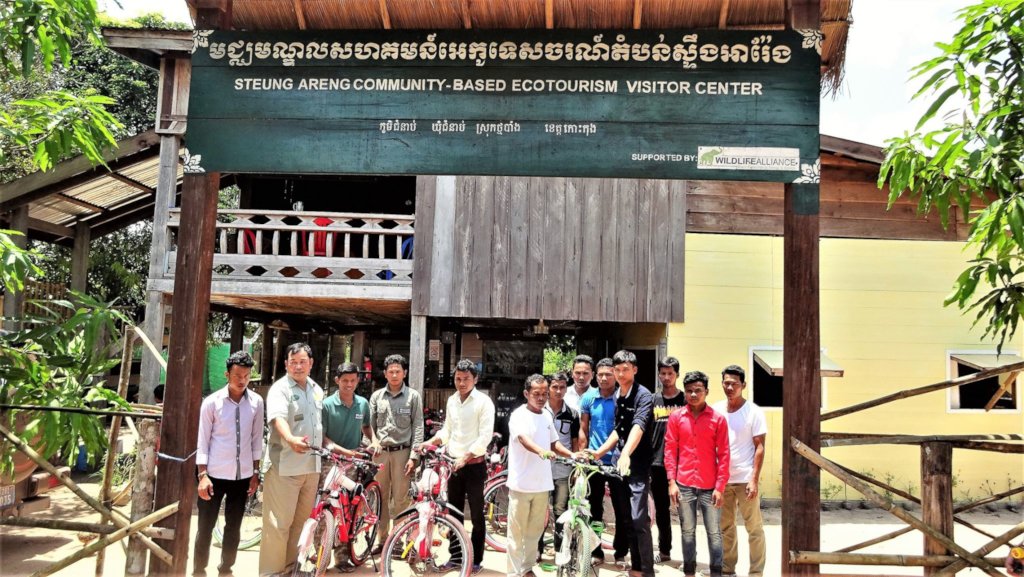 After two years of preparation, the Stung Areng Community-Based Ecotourism (CBET) project has opened its doors for business! Families in eight villages have begun welcoming local and foreign visitors to their homes and private bungalows. Through this ecotourism venture, former hunters and loggers will have an alternative and sustainable income, that will not only alleviate forest crimes in the area but will also provide incentive for locals to keep the landscape pristine.
This ecotourism model has proven to be successful in the village of Chi Phat, which Wildlife Alliance helped to open and has been supporting for over a decade. Since 2007, slash and burn farming in and around Chi Phat has been mitigated and the community that was once rife with poaching now has an active Community Anti-Poaching Unit. To replicate this success in Stung Areng, Wildlife Alliance has provided the resources and training to teach people new skills such as accounting, computer literacy and hospitality.
The Areng Valley is situated within dense forest, home to various animal species including elephants, gibbons, Siamese crocodiles, Bengal slow loris, many bird species, and other endangered animals that tourists may have the opportunity to observe. Guests can also enjoy the surrounding waterfalls, rapids, caves, and mountains through unforgettable activities such as trekking, cycling, swimming, rock climbing, camping, bird watching and kayaking. For those looking for a cultural experience, guests can spend time in Areng Valley learning how to produce rice wine, enjoying traditional music, observing local daily livelihood and cultural events, and experiencing local foods.
The project will be community run with technical and financial support from Wildlife Alliance. By empowering Stung Areng community members with new skills and alternative sources of income, we aim to mitigate deforestation and poaching in the heart of the Cardamom Mountains. Thank you for supporting our efforts to empower communities to protect their natural heritage. For more information about the newest CBET project, visit their facebook page: www.facebook.com/arengecotourism.