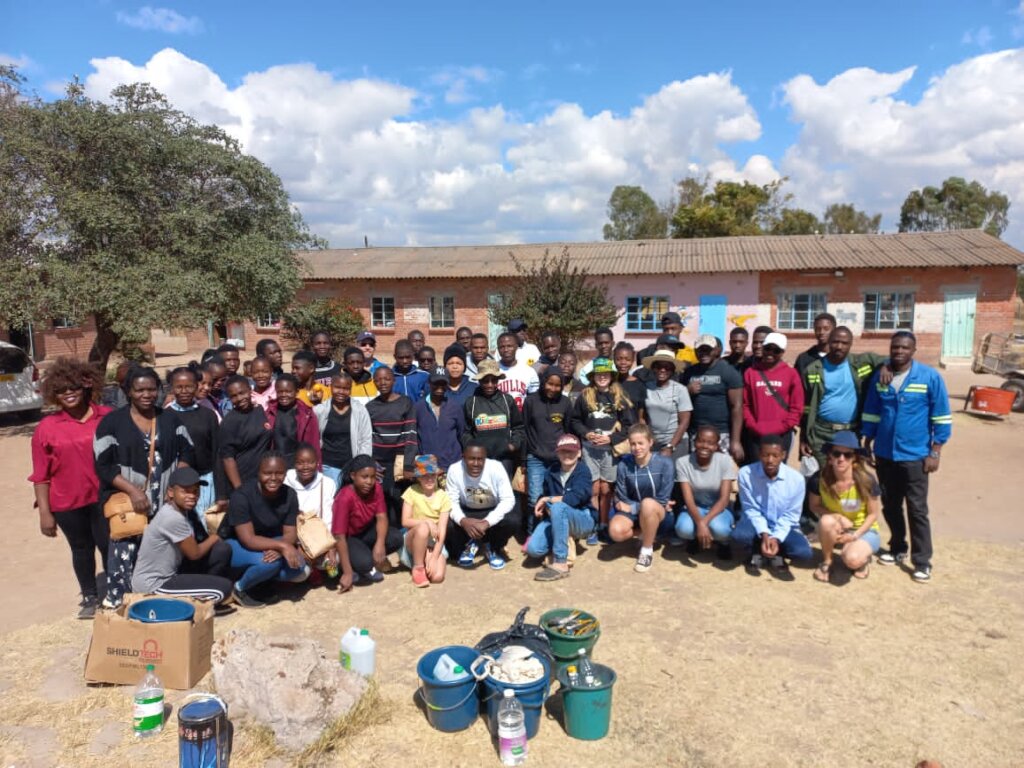 A successful term
We are emerging out of the coldest and longest term of the year and it has been a wonderful time of watching our students grow and settle more into their various schools and activities. Many have been writing exams and we are proud of how they found balance during this demanding time. There were many achievements to be celebrated both academically and outside of the classroom. We are excited to be seeing many of the A-Level Class of 2022 and others who had taken a gap year go off to university in the next couple of months. We are grateful to staff and volunteers who made sure our other projects started and finished well making this term a successful one!
A-Level students – Residential and Non-Residential
All our A-Level students had a great term! They all wrote their mid-year exams and we are proud of them navigating this through power cuts and some harsh winter days. Well done to all of them for being able to strike the balance between study and other activities. We have seen achievements in chess, sport and other extra-curricular activities. Many have started learning how to play the piano at the Boarding House, thanks to a generous donor. Special mention goes to Kimberely for medaling in volleyball, Emmanuel for outstanding achievements in chess and Rufaro who was part of the Zimbabwean team that participated in the Pan-African Mathematics Olympiad in Kigali. Rufaro brought home a huge smile and a bronze medal!
At the boarding house, Life Skills sessions led by Mrs Albertyn continued to be a welcome weekly staple. Mr and Mrs Albertyn and family also managed to share meals with the students a few Sundays this term. Once again, half term provided a welcome break for students and though our dogs, Rocket and Skyla missed them dearly, it was great for them to go home and see their families.
We managed to meet up with non-residential students four times this term as they continued with Group Therapy Sessions. The residential students also continued with Group Therapy sessions throughout the term. We have found these sessions to be invaluable, they are having a marked impact on our students and we are grateful to sponsors to be able to offer them. All A-Level Scholarship students enjoyed the annual camp as the last event of the term. It was a packed weekend where they got involved in a few different activities and spent quality time with each other. They all participated in a robotics session and a games evening with Mr and Mrs A. They also had a morning of blackboard painting at a school on the outskirts of Harare as a way of giving back to the community. Lots of games were played and many wonderful meals shared. Once again, with thanks to a generous donor, we were able to send each and every A-Level student home with a food pack that had all essential ingredients to make a healthy meal as well as a few toiletries. These were greatly appreciated by parents and students alike.
University Students
Our university students continue to do well both in and outside of Zimbabwe. We have been privileged to pass our congratulations to a few graduates at universities outside of Zimbabwe. We are looking forward to a few more local graduates at the end of the year to add to the long list of past Makomborero student graduates.
Local Zimbabwean university students are currently enjoying a much deserved break ahead of the new semester at the beginning of September. They wrote a lot of exams over the last semester and we are encouraged by how they gave it their best. We are expecting the University Residence to finally be at full capacity in September with 25 students taking advantage of this wonderfully convenient facility! We are so grateful to a donor who paid all our local university fees for next semester and enabled us to give stipends to the university students after not being able to do so for a while!
The month of June saw us having our annual university get-together, a wonderful chance for all university students to catch up as well as an opportunity to say goodbye to those who will be going to study abroad. It was a great afternoon!
2022 Leavers
2022 leavers have made us so proud with taking on various activities including gap year internships as they wait to go to university. Some have been accepted on full scholarships at universities abroad while others have been accepted at the University of Zimbabwe. One student will be going to the National University of Science and Technology, Zimbabwe and two students were awarded the Presidential Scholarship to go and study in Algeria. We are privileged to be able to celebrate them individually across our social media platforms. Well done Class of 2022 - we are excited to see how your journeys unfold!
Other projects
Alumni Initiatives - Thank you to the past Makomborero students who continue to mentor present Makomborero A-Level students. We are also grateful to those who continue to donate items such as food, books and even laundry baskets! Thank you for making time to hold sessions with current students, we know your input is precious to them!
Ndeipi! - Ndeipi! held four sessions this term. As always, participants learnt valuable lessons around entrepreneurship and were this term given their USD$1 to start a project of their choice. Despite the mixed feelings about how small the capital was, we saw some well thought out projects emerge from the group. Most of them involved buying and selling within their communities. Makomborero gave the participants some clothes to re-sell to help boost their businesses.
Mobile Science Lab – What an amazing term for our Mobile Science Lab! We had a 100% attendance from 15 enthusiastic students who are in their first year of O-Level (GCSE). Our team, all made up of past Makomborero students, is doing incredibly well and have found a wonderful balance between teaching and keeping sessions fun and engaging.
Girl Child – We are two thirds into the journey with our 30 mentees for 2023. As we go through the weekly sessions, we continue to witness their tremendous growth, we see their confidence increase and marvel at their bravery as they try to become better people. Once again, the feedback at the end of the term was encouraging and we are grateful to all our mentors who have sacrificed so much over the last 8 months. Sadly, we said goodbye to 4 mentors who will be going abroad to study.
Mutsidzira – We are excited to be in the process of selecting 2023/2024 projects. We received applications that showed amazing innovation and held interviews to hear more from applicants. We will be able to update you in the next report about the chosen projects!
Makomborero team – Our team have been quick to find their rhythm after a few roles within the team changed last term. This term, school events have spilled into the holidays and we are grateful to the team who have worked together to ensure all goes smoothly. It's always a lovely atmosphere when our team gets together whether that's at a staff meeting or at camp and we are grateful to have had such opportunities this term.
We said an emotional goodbye to our female Gap Year student, Nyasha who is off to Harvard on a full scholarship. Well done Nyasha for your input while at Makomborero, we will miss your bubbly nature!
We want to say a warm Makomborero welcome to Wisdom who will join us at the beginning of next term to take over from where Nyasha left off.
Thank you
We are incredibly grateful to all who were involved in making this term a successful one. We've had a lot to celebrate and we are thankful for the occasions that gathered us together and kept our family connections going strong.
Thank you to Gateway, St Georges and Hellenic for partnering with us through this term. Thank you to all the government schools where our Non-Residential students attend. We appreciate all your efforts and tenacity.
To our donors, sponsors, supporters and all friends of Makomborero, we simply cannot do without your support. Each term that is a success is hugely because of you and this term is no exception. We look forward to continuing this journey with you through the year and beyond.