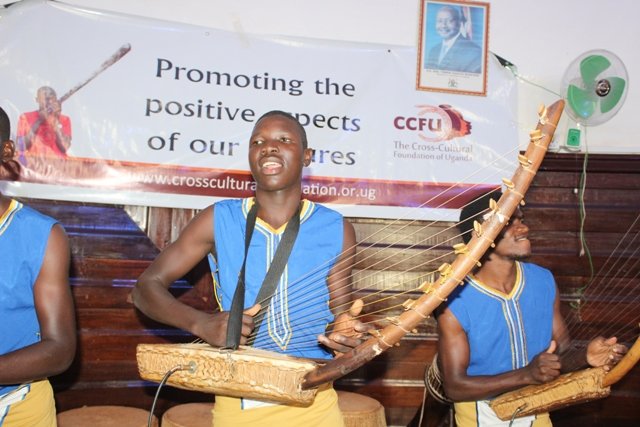 Just last week, young people took centre stage at the 3rd Cross-Cultural Foundation of Uganda (CCFU) National Cultural Heritage Awards. We thank you again for generously contributing to our 'Encourage African Youth' project which makes things like this possible.
Six individuals and institutions were honoured for their outstanding contribution in the preservation and promotion of Uganda's cultural heritage.
These 'Heritage Champions' serve as role models to us all in their enthusiastic efforts to encourage people to take responsibility for preserving their culture.
Tourism State Minister Godfrey Kiwanda used the occasion to announce that his department will be renamed the 'Ministry of Tourism, Wildlife and Heritage'. A wonderful tribute to the CCFU and its work to raise awareness of the importance of cultural heritage preservation.
Aliguma Ahabyona, CCFU's Heritage Programme Officer said "Uganda's wealth of heritage is under threat. It is not effectively protected, even when listed. There is also virtually no incentive to preserve our heritage, tangible and intangible. At the Cross-Cultural Foundation of Uganda (CCFU), we firmly believe that it is our urgent responsibility to help safeguard the remnants of our heritage, working in collaboration with other stakeholders."
Meanwhile in Sierra Leone, the winners of our video competition visited Bunce Island for the first time to learn from the stories of slavery.
Research Officer at the Monuments and Relics Commission, Francis Momoh said "As they marched through the ruins, the deafening silence reminded them of what might have transpired there some 350 years ago. Those who had tears shed them, those who had courage braved it, whilst those who are resilient expressed determination."
We believe that our 'Encourage African Youth' project has helped open young people's eyes to the importance and possibility of their heritage. You can't change history. You can secure the future.
There's still more to do of course, but all of us involved in the project thank you again for your kind gift which has helped us get this far.
With gratitude
Catherine