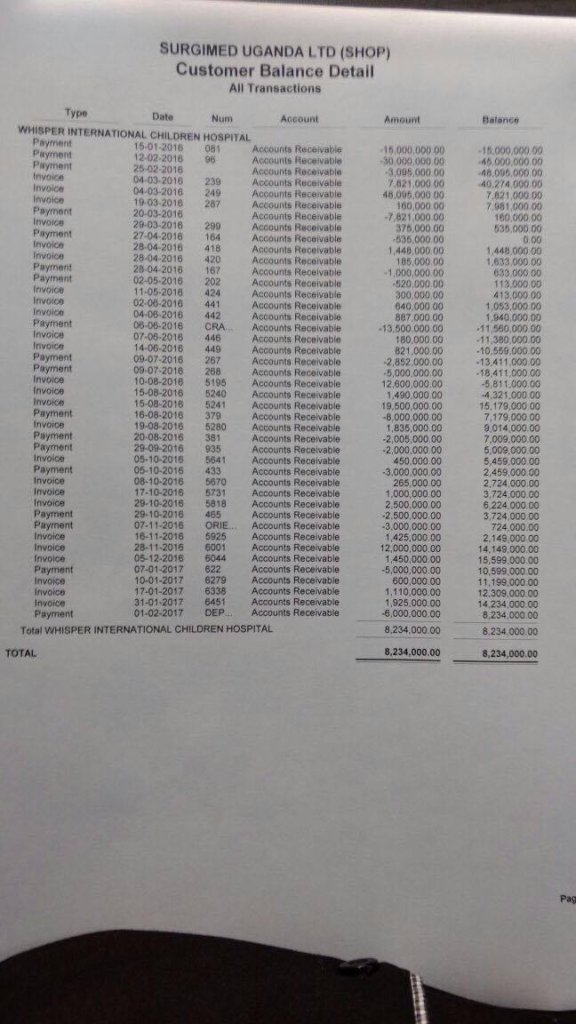 Dear beautiful donors, friends, supporters and followers of Whisper,
Today we finally received the funds that you have donated to us over the last two months to pay for medicine for our little Whisper patients.
We received the funds in our Ugandan bank account, and we managed to pay all of our bills for the medicine and lab supplies for our Whisper's Hospital.
I have attached the statements from the pharmacies and medical shops that Whisper is supplied from.
Some of the bills were paid in cash, others by direct bank transfers.
!!!AMAZING!!! The medical bills managed to test and treat 1600 children!!
Reports with photos attached
Surgimed Uganda Ltd
Supplies Whisper with medical equipment and laboratory diluents, buffers etc.
Paid: 8, 234,000 UGX ($2296)
Abacus Pharma
Supplies Whisper with drugs, pampers, examination gloves, syringes
Paid: 13,927,500 ($3884)
White Star Pharmacy
Supplies Whisper with surgical materials, medicine, injections, syringes, cannulas, cotton etc
Paid: 30,650,000 ($8549)
balance: 5,897,800 ($1645) will be paid tomorrow
Calderon General Services
Supplies Whisper with laboratory supplies such as malaria tests strips, HIV strips, Typhoid Strips, Microscope slides etc
Paid: 2,270,000 ($633)
We are VERY grateful for the wonderful support to Whisper, its children and 80 staff members!
Our beautiful beneficiaries are forever grateful to you for helping save children's lives and making a massive difference in their families and communities.
Please continue supporting Whisper!
May the good you did yesterday and today comes back to you in hundreds different ways!
With love
Veronika Cejpkova