Project Report

| Apr 5, 2021
SCHOLAR RAFIAT TAKES PEACEFUL COEXISTENCE TO HER N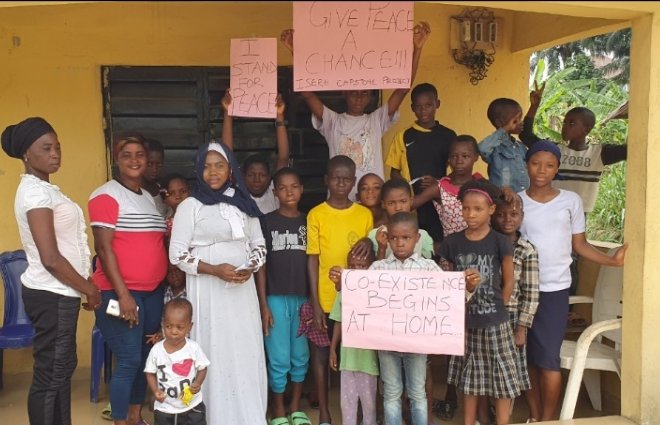 SCHOLAR RAFIAT TAKES PEACEFUL COEXISTENCE TO HER NEIGHBOURS
On the 27th of March, 2021, Scholar Rafiat, a Graduate of Hospitality Management from Federal Polytechnic Ede - Nigeria, gathered over 15 members of her community to discuss PEACEFUL CO-EXISTENCE: IMPLICATIONS ON NATION BUILDING, in partial fulfilment of the requirements to graduate from ISERH Undergraduate Studies Class 6.
She began by asking them if peace could reign through violence or hatred. Her question got a chorus NO. She then proceeded to detailing what peaceful coexistence means and how peace could be attained in the face of diversity. She equipped them with the three principles of peaceful co-existence: Respect, Validation, and Approval. She later took them through the impacts that peaceful coexistence brings to a community and a nation at large.
Having successfully implemented this project, she has hereby fulfilled a part of the requirements expected of her to graduate and get inducted as an ISERH Associate Ambassador, and if all things being equal, she shall have unrestricted access to the resources available on the Ambassadors Portal - starting from Sunday 6th of June, 2021, immediately after their convocation and induction ceremony on the designated platform.
ISERH Undergraduate Studies is a FREE online weekly class which has a module already developed for the 5 months course duration with highly profiled facilitators to teach each of the module's topics. At the end of 5 months, every participating undergraduate, graduate and postgraduate who meets 75% rate of assignment done, submitted and graded; 50% facebook participating rate; carries out and duly submits his/her Capstone Project reports shall get inducted as ISERH Associate Ambassador. This gives them unrestricted access to ISERH Ambassadors Portal (http://ambassadors.iserh.org) where they can freely have one-on-one chats with a group or individual Ambassadors and their facilitators, have access to internship, fellowship, jobs adverts; audio/video lectures; books; and lots more.
From all of us at the Initiative for Sound Education, Relationship & Health (ISERH), we say 'Congratulations to her' and as well give credit to Mr. Abdulraheem for facilitating the training of our scholars on 'Peaceful Coexistence: Implications on Nation Building'.
Links: