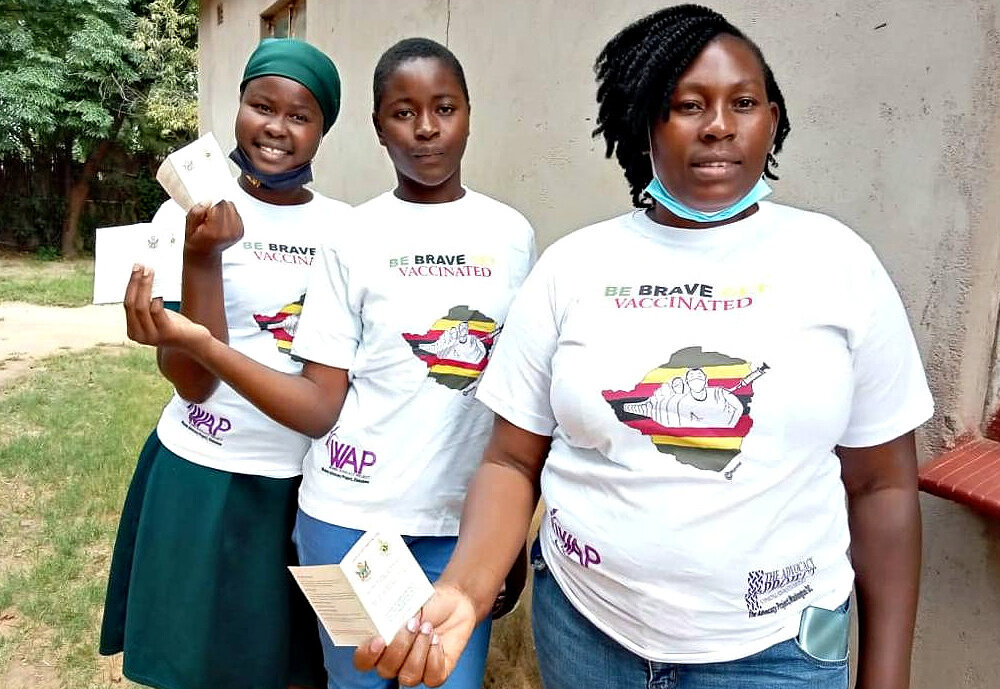 This report is being sent to 93 friends who have supported our three GlobalGiving appeals on behalf of girls in Zimbabwe. Thank you! We are particularly grateful to those of you who have given recurring donations and will be writing to you separately.
We launched the first appeal in 2018 with our Zimbabwean partner, Women Advocacy Project (WAP). Since then we have raised $6,165.73 from friends through GlobalGiving, and over $30,000 from foundations.
This report will sum up progress so far and start looking ahead to next year, when current funding for the programis is due to end. The prospect is a bit frightening, but our Zimbabwean friends were brimming with ideas when we met them remotely last week. We are not surprised. The WAP girls have risen to every challenge over the past 4 years - including a brutal pandemic - with flair, courage and ingenuity. We offer some highlights in a recap of photos going back to 2018, when our partnership began.
*
First, some background. The original goal of the program was to help vulnerable girls resist early marriage. Most girls marry young because of poverty, so we decided to launch a soap-making start-up for 40 girls in the suburbs of Epworth and Chitungwiza.
This has been a huge success. The program expanded to 80 girls (4 neighborhoods) last year and together they produced and sold over 16,000 bottles of their special brand 'Clean Girl' soap. Indeed, they met their production target with three months to spare – at the height of the pandemic. This more than a surprise – it was astounding!
Not to say it was easy. Facing curfews, lock-downs and the rising cost of fuel, Constance and Dickson, who run WAP, were forced to improvise. Instead of asking all 80 girls to produce, they selected 12 girls with the time, skills and motivation to take on production and bottling. The remaining girls divided the bottles between them and took their soap back to sell at shops in their neighborhood. The girls keep half of what they sell while the rest goes to WAP to be reinvested in the program. This has given the girls money and confidence. One result: not a single girl in the program has married under the age of 18.
It has continued into 2022. WAP has received a donation from Rockflower, a long-term friend of WAP, to build a new shop where production can be centralized. This will make it easier for the girls who live far away, but has also slowed things down. Zimbabwe has been hit by heavy rains, making it harder to install toilets and drainage.
There has also been a fall-off in participants. Forty-eight girls have been making and selling soap this year, which is well below the original target of 80. One of the four groups has barely participated. This will have to be clarified when the rains ease and life gets back to normal. Perhaps more girls are going to school and have less time on their hands, which would be good.
In spite of the delays, the 48 girls produced 7,326 bottles in January and February (the first production cycle) and have taken in $2,904 so far. Constance and Dickson are confident of meeting meet their 2022 target of 16,000 bottles.
*
There is much more to this program than soap. As we have noted in other reports, soap has given the girls focus, skills and a reason to work together. They are now using this cohesion to take on other social challenges, with exciting implications for the under-served neighborhoods of Zimbabwe.
Let's start witjh the pandemic. 24.3% of the population has been fully vaccinated, which is considerably better than neighboring countries like Kenya (15.2%), but with new variants on the horizon nothing is taken for granted. Vaccine skepticism is still widespread in the urban areas of Harare.
The WAP girls are countering this skepticism by making the case for vaccinations among friends, neighbors and family members. As well as promoting public health and hygiene, this builds team spirit and community engagement. The girls have designed their own lively tee-shirt, which is worn by Constance and two of her project leaders in the photo above. The girls take it all in their stride!
*
Our thoughts are now turning to what comes next. The math is scary. Even if the girls meet their 2022 sales target, the program will not have nearly enough in the bank to produce the same amount of soap next year.
The choices are thus clear: reduce numbers, cut production costs, increase sales, or find new donors – preferably, a combination of all three.
The worst option would be to reduce the number of participants. As well as running counter to the vision of the program, this would also reduce the sales team. Raising the price of soap would make Clean Girl soap less competitive at a time when poverty and inflation are rising sharply.
What of the other options? One idea emerged last year during a series of online meetings with US-based chapters from Together Women Rise, which has invested $32,000 in WAP's program. Each liter costs 80 cents to produce and about a third goes into making the plastic bottle. If the amount of plastic could be reduced, through recycling or re-use, it would not only cut costs but also ease pressure on the environment. The biggest problem: Zimbabwe has few options for recycling and the bottles might prove too fragile for re-use.
WAP will also find it hard to cut the cost of fuel and electricity, which is rising by the day. WAP has money for solar panels, but it is almost impossible to find the materials needed to mount them on the roof.
*
All of these options, and others, need to be considered. With this in mind, we have recruited two student Peace Fellows to help WAP this summer. Dawa, a graduate student at the University of Texas A&M will work at WAP in Harare, while Aimee (UCLA) will back Dawa up remotely from the US. In addition, Delaney and Bobbi from AP will visit Harare in July to provide embroidery training and review activities for next year.
We also hope to focus on education. About a third of the WAP girls have dropped out of school because their families could not afford the fees. We would like to make it possible for every soap girl to complete secondary education - further underscoring soap's potential to trigger social change. With this in mind, WAP hopes to launch a small education fund next year.
First, however, we need to know who will qualify and how much it will cost. This will be a job for our two WAP Peace Fellows. In Zimbabwe, Dawa will meet with families, measure school attendance, profile beneficiaries and draw up a budget. In the US, Aimee will explore possibilities for fundraising. They will have a busy summer!
We look forward to reporting back in August. In the meantime, please share your thoughts with us by emailing constance.wap@gmail.com or iain@advocacynet.
With our deepest thanks
WAP in Harare, and AP in Washington.