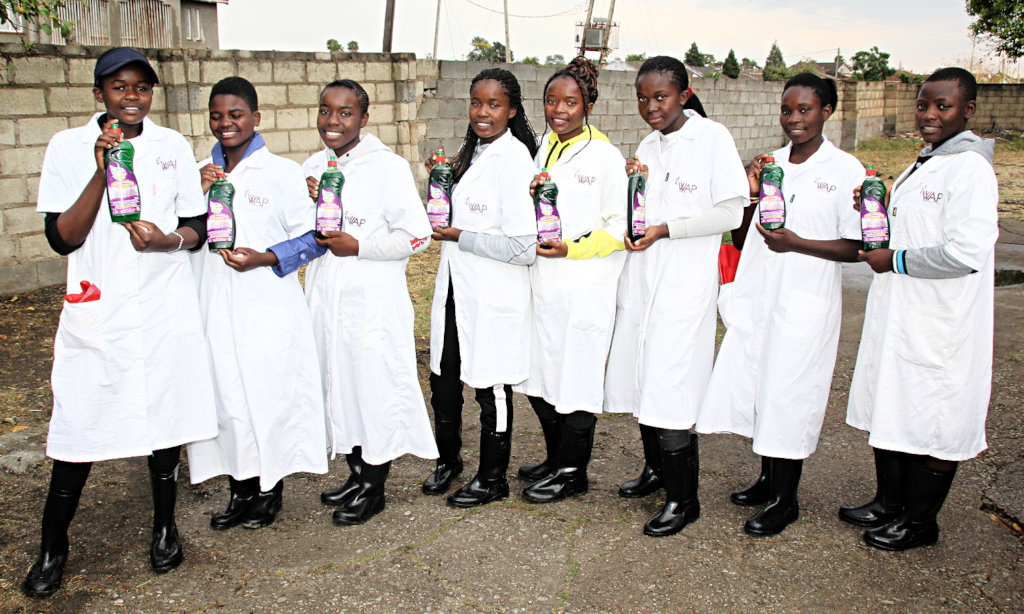 This report is going out to 79 friends who have generously donated to our three GlobalGiving appeals on behalf of the Women Advocacy Project in Zimbabwe (WAP).
You have donated a total of $5,848.15 to a wonderful project by WAP which trains girls to make and sell soap in four under-served neighborhoods of Harare. Your donations have allowed WAP to develop high quality soap with a catchy name (Clean Girl), create demand – and earn some money for the girls.
The original idea was to give the girls a financial incentive to resist early marriage. But the money they have earned from soap has made a much more significant contribution during a pandemic which has caused enormous distress and impoverished their families.
The girls have met their production target and are now looking to build on the momentum to address two other community challenges – girls' education and vaccine skepticism. We will share their exciting plans for 2022 below.
*
Life in Zimbabwe during 2021 has been overshadowed by the pandemic, as it has in the rest of the world. When the first cases of coronavirus appeared last year there was panic at the prospect of the virus invading the neighborhoods of Harare, where health facilities are rudimentary. The authorities imposed an exceptionally harsh lockdown, which the WAP girls described through embroidery in this stunning advocacy quilt.
The government's policy since has fluctuated with the rate of infections. While the restrictions have eased as vaccines become more available, it has still been very difficult for the WAP girls to produce soap for much of the year. They could not meet in large groups, and they had to return home by 5 pm because of the curfew. Several shops where they would expect to sell soap were also closed for long periods.
Constance, WAP's inspiring director (photo), remained undaunted through it all.
Constance and her husband Dickson set two ambitious goals for 2021: first, increase the number of beneficiaries; and second produce and sell 16,000 bottles of Clean Girl soap.
The first goal was met in early 2021 when WAP took soap-making to two new neighborhoods, Waterfalls and Mbare (photos), and doubled the number of soap-makers from 40 to 80 girls. When it became increasingly difficult for the girls to meet in large groups WAP selected three talented girls from each of the four clubs and brought them to Constance's house to make their soap. By the end of September, the girls had filled 16,908 bottles, exceeding their target by almost 1,000 bottles! Each one received a bonus of $100 for her hard work.
*
Selling the soap has also difficult. Demand is highest in the local stores, known as "tuck shops" (photo). Many closed for long periods but the WAP girls still had a lot going for them. They had an excellent product which was modestly priced and much in demand. They had also earned a reputation for reliability before the pandemic.
They divided up the bottles and fanned out in teams in search of customers. It's been a highly-spirited affair, as this delightful video shows, The girls and their clients clearly enjoy haggling for the best deal! In fact, it is all part of WAP's larger goal – to empower the girls and give them confidence for the challenges that lie ahead.
The girls still have some way to go if they are to meet their sales target and sell 16,000 bottles by end 2021. They had sold 9,000 bottles by mid-October, at which point WAP gave each of the four teams 1,200 bottles to sell in their neighborhoods. For the most part it has gone well; for example, the Epworth team has already sold its assignment and wants more. The other three teams have received orders for most of their soap, so it's mainly a question of going back and retrieving their money from the shops.
That will leave 2,298 bottles still in stock. WAP anticipates a scramble to sell them by December 31!
Once the soap is sold the girls take the money back to WAP, where it is shared equally between the girls and WAP (to be reinvested in the project). Total earnings have reached $9,642 so far this year. The girls have received $5,521, which works out at $70 a girl - significant for families that live on as little as $2 a day (photo).
There are still no reports of anyone getting married before the legal age of 18 among the girls who have participated.
*
With WAP's encouragement we are now setting our sights on the education of the girls. Dickson from WAP and Sarina from AP have produced profiles of all 80 young soap-makers and found that forty-one have yet to finish secondary school. Some are as young as 14. A good number have dropped out of school.
Sarina and Dickson reckon that it might cost up to $50,000 over three years to complete the secondary education of all 80 girls. While this may seem a steep hill to climb, we are all keen to make a start and are making plans to establish an educatioin fund at the start of 2022.
Here in the US, we are turning to American High School students for help. We began by calling on Nina, 17, our youngest 2021 Peace Fellow (student volunteer). Nina, who attends High School in Georgia, persuaded a group of her friends from school to make their own Clean Girl soap. They taught themselves to make soap over the summer and sold their entire first batch in one weekend! This brought in over $700 for the Zimbabwe education fund.
We are also talking to a second group of High School students from the Girl Up club at the Wakefield High School in Arlington, Virginia. We first connected with the club last year when nine club members produced embroidered stories for a COVID quilt and developed a long-distance friendship through Zoom with the girls in Zimbabwe. Headed by Nahier and Elena, they too want to make their own Clean Girl soap and contribute to the education fund.
Back in Zimbabwe, Constance is looking for new ways to channel the energy of the WAP girls into helping their communities. She has drawn inspiration from Caren, an AP partner in Kenya who is mobilizing women to get vaccinated in the informal settlement of Kangemi, Nairobi. Constance feels the WAP girls might be interested in a similar campaign in the neighborhoods of Harare, where the rates of vaccinatioin are still low.
*
Let us end this report by observing that there is no limit to the ingenuity and enthusiasm of girls once they set their sights on a worhy cause – be it in Africa or the United States!
We hope that WAP can continue to inspire us all in 2022 and thank you again for your contributions.
With our deepest appreciation.
Constance (WAP), Abby and Iain (AP).