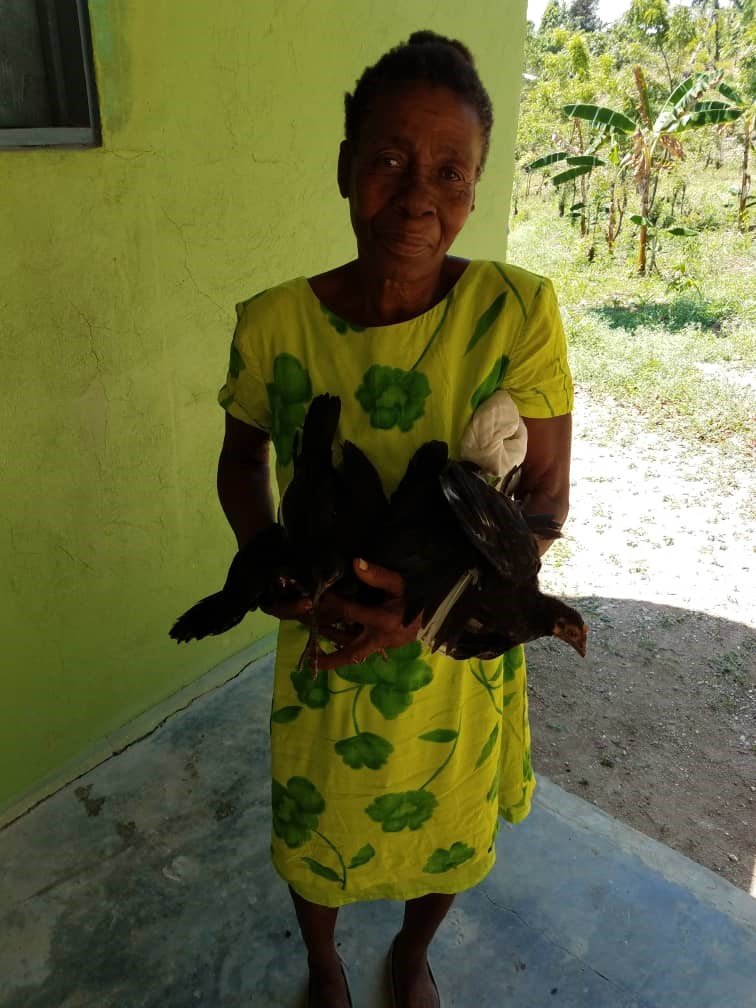 We can never thank you enough for your support. Your support of Leve Kanpe has helped hundreds of families that faced complete devastation and no hope to get back on their feet and "see the light". THANK YOU!!
The photos we're sharing portray some community residents that have participated in our program. They are proudly showing the results of their efforts (new chicks, goats with their offspring...) This is not to be taken for granted. Too many programs of this kind (worldwide) don't succeed because organizations don't provide the "right support". What's the point of giving animals to families if they (the animals) end up dying? Right?
With the support of the Inter-American Foundation, our main International supporter in this initiative, we talked to other programs before developing this one. Vaccination was one needed element as well as animal care training and follow-up. Obviously, the quality of the animals given was part of the equation! It takes attention to detail, it takes follow-up, management and... yes, love.
Antoni Gaudi, a famous Spanish architect stated that: "To do things right, first you need love, then technique." He's so right! You need to care; you need to come from a place of "love"!
As we're wrapping up this project, we're looking at continuing to support the communities and groups we've helped through other forms of support that "they have identified". For example, many have a collective fund that they have built to support their progress. We're looking at helping to reinforce their capacity by providing forms and training that they need to advance these self-financing structures. They are called "solidarites mutuelles" "Mutual Solidarities". These community-driven self-financing mechanisms are a fantastic strategy for sustainable development. The political situation of the country may be worrisome, but if communities find a way to get stronger and more self-sufficient. There you go! There is hope, there's a pathway toward a better future.
Thank you again for your support. Please stay interested! Stay involved, as we keep working with communities on building a pathway toward a future for Haiti. Watch for our next campaign!
In solidarity,
The Haiti Community Foundation Network on behalf of the Haitian communities that we serve