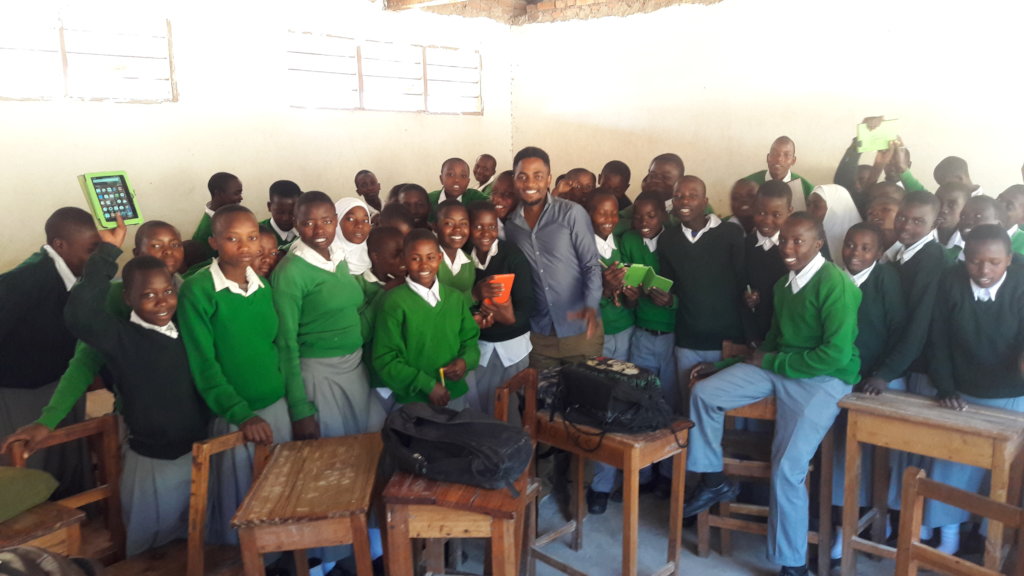 Back in June, we launched our first fundraiser with GlobalGiving. To qualify for future projects, we needed to raise over $6000 from 40 donors. Thanks to your generosity, we beat the target!
Now more than 1,000 students in three remote rural schools are regularly using tablets for studying. We used your donations to buy more tablets, install new interactive software and provide more training to students, teachers and District education officials.
Our digital learning coordinator, Neema Magembe says: "I'm really pleased that the teachers are loving the programme more and more, because that has helped the students love it more too, and they're working really hard with the tablets. It was hard in the beginning when teachers didn't understand the value or how to use them. Now the teachers say the students are answering exam questions much better because of the tablets. They love the new software Shule Direct because it is more closely linked to the Tanzanian curriculum."
We would dearly love for the Tanzanian government to be in a position to provide tablets and computers for students, but right now that's a distant pipe dream. Just providing enough teachers and classrooms for Tanzania's fast-growing population is a big challenge. 66% of schools have more than the required 40 pupils per teacher. There are 650 primary schools that have over 100 pupils per teacher, with some having up to 180 pupils in a class. It's a very challenging environment for teachers and pupils.
While we can't solve the national education problems, we can make a practical difference to a significant number of pupils in these three schools and our work is growing. As well as supporting the national curriculum and students' research skills, we're starting coding clubs to build students' problem-solving skills. Students will learn how to develop apps to address problems in their communities. We're hoping that the digital programme will ignite their activism, and they'll be better equipped to develop their communities.
For students who have learnt with chalkboards and teacher dictation for many years, they're delighted with the interactive nature of the tablets and the wealth of information available to them.
Miria Mbungu is one of the students now using the tablets to learn. "I was really surprised when I saw the videos of people teaching, the first time I used the tablet. I was very attracted, and kept searching until I realised I could study science subjects. Before I got 60% in Chemistry, and then recently I got 80%. I think studying on the tablet has helped me a lot".
Thank you so much for your support! If you would like to continue receiving updates on Lyra's work, please sign up on our website https://lyrainafrica.org/