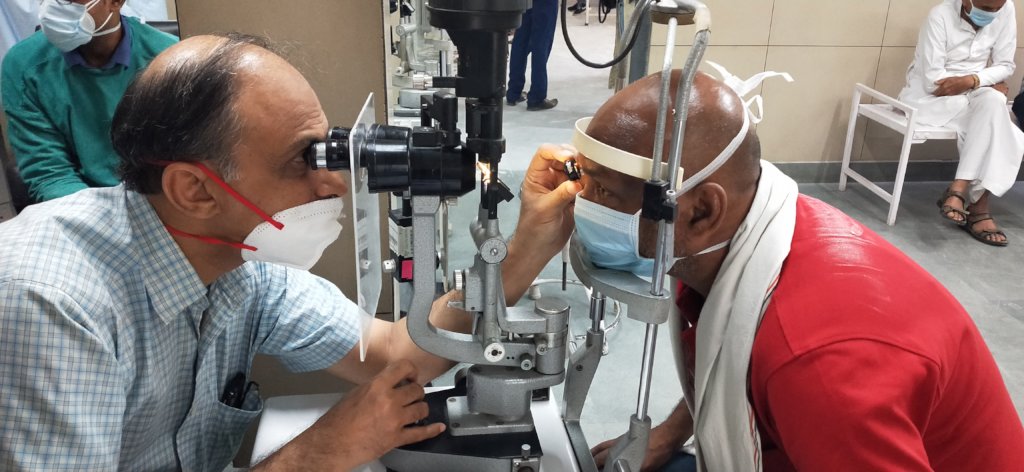 MISSION
ICARE Eye Hospital is committed to provide comprehensive quality ophthalmic services of international standards to all sections of society.
BACKGROUND
Ishwar Charitable Trust (ICT) was established in 1982 with an aim to providing quality ophthalmic care to all sections of the community particularly the rural poor. ICARE Eye Hospital & Post Graduate Institute a unit of ICT was established in 1993.ICARE provides free of cost, eye care services to rural/urban underprivileged communities in a 200 KM radius from NOIDA, for the last 26 years through its Rural Outreach Programme. Using a hub and spoke model – screening and collecting patients requiring surgery from remote Rural Peripheral Centres (RPC's) and urban slums, bringing them to our base hospital (in NOIDA, Dadri, Khurja, Greater NOIDA & Sawai Madhopur), to provide them, high quality diagnostic, surgical, post operative care, this entails; three days stay and transportation to and from the hospital at no charge to the patients.
ICARE'S ACHIEVEMENT OVER THE 26 YEARS
To date we have examined and treated over 40,70,000 & restored Eye sight of more than 3,13,000 patients. Out of these total numbers, 65% of our work is charitable in nature. In FY 19-20, ICARE had screened over 2,91,000 patients and performed 24900 surgeries of which over 16,700( 67%) were free of cost. We are proudly, an organization with the largest proportion of charity work, compared to any other ophthalmic non government hospitals.
UNLOCK - THE NEW NORMAL- AMIDST COVID -19 PANDEMIC
The Corona Virus pandemic has brought life to a standstill all over the world. The worst affected are the lower socio-economic strata of society, daily-wage earners, migrant workers, homeless and the poor elders. These needy people continuously face enormous challenges for healthcare in terms of availability, accessibility and affordability. ICARE has made administrational and operational changes to reach out to as many patients in need as possible.
PERFORMANCE OF ICARE FROM MAY 2020 – DECEMBER 2020
The repercussion of COVID-19 virus has had a very significant impact on ophthalmology in India and it is an opportunity for us to reinvent the ways we have been working over the years. We have worked on increasing the efficiencies and reducing administrative, so that we can reach more beneficiaries with limited resources.
ICARE has started mobilizing beneficiaries from Vision Centres to the Base and Secondary Centres for the treatment and surgical intervention. Vision Centres serve as the first level of response and care for patients. By responding to primary eye care needs at the Vision Centres, the staff identifies patients who need cataract surgery and other sight saving services. They focus on cases that are more serious and which cannot be treated with a simple intervention. The Vision Centre team organizes the patients' referrals to the hospital, reaching out to family members in the community, arranging transportation to the hospital, and systematically removing the barriers that kept the patient from receiving surgery. The combined effort of both the Vision Centres and the base or referral hospital reduces the load of visual disability in the community.