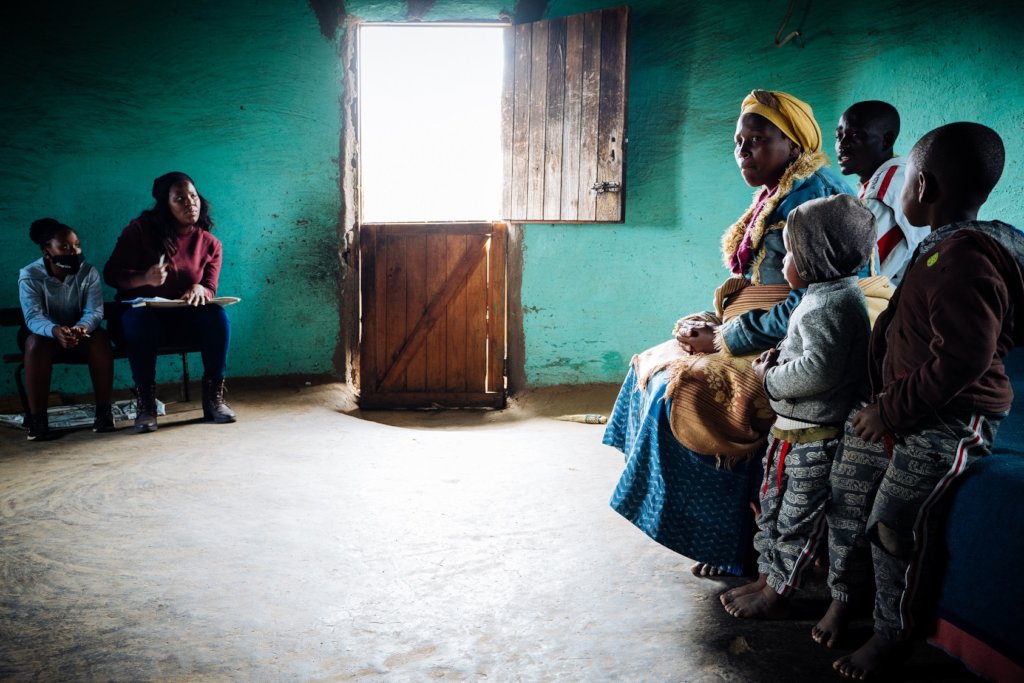 Counselling Report 2020
The journey has not been easy but it was worth it. It is my great pleasure to look and reflect on all that I have done during the year. Some things were unsuccessful but nonetheless were inspiring and a valuable learning experience. I always say with all the achievements that I might think I have accomplished there is none greater than making a difference in accelerating prevention to reduce new HIV, TB infection, and STIs.
My main focus this year was clinic visits, home visits, school visits, community home-based care, and support groups, cataract surgery, and sanitary towels rollout.
Clinic visits:
Two times a week I visit 2 different clinics in our area. I provide accessible, friendly service delivery and health education, customized to clients' needs. The nurses and health workers in the clinic support my work and we form a strong team.
I provide people with education about HIV screening, testing and treatment, Sexual Transmitted Diseases (STI) screening, and Tuberculosis (TB) screening. I promote the use of condoms and make people aware of the danger of drug and alcohol abuse.
The clinics provide me with a private room to do one-on-one counseling. Here I can test the clients for HIV and answer questions about Post-exposure prophylaxis after sexual assault and post-sexual support after unsafe sex.
Total Number of People educated: 1900
Total Number of One-to-One counselling: 800
Total Number of People tested for HIV: 80
Home Visits
For quite some time I have been working towards the 90-90-90 strategy which was promoted in South Africa since 2014. 90 percent of all people in SA should know their status, 90 percent of those who are positive should be on treatment, and 90 percent of those on treatment should be virally suppressed.
South Africa has the biggest HIV epidemic in the world with 7.7million people living with HIV. HIV prevalence among the general population is 20.4%.
I decided to expand my Home visit frequency and area to do more HIV/Aids education. Two times per week I visit people at home now. People have told me that it helps them a lot as they live far away from clinics or any other institutions that bear information about the subject. People enjoy being counseled about HIV and AIDS in privacy. Testing and giving out condoms is comfortable and I can pick up other issues like TB and I offer help with transport to the nearest clinic or hospital if necessary. I always leave Isixhosa booklets with information about STIs, Hygiene, and HIV at the homes.
Number of Home Visits: 853
Number of people educated: 1670
Number of people counseled: 228
School Visits
Once a week I visit 4 different schools again. I was restricted by Covid-19 as the schools wouldn't allow any external people to come in. Recently the principals have contacted me and asked me to come back to continue with the important work.
I found a good approach to reach adolescent girls and boys through an open and friendly way of teaching delicate subjects like sexual and reproductive health. The positive impact has been made through group activities, drama, and one-on-one counseling. Teachers get involved and observe my teachings. They give me feedback as they observe the behavior change. I give out female and male condoms, pamphlets, and sanitary pads for the girls to ensure they attend school even when they have their menstruations. I also educate the children on Covid-19 facts and prevention.
Here is a story about one of my heroes. A 13-year-old girl from Malahle. When I started working with her grade she was very shy at first. As she got to know me she came out of her shell. One day after class she came to me and said that she thinks that there is HIV in her own family but no one wants to talk about it. She always thought that young people do not have the right to talk about HIV/Aids openly. It is an absolute taboo in her family. She asked me if I could schedule a home visit to come to counsel her entire family. That was very brave of her. When I arrived there, the family was not happy about my visit. It took many visits and sensitivity to engage with all family members. One by one they opened up and I was able to make sure they get all the information they need to make informed decisions. It came out that one of the cousins is already on ARV treatment but had to default her treatment often because she was hiding her status from her family. Now that everyone knows and accepts her, she will be able to go and visit the clinic and get her very needed medication. Thanks to the very brave 13-year-old girl, trust and love were reinstalled in this family.
I also organized a sports event for 32 girls from three different schools. We played netball and I organized workshops for them to educate them on how to share information about HIV/Aids with their families at home. In this fun-environment learning was made easy. We provided transport for the girls to come to the event.
Total numbers of learners educated: 436
Total numbers of learners that received one-to-one counseling: 39
Community-based care and Support groups
Once a month I meet with the support groups and Home-Based Care groups in the area. The groups have been established many years ago by TransCape in 2008. These groups have grown from strength to strength and I can say that they are independent, hardworking people who want the best for their community. We share information and ideas about how to optimize the projects and make the area stigma-free
As I will be relocating from Canzibe to Mdumbi, I am looking forward to establishing more support groups and Home-based Care groups in the area and make them just as strong as the ones around Canzibe area.
Total numbers of members: 46
Total number of meetings in the last 6 month: 4
Cataract Surgery
TransCape and Grace Vision work together to transport Cataract patients from our Canzibe Hospital to Zithulele Hospital.
Due to Covid-19 and the fact that our hospitals and medical personnel are flooded with cases, all non-emergency surgery was canceled. We only had one trip to Zithulele Hospital at the beginning of the year 2020.
Sanitary Towels
The Sanitary pads project was established to help girls with their monthly menstruation management. We have distributed another 300 pads to school girls, for them to attend school even when they have their period.
Our sewing ladies continue sewing the pads out of flannel and cotton material. Everyone is very grateful for this service
Community Awareness Events
I organize community awareness days on regular basis to inform people on important matters arising. I had one big event in Kwazulu to educate people about the Lockdown restrictions and how to prevent Covid-19 infections from spreading. I gave out information pamphlets and soaps! I partnered with the Ward councilor of that ward as the government gave us some food parcels for the families stricken by starvation.
Thank you for all your support. It is very apricated!
Yours sincerely
Zinathu Luvalo