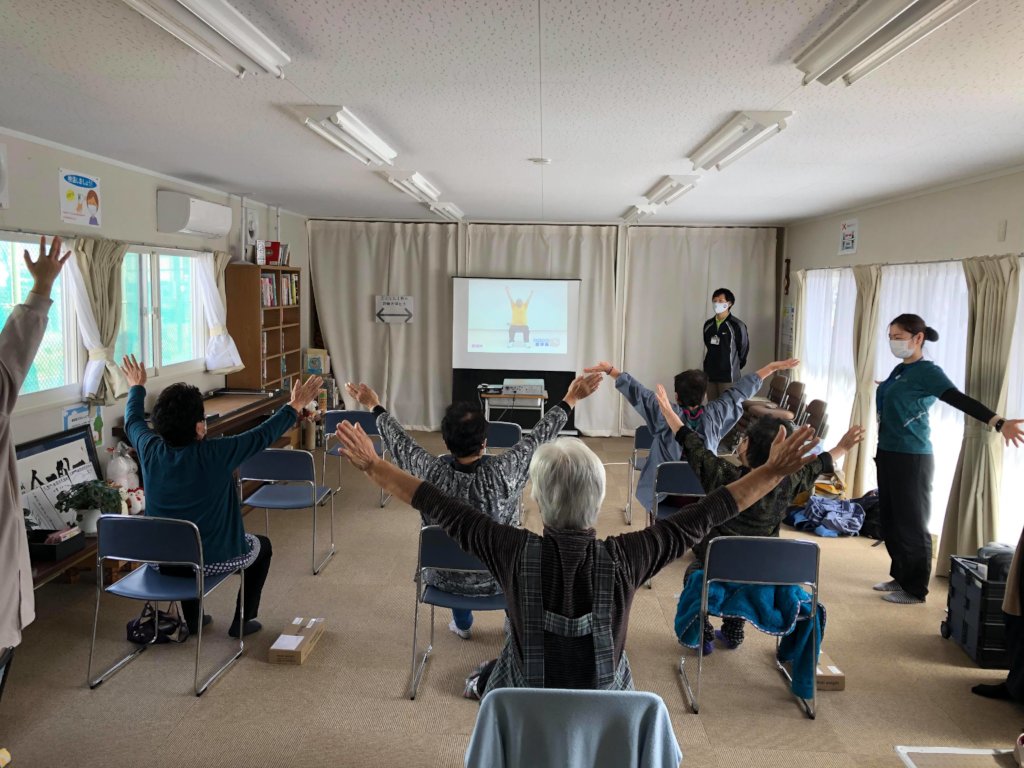 Spring time is almost here and flowers are blossoming, however, Miyagi Prefecture, in which our project site Ohsato town is situated, has been under a state of emergency due to concerns of wider virus spread since end of March 2021. In addition to the various challenges that the survivors are already facing in their recovery process such as building, rehabilitating or relocating to a new home, emergence of COVID-19 since last year has been severely affecting their day-to-day life.
Elderly people are the most vulnerable, since they have become reluctant to go outside or socialise with each other, and this has lead to many issues related to physical and mental health, such as depression, lack of motivation, anxiety, sleeplessness, worseing of dimentia. developmemnt of new diseases and weakened physical strength. JISP believes that the best way to stay healthy is to build up our immune system through exercising, so we decided to start up a new activity to improve physical and mental health, especially of elderly people!
"Iki Iki 100 Years Old Exercise (Iki 100")" was developed by a Physical Therapist in Kochi Prefecture of Japan, to prevent elderly people to live a healthy and lively life without a need of receiving nusing care. It's a set of very simple muscle exercise using light weights that can be wrapped around the wrists and ankles, and it can be safely performed by following the intstuctions which will be provided by Physiclal Therapist during the first 4 weeks. Once the particiapnts have gained confidence, they can perform it together as a social & health activity! What's attractive about this exercise is that the participants can confirm improvement of their physical strength through quarterly check-ups by a Pysical Therapists.
We've just started up the activity in April, and we are very happy to see that the participants are enjoying the Iki 100 which is completely new to them! We look forward to more and more participation from our beneficiary communities.
We would like to thank you for taking interest and reading our report, for your contibutions and your continued support.

JISP Team