Project Report

| Jul 15, 2019
How Hurricane Harvey Brought Me to Dominica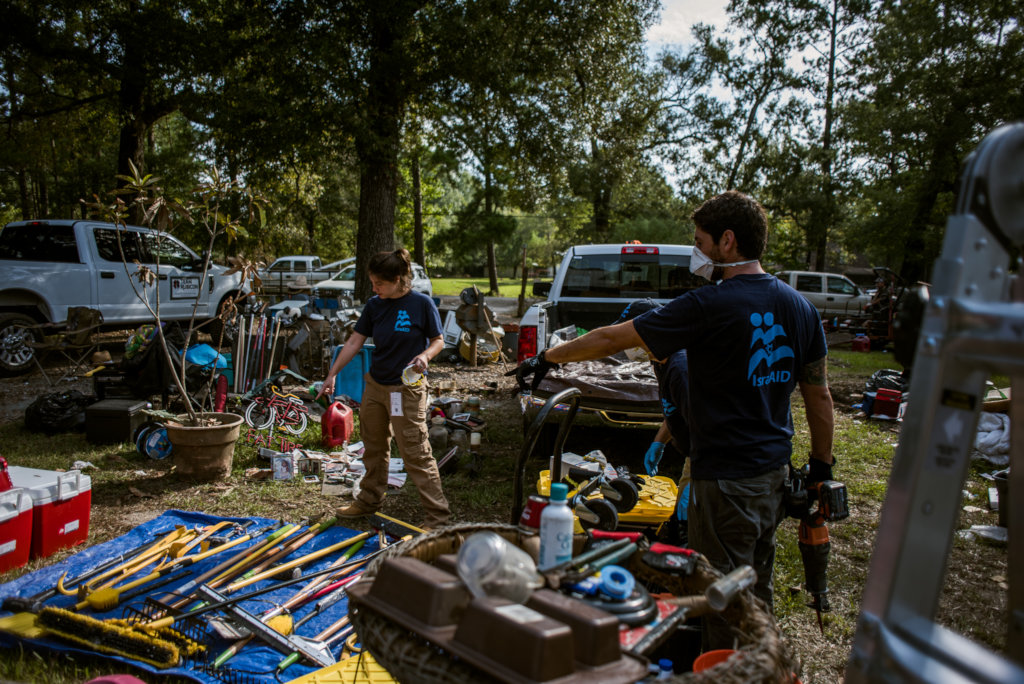 "After hearing about IsraAID's work in Houston, I knew this fellowship was something I genuinely wanted to do." Summer 2019 IsraAID Humanitarian Fellow Emma shares her journey from Houston to Dominica.
My name is Emma. I am a rising junior at Rice University in Houston, Texas. This summer, I am volunteering as an IsraAID Humanitarian Fellow in Dominica.
My first week of college began in August of 2017, the same week that Hurricane Harvey hit. As a student from Chicago, I was accustomed to occasional Midwest tornado winds and rain. Following the earthquake in 2010, I traveled to Haiti with my father in order to understand recovery as a means to self-sufficiency. Harvey was, however, my first hands-on experience living through such a disaster. As I spent my first week of school moving back and forth between my dorm room and the residential college's shelter, I often thought about how this experience would have differed had my university not had such thorough safety and disaster-risk precautions in place. Our Dean of Undergraduate Education and his wife even stayed in my residential college during the storm! I also recognized that Rice University's campus rests on slightly elevated ground in Houston, resulting in less flooding than the broader Houston community. Despite that slight elevation, I still remember water up to my calves as I waded around campus in search of my friend's car (which we later learned had flooded). Thankfully, this was only a fraction of the immense damage that most of Houston faced.
Immediately following Harvey, the Rice campus came together and formed a volunteer network of our own students, staff, and faculty in order to be of service to our city. As Harvey's storm passed, news of damage across Houston became increasingly prevalent. Congregation Beth Yeshurun, the largest Conservative Synagogue in the US, flooded. The NRG Stadium and a furniture warehouse opened their doors as places of shelter. Some Rice University students who had returned home for the weekend were rescued from their houses by boat. Due to the extensive flooding of historical synagogues and Jewish community sites, the Houston Jewish History Archive was launched. This archive is now my place of work at school. My experience during Harvey affirmed my commitment to disaster risk reduction, mental health awareness, and the power of community.
When deciding what I wanted to do this summer, I was looking for an opportunity to understand a crisis, whether directly manmade or as a result of climate change, from both a humanitarian-aid and a holistic perspective. I had heard of IsraAID in the past, as an international NGO that works across the globe responding to both immediate and long-term community needs. After finding out about IsraAID's work in Houston, I knew this fellowship was something I genuinely wanted to do. I had two primary motivations: the first was that IsraAID's work post-Harvey showed me that the organization does not only work where it is "trendy," but where it is needed; second, I would have the opportunity to give back to and learn from an organization that had given so much to my own community.
My journey has now come full circle. As a Fellow in Dominica, I have had numerous conversations with teachers, staff members, and Dominicans who lived through Hurricane Maria in 2017. Our shared experience of a community in crisis allows me to empathize with the individuals here, as well as emphasize the importance of disaster risk reduction. I have been tasked with modifying the disaster risk reduction curricula for students and teachers of children with disabilities. I couldn't be more grateful to IsraAID and for the opportunity I've been given. The work they continue to do in Houston and around the globe not only helps the immediate communities but inspires others to act, to be the change they wish to see in the world.
On 25 August 2017, Hurricane Harvey ravaged southern Texas with winds of over 130 mph (210 kmph) and storm surges up to 13 feet (4m), damaging and destroying thousands of homes. Over 20 inches of rain followed, flooding the homes of 2.3 million individuals. IsraAID deployed a team to implement a two-stage response in Texas, focusing on emergency relief, psychosocial trauma support, and debris removal. Since the initial recovery efforts, IsraAID has updated its response to emphasize disaster risk reduction, partnering with Tulane University, Gulf Meadow Church, and others to identify vulnerable and resilient households within the community.