Project Report

| Apr 4, 2022
Our Small Grant was Approved: 60 x 48-egg Incubators for Women and Youth!
By Austin Bowden-Kerby | Permaculture farmer who established Happy Chickens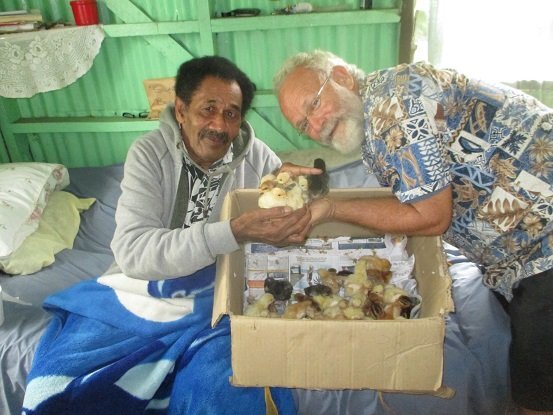 BULA FROM FIJI!
Here in Fiji, at the Happy Chicken farm (www.teiteifiji.org), we can finally travel to outer islands, and all internal borders have been open since late last year, and commercial flights started in December! So we are now able to open up our training workshops again. We had a soils workshop in December, and we will soon have Happy Chicken workshops again! We teach not only methods of raising chickens using natural foodstuffs, but also are encouraging small home businesses for women and youth farmers, to help provide sustainable income to island villagers. With that in mind, we applied a few months ago to the Austrailan Direct Aid program for funds to purchase 60 small 48-egg incubators to set up these small businesses, and we just found out last week that out applicatation was successful!
Of course, now we need to select the farmers producing enough of the the happy chicken eggs, and especially disadvantaged women and families. In Fiji the official government poverty level cut off is $7,000 FJD ($3,500 US dollars) income for a family of six- PER YEAR (you read that correctly- not per month). Fortunately nearly everyone has a garden and coconut trees and access to fishing and wild foods. In 2019, 30% of the population of Fiji lived below the poverty level! With the closure of the tourism industry, the biggest employer for the past two years, the number of poor families has soared. Add to that the recent food price increases, and it is becoming even more difficult for poor families to survive.
A small hatchery business can mean a lot to a family. Chicks are in high demand, and can be sold for 3 FJD each, ($1.50 USD), and the infertile eggs can be candled at 5 days and removed from the machine, and they are still good to eat! So this can result in an income every 3 weeks of about $130. FJD, or $65. USD, which may not sound like a lot to you or me, but it means that over a thousand US dollars income per year, increasing a poor family's income by at least 20%! This can make a huge difference to a struggling family.
Happy Chicken Facebook, Fijian Ministry of Agriculture, and "Coconut Wireless" will spread word of free incubators for women who complete training.
Once the funds are in the bank, we will purchase the incubators in stock and put more on order when they sell out. The program will be announced via the Happy Chicken Facebook page, and through the Ministry of Agriculture, and the word will spread through the coconut wireless! We will need to conduct workshops at the farm for those eligible, and that is what your donations on GlobalGiving will fund- plus transport for those who come by bus. The women and youth will be trained in all aspects of small scale chicken production and the operation of the incubators, and then they will be given the machines!
Global Wheat Shortages Loom--Local Chicken Feed Prices Likely to Soar
We are concerned that the global shortage of wheat will result in a big increase in local chicken feed prices, as the feeds sold are made from 95% imported wheat. So we include production of local feeds, and we will continue with our coconut rehabilitaion and moringa seedling distribution programs (Google Moringa!). Stay updated for the results in our next report!
GlobalGiving is givng a 50% bonus on your donations of up to $50--starts Monday April 4th and goes through Friday April 8th. Your little donations sustain our livelihoods chicken & egg program: providing protein source and income! Thank you everyone.