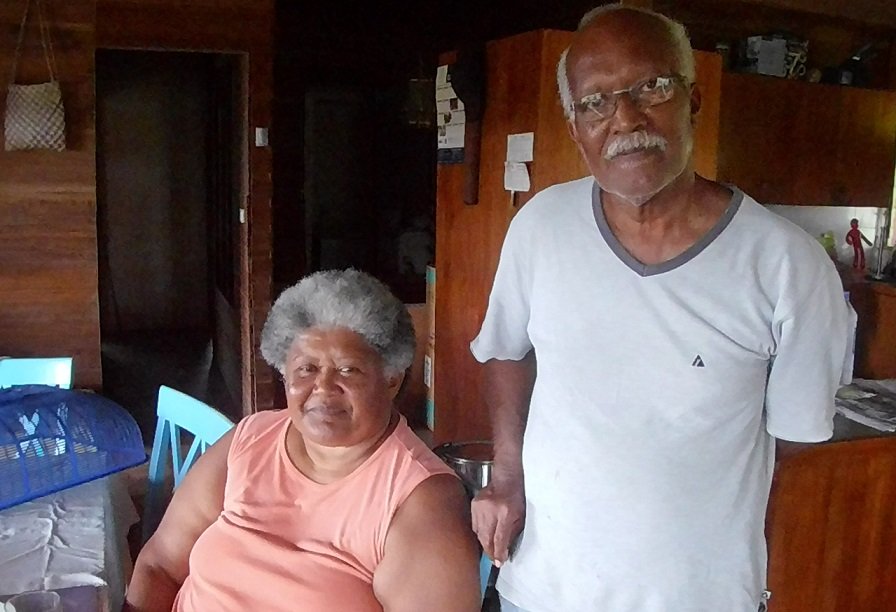 Fiji has just come out of the wettest wet season in a decade or more, due to very wet "La Nina" conditions. Our summer is in December through March, and this year the ocean became quite warm. We were extremely worried about the corals bleaching and dying, but Mother Nature turned on her "fan" and generated four cyclones, which cooled the waters off. The winds were quite destructive and frequent flooding occurred in the country. The cyclones mostly affected the country 150 km north of us here at the farm. But due to all the rain, our pens became horribly muddy in spite of digging new drains. The chickens and those tending them were miserable, and some of the chickens got sick in the unsanitary conditions. Fortunately, a simple solution was developed and help was in sight.
In January our Happy Chickens project received a grant from the New Zealand government to purchase a wood chipper, and this seems to have solved nearly 100% of our chicken disease problems. The powerful wood chipping machine was an answer to our prayers!
We have been busy mulching Chinese Jung Chao cane grass "mushroom grass", recently introduced to Fiji for growing mushrooms in, plus leguminous tree branches. We do clean the houses regularly and use the dry composted manure for the farm's gardens and crops, but cleaning was not enough. So we put a thick layer of fresh compost over the chicken yard and any muddy places, and also a heavy layer in each of the seven hen houses. This prevented the hens from making dust baths in the dried up dusty compost inside the houses- it forces them to do their dust bathing in clean dirt far outside of their houses and yards. Pathogens could be carried by chickens reveling in impromptu dust baths--that behavior has been stopped with the benefit of a disease free environment.
The chickens also enjoy eating some of the chopped mulch, which is high in protein and sugars. The freshly chopped China grass gets surprising hot within a few hours after chopping, not like other things we chop up. Another grass crop is growing now, and we will be able to redo this every other month, after removing the well-rotted layer for use in the gardens.
Fiji is going through a difficult period, with 40% losing their jobs due to the closure of all international tourism. With no unemployment benefits, poverty has become much worse in the country. Happy Chickens offers an alternative to hunger; we continue to hatch about 15 dozen chicks per week, and we continue to give chickens to needy families.
For the less needy, those who are not destitute and who still have an income through sales of farm produce, we continue to sell chicks at below production cost. The official government poverty line in Fiji is determined by when a family makes less than $3,500. USD per YEAR (not a typo). So nearly everyone we deal with is struggling. At $15. USD per dozen, we are able to sell all 15 dozen from the farm each week, which gives some contact time to do a tour of the chicken houses and to share knowledge on tips for success. We often throw in some free chicks, especially for those who come far on foot or horseback, or if they come to buy half a dozen because that is all they can afford. For people who were selected for a recent US Embassy funded livelihoods training here at the farm, we have given or will shortly give 2-3 dozen larger chicks each. Many of these chickens we have raised up for six to eight weeks before distribution. Photos are below.
Here's a month's activity at Happy Chicken permaculture farm:
1. A six-day hands-on workshop sponsored by the US Embassy as a livelihoods training for village women.
2. Delivery of two dozen two-week old chicks as a gift to a struggling older retired couple in Navua.
3. 36 half-sized chickens to six poor coastal families in Naidiri Village (5 hens and a rooster each), plus seven of these larger chickens were sent to a family in Naitasiri province, and eight were given to three neighbor children being raised by their elderly grandparents- they arrived on horseback and they caught two buckets of baby crabs in the stream for our fish pond in "payment"- but it was good fun!
There's never a dull moment living with Happy Chickens: from mulching cane grass for therapeutic chicken baths and bedding, to enjoying a week of knowledge exchange with key villagers who will return to share best practices, supporting struggling elders with a much-appreciated gift of chicks, supplying pint-sized chicks to poor coastal families who in-turn share, watching kids catch buckets of baby crabs by our fish pond...it's all so meaningful and spells survival to so many here in Fiji.
A heartfelt thanks goes out to all of you who continue to build this project, allowing us to expand the numbers helped, and to be resilient and find solutions to climate change challenges!
Austin Bowden-Kirby
Sharing our joy: We've welcomed my newest grandchild, Joycelee, who will grow up with her older brother Kiki, mingling with the chickens and loving the healthy environment.