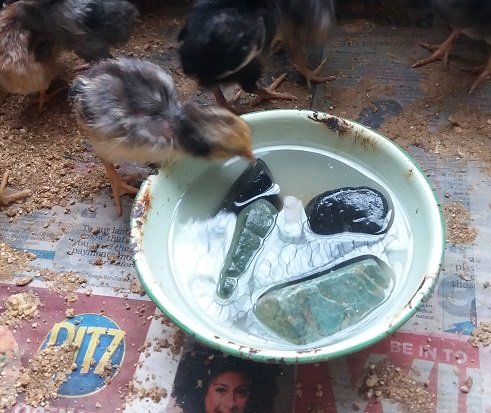 Because of patrons responding to #GivingTuesday, and with the sizable bonuses awarded by GlobalGiving, an urgent program to both protect endangered coral reefs and also to provide a necessary addition to scarce chicken feed was launched.
2020 continues to be a year of crisis all over the world. Fiji's border is sealed, and tourism, our largest industry, has closed down. Tens of thousands of families have lost their primary source of income. Families are struggling to make ends meet and to feed their children. Shipping into the country has also been disrupted, impacting the commercial poultry industry, as shipments of baby chicks and fertile eggs from New Zealand stopped for several months, and now have resumed at a lower level, so prices for eggs and chicken in the stores have gone up, at a time when people have less money to spend. We have responded by doubling the size of our breeding flocks, with the goal of producing 300 chicks per week, to meet the increased demand from the many small family farmers and those newly unemployed who have turned to farming. However, the cost of chicken feed has also increased by 12%, affecting our base costs of production. These problems of shipping during the pandemic are stretching the supply chain thin. A simple thing like procuring chicken feed has become a complex exercise in spending more money and more time searching for an increasingly scarce commodity. Fortunately, coconut trees planted in years past are now producing and so the chickens are fed coconuts in addition to their forging. We have also in recent months helped plant 5,000 coconuts in surrounding communities, and have provided fencing to protect them from stray cows, horses, and goats.
While in the past chicks were provided as a donation to families in greatest need, the majority of chicks in recent months were sold at cost of production to poor family farmers, with the goal of these farmers hatching chicks of their own and becoming self-sufficient, and spreading prosperity in the wider community. We have also begun lending out small incubators to the best farmers. One small farmer has proven particularly exceptional, and so we have given him the machine. We also gave nine roosters to a commercial egg producer and he paid us back in fertile eggs- a cross between our super roosters and his imported super layers.
While these efforts in self sufficiency for small farmers continue, the New Zealand Government recently awarded us a grant to purchase a wood chipper, and so we plan to begin worm farming as a way of lowering feed costs, while producing valuable potting soil. The wood chips and dry compost will also be used as litter in the hen houses and under the roosts, providing a cleaner environment for the happy chickens, especially needed now, as it is the rainy season.
We also are sourcing another free source of chicken feed, harvested from the ocean- the crown of thorns starfish (COTS). This is part of our coral reef conservation project, where we are funding the removal of a horrific plague of these venomous animals, which eat nothing but live corals, digesting the coral tissues and leaving behind the white skeletons. The COTS removal program is an emergency response leading up to a severe hot water coral bleaching event, which is predicted to hit our reefs from February until April. Each adult COTS kills a saucer-sized bit of coral every day, and can live for years. Conservatively estimated, removing a single COTS saves 250 corals per year. Last week we collected 450 COTS from Votua village, for use as chicken feed, paying a bounty of 25 cents USD for each. Our goal is to remove at least ten thousand in the next six months, at a cost of US $2,500, saving over 2.5 million corals, providing a high protein, high calcium chicken food, and providing a much-needed cash income to the villagers. We are encouraging the Fiji Government and other NGOs to support this effort for other communities during this coral bleaching crisis, in order to save the bleaching-resistant corals that do survive, helping the coral reefs adapt to the increasing temperatures caused by climate change.
The villagers know how dangerous the toxic starfish are, as the local name is "Vula Walu" or "eight months", as that is how long a COTS wound can last before healing. So the program is helping make the waters safer for children to swim in again. Each COTS has over a dozen arms covered in venomous spines. The fishers load them into their canoes or used kayaks, bought from the closed resorts, and then spread them out on the shore to dry, until we come to collect them. Their sharp thorns fortunately become dull on drying. They also lose their poisonous power, and so they can be more easily handled and ready to be eaten by the hungry chickens, eager for a nutrient rich natural supplement. Dried COTS, stacked up like pancakes, are smashed before feeding to the chickens. If they are not yet dry when we bring them in, we lay them out on the hill to dry at the farm.
A gift of $25 towards this effort will remove 100 COTS, thereby saving 25,000 corals, while translating into joy for cash strapped families, and savings on happy chickens poultry feed, passed on to the farmers. We will also begin offering baby chicks for trading in-kind for dried COTS, as a way of coastal communities becoming more more self-sufficient.
U.S. donors, because of the Coronavirus Aid, Relief and Economic Security Act passed last spring by Congress, you may make up to a $300 cash donation to your favorite non-profit, and claim as a tax deduction next year, even if you don't itemize. The IRS is encouraging citizens to utilize this special provision to benefit charities worldwide.
We're preparing for Yasa, a hurricane thought to arrive here in Fiji as a Category 4 within two days. Yasa, in Fijian means sandalwood, and we grow some here at our permaculture farm.
Godspeed to one and all during the holidays, Austin