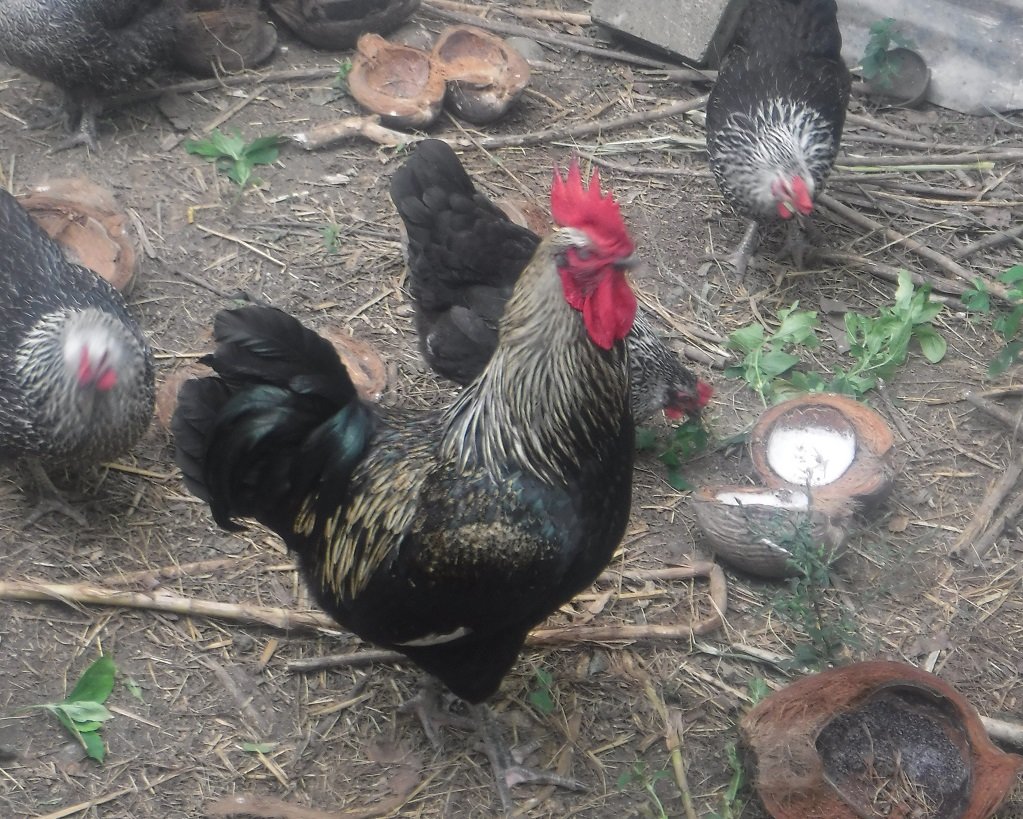 The colorful roosters are coming into their own high season here at the Happy Chicken farm- time for rebuilding and improving the flock to meet the increasing need for baby chicks. The country is shut down due to Corona virus and imported chicks can no longer be flown into the country from New Zealand. Fiji normally imports over 20 million fertile eggs and chicks per year, providing poultry and eggs to much of the South Pacific region, but this crisis is affecting air transport.
If you've been following the hen and rooster tales recently, you'll recall our flock has taken some hard hits and suffered severe set-backs....so much so that we've had to sell off most of our six flocks and to rebuild the nucleus of our superior breeders from the chickens that were not affected. In Fiji we call the foraging local chickens "jangli chickens" - a Hindi word, as we have a lot of people of Indian descent here. The word jangli means "wild"- the same word root as "jungle".
Breeding and then Choosing Mr. Right Rooster:
We tried for seven years to bring in heritage chicken breeds from overseas, but it proved impossible, so we worked to create our own productive dual purpose (for both eggs and meat), mixed breed of chickens. We started by selecting the best local jangli roosters we could find and crossing them with imported shaver brown egg laying chickens, which were the only egg chickens allowed into the country from overseas. Every year we raised up at least a hundred of these mixed breed chickens, and we sold off the smaller roosters and hens, and kept the biggest and the most beautiful. So over the past ten years or so, we have produced a very productive mixed breed of chickens for the communities..... and the breed has gotten better with each passing year primarily through selecting the best roosters from each generation.
A good hen lays eggs for three years, but in mixed age flocks, (which most flocks are here), the farmers cannot tell how old each hen is, so it is just a guessing game for retiring hens from the flock. So we are now trying to create specific breeds of chickens so that the farmers can know how old their hens are, and so they will know which ones to select for culling (those that are ~4 years old). That is what my grandmother taught me, and really the only way to manage a multi-year flock.
Each breed is based on a unique color or form. On researching the internet, we found that for some breeds, the hens and roosters do not look anything like each other- so it's challenging, yet fun deciding which roosters to pair up with which sorts of hens, as I divide the chickens up into reasonable breeding groups, based on the closest heritage breeds. We have some real beauties here at the farm, and I include some photos below from two of the new breeding groups. From these groups we will soon collect the eggs and hatch the chicks and raise them up and then further select for size and color and egg production. We hope that after three years, we will have created several good breeds for the country.
I looked online yesterday at chicken breeds to try to figure out what some of my interesting chickens must be related to Norfolk Gray chickens, very rare breed, which seems to have somehow gotten to Fiji long ago. We are calling these gray/white fringed chickens "Saluasalu" chickens which means "flower lei". Many of the happy chickens look somewhat like the Welsummer breed, and others. In time we hope to produce breeds that look like Sussex, Australorp, Rhode Island Red, and Anconas. One of the new breeding groups is a shiny greenish black rose comb chicken-some with small red markings around the neck, and with beautiful gold and red roosters with a glossy greenish black tail. The Rose Comb birds are one of my best layers, but these hens also often hide their eggs in the bushes. The disappear for three weeks, only to reappear with a dozen fuzzy chicks following behind. For local farmers, these chickens will be important for hatching out their own chickens, and the rose comb eggs can be substituted for any eggs.
Addressing Impending Food Shortfalls Due to Covid-19 Import Restrictions:
Besides significant damage to the local farmers and village comunities from two cyclones since our last report, the most important development is that there is a developing shortage of imported egg laying chickens, which are required to maintain the egg industry of Fiji. The imported chicks are no longer available, as the cargo flights are so few. In 6-9 months a shortage of eggs is expected to develop, and this situation might last for up to two years. W ithout egg producing chickens and abundant eggs, coral reef fish and river prawns will be targeted and could quickly become overfished. Our challenge now is how can we produce more high quality egg producing chickens in larger numbers- and quickly in the hatchery?
With the culling of most of our hens last year, we are now getting only eight dozen eggs per week for hatching, not enough to scratch the surface of the needs. So I called Pranil, a local egg and organic vegetable farmer on the coral coast, as he has 330 young brown egg layer hens, and I proposed to buy 20 of his hens for crossing with some of my best roosters, as I had five surplus breeding roosters. What ended up happening is that I have given him five of my five best super roosters as barter, and he will give me ten dozen fertile eggs per each rooster, or a total of 50 dozen eggs, which I will hatch and begin distributing to the farmers as a 1/2 to 3/4 egg bird cross. Subsequent eggs from Pranil's farm will be hatched in our incubators and the chicks will split 50/50 between Pranil and the Happy Chicken project. The eggs produced from these Fiji egg layer chickens will be of mixed colors, as three of the breeding roosters hatched from a light blue egg, they will father hens which lay olive green eggs, as dark brown + blue = olive green. I will grow up 100 or so of these chickens, to see how fast they grow and how many eggs they lay etc for comparison with imported egg layers. Assuming that they do really well, we will then have multi colored layers available for free-range small egg farmers. That would help give the poor farmers of Fiji a boost. So fingers crossed that this will work out for maximum benefit for all. The first eight dozen of these eggs went into the incubator just yesterday.
Coconuts as Chicken and Human Food: Another long term vision is finally coming true!
After placing an order and paying for improved coconut seedlings four years ago, the seedlings finally arrived at the farm just two weeks ago! The 5,000 coconut seedlings came by boat and truck all the way from Taveuni Island, three hundred kilometers distant. When the trees mature in only five or six years, the they will bear magnificent large coconuts the size of soccer balls. So we are also giving out these wonderful coconut seedlings to communities and to farmers of our happy chickens. The coconuts make excellent chicken feed, as well as human food plus numerous useful products, such as virgin coconut oil, vegan coconut cheese, toddy sugar, toddy vinegar, and soap. We have begun training communities in production of these products, using coconuts already growing at the farm.