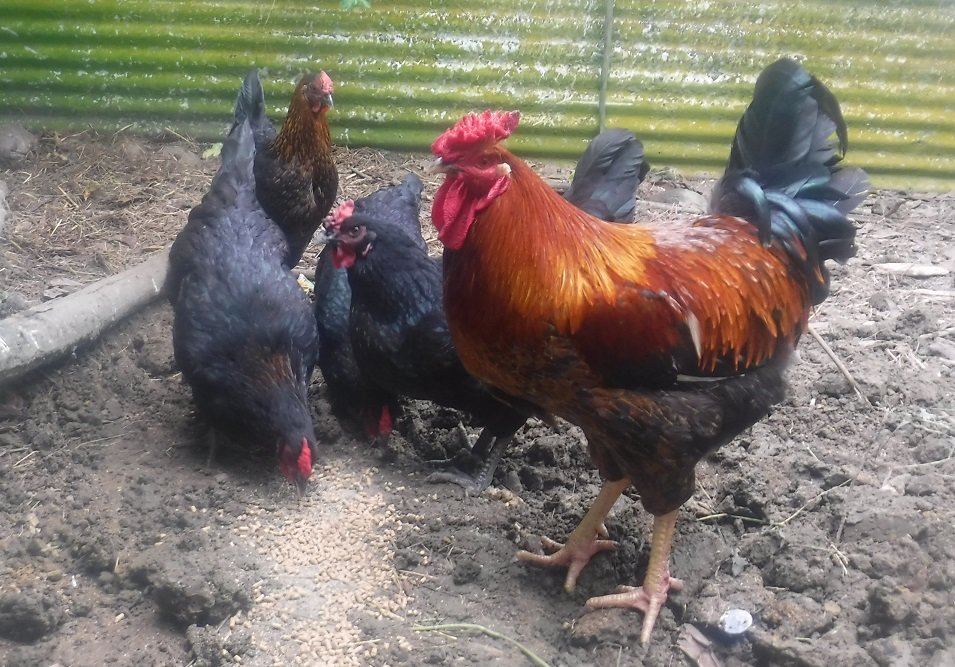 The colorful roosters are coming into their own high season here at the Happy Chicken farm. It is a time for rebuilding and improving the flock to meet community needs for baby chicks, as the country is shut down due to Corona virus and imported chicks are not being flown into the country from New Zealand. Fiji normally imports over 20 million fertile eggs and day-old chicks and provides poultry and eggs to the South Pacific region.
If you've been following the hen and rooster tales recently, you'll recall our flock has taken some hard hits and suffered severe set-backs....so much so that we've had to sell off most of our six flocks and to rebuild the nucleus of our superior breeders from the chickens that were not affected.
In Fiji we call the foraging chickens "jangli chickens" - a Hindi word, as we have a lot of people of Indian descent here. The word jangli means "wild", and wildlands in India are known as "jungle". Everyone says that jungli chicken tastes so good, not like the mass produced (unhappy) ones raised on big poultry farms. The fresh eggs are also wonderful and of all colors- cream, brown, green and even light blue!
Choosing Mr. Right Rooster:
We tried for seven years to bring in heritage chicken breeds from overseas, but it proved impossible, so we worked to create a productive dual purpose (for both eggs and meat), mixed breed of chickens. We started by selecting the best local roosters we could find and crossing them with imported shaver brown egg laying chickens, which were one of two types of chickens allowed into the country from overseas (the other breed proved unusable). Every year we raised up at least a hundred mixed breed chickens, and from that we sold off the smaller roosters and hens, and kept the biggest and the most beautiful. So we produced a very productive mixed breed of chickens for the communities over time and it got better with each passing year.
A good hen lays eggs for three years, but in mixed age flocks, (which most are), the farmer usually can not tell how old each hen is, so it is just a guessing game for retiring hens from the flock. So we are now trying to create specific breeds of chickens, so that the farmers can know how old their hens are. That way they will know which ones to select for culling (4+ year olds). Researching on the Internet, we found that for some breeds, the hens and roosters do not look anything like each other- so it's challenging, yet fun. I am now dividing the chickens up into reasonable breeding groups, based on the closest heritage breeds I can find photos of. We have some real beauties here at the farm, and I include some photos below of the new breeding groups I have created. From these groups we will collect the eggs and hatch the chicks and raise them up and then further select for size and color and egg production, and after three years, we might get some very good breeds for the country.
That is what my grandmother taught me, and really the only way to manage a multi-year flock. I looked online yesterday at chicken breeds to try to figure out what some of my interesting chickens must be related to. Norflok Gray, a very rare breed, seems to have somehow gotten to Fiji long ago, also Welsummer. I can get Sussex and Australorps and Rhode Island Reds, and Anconas, or something that looks similar. One of the breeds is a black rose comb chicken with small red markings around the neck. With these beautiful mostly gold and red roosters, I get what seems to be one of my best layer birds, but these hens often want to set and hatch their eggs. I need to take some good photos of each group.
The hardest thing is to choose the right rooster for the hens of a particular sort, because the hens and roosters do not look anything like each other in many breeds.
If I create the breeds, will people keep them true to form? Or does it fall apart when I am gone?
Addressing Looming Food Shortfall Due to Covid-19 Import Restrictions:
Even more important development is that the chicks of the egg chickens that are needed to maintain the egg industry in Fiji are no longer available in Fiji as the cargo flights are so few. Thus in 9-12 months a shortage of eggs might develop. We do not know how long this situation will hold, but it might be for two years? Without chickens and eggs the poor coral reef fish will have no chance, so our time has come. How can we produce more high quality egg birds in larger numbers?
At the moment, we culled out 75% of our chickens late last year, as we had
had diseases and I was too involved with the corals, plus the hatchery manager resigned as she has a baby. So I am only getting about two dozen eggs a day, up from one dozen last week and only half a dozen the week before that. I have about 70 hens, and so I will be getting 4-6 dozen eggs per day by the end of June.
I called Pranil, a local egg farmer on the coast who I know, as he has 330 young brown egg layer hens. I had wanted to buy 20 of them for crossing with some of my best roosters, but what ended up happening is that I have given him five of my best super roosters as barter. Next he will give me ten dozen fertile eggs per each rooster, or a total of 50 dozen eggs, which I will hatch and begin distributing to the farmers as a 1/2 to 3/4 egg bird cross. Three of ten roosters hatched from a green egg, so I expect some olive egg layers.
Out of the cross, which is the result of dark brown + blue color gene, I will also grow up 50 or so of the chickens. That way I can see how fast they grow and how many eggs they lay etc. for comparison. If they do really well, then we will have layers of 3-4 colors available for free-range small egg farmers. That would really help give the poor farmers a boost.
So fingers crossed that this will work out for maximum benefit for all.
We are also giving out the wonderful coconuts to the farmers and especially those with happy chickens. 5,000 coconut seedlings (back-ordered from 2 years ago & when mature will boast magnificent coconuts) is a lot to deal with.
The chickens all seem healthy now and we sold off 60 of the smallest roosters as they were fighting. At least 7 of the best ones went into breeding on other farms- I could not see people eating those good ones. I still have too many, but how to part with such good stock? Saving them for when I find a farmer like Pranil with some good hens to cross them with sounds like a plan.
Our Reigning Super Star Rooster:
Let me introduce our prince of a rooster, Salusalu, so named because his showy neck rings give him the appearance of wearing a flower lei. He's plump, he's feisty, he's LOUD, he's irresistible, and I find him to be a spirit lifter and interesting company when I go about my morning seed scattering chores. He's so dominant that he gives me confidence the stock will gain increased hardiness during his reign.
Now there have been some mysterious happenings out at the chicken yard. For starters, Hurricane Harold blew through Fiji with a force not foreseen by anyone. The rain was pelting us for days prior and the wind was steadily becoming stronger. I had made my way out to board up the chicken keeper's house, as an extra precaution, and found I could not make headway back to my house. I retreated to shelter with the chickens and our three geese. Who knew what might happen, when POW, the neighbor's roof blew off. Even the tree where the horse was tethered teetered and fell, but the horse had enough sense to get clear. In all the commotion, it was difficult to assess damage.
Next followed nine days without main power, and our cistern of stored water was running down. Luckily, our hatchery has solar power, and that's where we recharged our phone batteries to stay in touch with the outside world.
Last week, I lost two roosters. I thought they had been stolen, but turned out this was not the case. The crafty fellows had ducked under a tear in the fence. Often I use what's on hand for repairs, so I proceeded to fix the spot. Why not re-enforce with the thorns of a bougainvillea? It soon became evident that what started out as a good idea, lacked a great deal in application. Yes, the fence was fixed, but I came away with my hands and face pierced and considerably worse for wear. In one of my better moves, I hired some neighbors to help with the bigger hurricane clean-up tasks.
Happy Chicken land is disease free and gearing up to a return of full chicken levels of 300 chicks per week. A big unknown in the food security of Fiji is whether New Zealand will become Covid-19 free. This is critical because factory bred chickens from there account for 20 million per year. We know these imported standard chickens are not well suited to our tropical climate, but for the present they account for a huge portion of the market. Our methods using natural foraging and supplementing with some other nutrition from unused parts of the coconuts is far superior, but the scale is small. Our plan is to continue breeding and sharing heat hardy, more self-sufficient chickens suitable for supplying villages and culturally the best way to go.
We are ever grateful to all you have done to make this vision of tropical happy chickens a reality. Your generosity has kept the breeding program alive during some bumps and now your help is bringing the production levels safely back up to capacity.