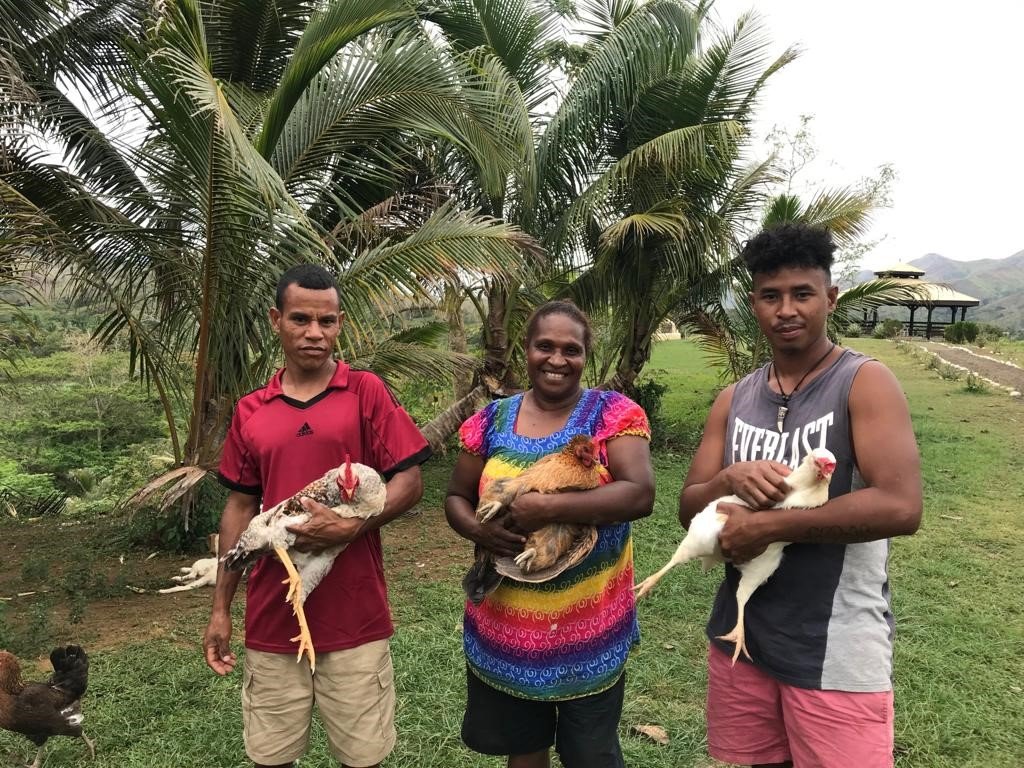 This has been a very exciting time this past month. Last week we said goobye to six community representatives from our biggest Pacific Island nation- Papua New Guinea (PNG). The group: Grace, Igo, Kopsi, Kefin, Malisa, and Alii, were here for four VERY full weeks, being trained in Happy Chicken methods, in participatory methods of community resource management, permaculture farming techniques, and coral gardening to restore coral reefs and local fish stocks.
This holistic training focused on facilitating community well-being and prosperity, through faclitating the restoration of abundant resources provided by nature: including establishing no-fishing and no-hunting marine and forest reserves, and replacing wild-caught foods with home-grown eggs, chickens, and farm products.
The group stayed in our dormatory and helped cook the food. Every evening we shared stories around our traditional "happy circle", before sharing the evening meal together. Grace Manani, an agricultural extension officer with the Central Province government, was particularly good at telling interesting stories about the day, and relating things to her life growing up and living in the PNG bush.
The days of the workshop were educational and sometimes tiring, but filled with laughter and fun. The group learned chicken feed production using local resources: cassava, coconut, and locally available plants, selective chicken breeding to produce more productive and diverse chickens, simple chicken house designs, and how to train free-range chickens to sleep and to lay in their proper place- not in the trees and bushes! They also learned good hatchery managent skills and did planning exercises in preparation for applying what they learned in their own communities on their return to PNG. An in-depth Happy Chicken Manual was produced for the workshop, to reinforce what the trainees had learned, and to assist them with training others back home.
As PNG does not allow the importation of baby chicks from anywhere on earth, we unfortunately could not send chicks home with the trainees. But because of this policy, the demand for good quality chicks is very high and mostly unmet. The first task of the PNG workers will be to create their own breeding flocks, so that they can begin hatching chicks on behalf of the wider community.
The airfares and most expenses were provided by Kyeema Foundation, our wonderful partner organization in Australia. Kyeema will be following up on the progress made by the six PNG trainees over the next few years. On this foundation they/we plan to build up a national Happy Chicken program in PNG. Additional workshops at our Fiji model farm and training center are being discussed for the future.
Without your generous donations, these sorts of capacity building workshops would not be possible. We have succeeded in establishing a functioning hatchery, and have created an improved mixed breed of productive egg laying chickens, providing over 35,000 free-range chickens to poor rural communities throughout Fiji, providing cyclone relief by restoring damaged community poultry flocks, setting up small hatcheries in four remote villages, and bringing in people for training from dozens of Fijian communities- from nine islands and from three additional Pacific countries as well (Vanuatu, Kiribati, and PNG).
Thank you again so much for your kind and loving assisance.