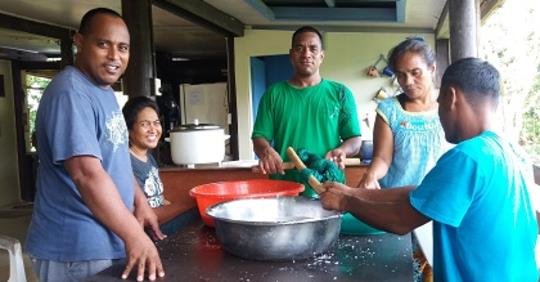 We conducted our very first international Happy Chicken traing workshop at the Fiji farm and hatchery for ten days, 9-18 April. A group of five community representatives flew in from the remote coral atolls of Aranuka, Marakei, and Tarawa, with the transport paid for by an Australian grant to our Kiribati partner, FSPK.
An important revelation of the discussions during the week is that the fish of Aranuka Atoll have become poisonous to eat in recent years, since the corals died in the 2014-15 mass coral bleaching event, which was caused by extremely hot water due to el Nino and climate change. The fish poison "ciguatera" has worsened to the point whereby people are deprived of most reef fish in their diet, with only a few species remaining safe to eat. This makes the chicken project all the more important to the community.
The goal of the workshop was to learn the care and breeding principles necessary to build a successful community poultry programme on each of the atolls. Due to the isolation of Kiribati, the projects must rely totally on local feeds, rather than imported feed. The participants learned about local plant foods, care and feeding, housing, and breeding. Incubation was also taught, using the small incubators that they already have on site. An illustrated handbook was created that includes most of the information, and was given out to the participants.
Additional training included the making of virgin coconut oil (VCO), as a means for de-fatting coconut so that more coconut can be fed to the chickens- full-fat coconut can only be 25% of a healthy chicken diet, while defatted coconut can make up 40-50%. Leucaena and morniga leaves, chopped kumala leaves, and chopped Vigna beach pea leaves are ideally added to the defatted coconut, which ensures that more healthy vegetable matter and complete/balanced protein sources are consumed.
Using the VCO, we demonstrated soap making to the trainees, which was very exciting to them. Coconut oil soap lathers well in brackish water, and is better for the atolls than imported soaps. Dried seaweeds, brought to Fiji from Kiribati, were made into seaweed gel, and then used to make kimchee pickles and coconut jelly pie. The biggest hit was the after-shower gel, made from seven parts seaweed gel mixed with one part VCO, scented with vanilla and orange oil. Everyone took a bottle home, with plans to make their own.
As Ruiti, the FSPK Director, had a permit for bringing seeds back, we spent time preparing and drying various vegetable and fruit seeds from around the farm.
Each participant was sent home with an efficient coconut grater, a strong bucket, watering dishes for baby chicks, a roll of 1cm wire mesh for making a mobile rearing pen (7 meter x 75cm), a 500 gram bottle of caustic soda for making soap, and ample chick starter feed.
We will send the baby chicks via plane to Kiribati next week, and FSPI will follow up on the atolls. We are also planning for follow up visits, as resources allow.
The former president of Kiribati, Mr Anote Tong, visited the farm to view the project last week, right on the heels of the Kiribati workshop. This historic visit was filmed by Netherlands TV, and will be aired in several countries in Europe. This visit was a great honor for the Happy Chicken project and the farm staff, and we hope the filming will result in some good exposure as well.
Thanks so much for your support in making this vital work happen.