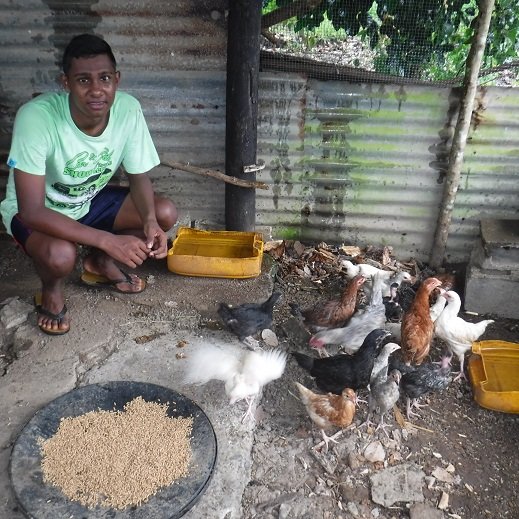 The Happy Chicken project reached another milestone in January, with over thirty thousand chicks produced and distributed over the past six years. In 2018 we conducted happy chicken workshops at the training centre for communties from the remote islands of Taveuni, Kadavu, and Beqa, and from two communities from the province of Naitasiri.
Our first workshop of 2019 started yesterday, with seven youth coming five hours by bus and carrier from the remote interior village of Nandelei in Tavua. As always we have head-started chicks to the two-month old stage, so they have a high probability of survival and will begin laying in only four more months. The community will take over a hundred of these back with them to grow into their own breeding flock.
Our hatchery is closed for two months as we are installing solar power thanks to a grant from New Zealand. Also the number of eggs laid is down to a tenth of what we get in the high season, as most of the hens are undergoing their annual molt, changing their feathers and building up resources for another year of laying. All the hens free-range and have constant access to forage, their pen doors are open all day, which can be a problem at times with chicken poo on the doorstep or hens sometimes trying to hide a nest and hatch their own chicks. We had three such renegade nests thatch last year, only seen when the mother hen parades her chicks into full view. We quickly put the hen with her brood into a mobile rearing pen to protect the chicks from hawks and mongooses.
We continue to be improve our diverse mixed breed by rearing up a hundred or so chicks every year, and then selecting the largest roosters, and changing the older roosters for the younger males, selling off the older roosters to the neighbors during the New Year holiday when relatives come calling. The hens lay for 3-4 years, and are retired only when they begin stop laying well. Our eggs are distinctively diverse in color, ranging from dark brown, to tan, to white, to cream, and even to light blue and green, and we have seen these eggs for sale manay times in the Sigatoka market this past year, which is a good indicator off project success.
I will close with a story of Rahul, pictured below with his Happy Chickens. This is the boy who became the head of the house when he was just 14- caring for his younger sister and unmarried aunt. His mother died of cancer in 2015, and his father, a bus driver, was shortly afterwards imprisoned for five years, all because a young teenage passenger on his bus jumped from the bus unexpectedly and as killed. Without going into detail on this injustice, we have been helping Rahul in several ways, including happy chickens. Two years ago, Rahul successfully raised up several dozen chickens, selling the eggs. He recently he sold off the older birds to help support the family, and he is now is raising up another lot of chckens as he continues developing his small business. His father wil be released in January, 2020. Which will be a big relief, and Rahul will graduate from secondary school in 2021.
Thank you all for making these works of love possible.