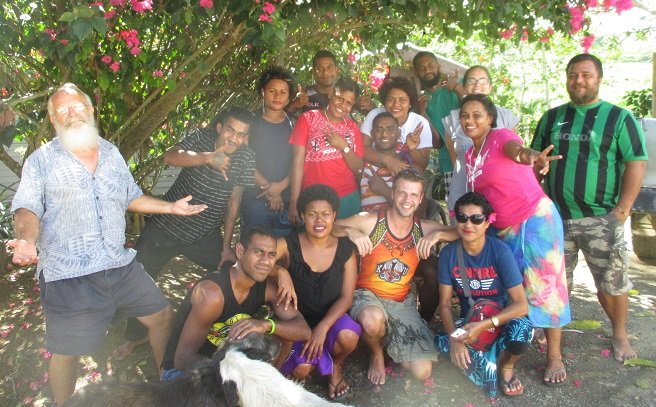 We just last week finished up two weeks of training for 22 traines - seven men from Kadavu, seven women from Taveuni, and joined on the second week by eight from a local NGO who work with communities in the provinces of Tailevu and Naitasiri.
The Kadavu trainees arrived after one full day of travel by boat and bus, while the Taveuni women travelled for two whole days to get the the farm- three hours by boat to Vanua Levu, then a six hour bus ride acoss the island, a seven hour ferry ride to Suva, and a three hour bus ride to the farm.
Two US Peace Corps volunteers, Courtney stationed on Taveuni, and Wade stationed on Kadavu, organized the communties and will be folloing up over the next year to help ensure project success. Much of the cost was covered by grants from the Fiji PC Offiice.
After five days of Happy Chicken training, we began additional livelihoods traing, which included virgin coconut oil production and soap making.
We sent with the communities larger four-week old chicks that we had raised up, 130 for Kadavu and 75 for Taveuni. The goal is to create breeding flocks to increase the project. We aso sent with the trainees materials for a mobile rearing pen, chicken feed, and cuttings of perrenial plants grown as feed sources for the chickens: Moringa and Costus. The chickens and associated costs were all covered by donations through GlobalGiving.
The participants left us happy and encouraged and full of hope for the future. We have received word that all of the chicks made it safely to their respective destinations.
An additional 45 of these larger chicks were sent last week to Beqa to the women's group there who were trained earlier in the year. An additional 75 chicks- now five weeks old, will go up into the interrior of Naitasiri nt week, to the trained communities. We are very busy!
Thanks so much for touching these communities and helpng make this all possible.
Austin