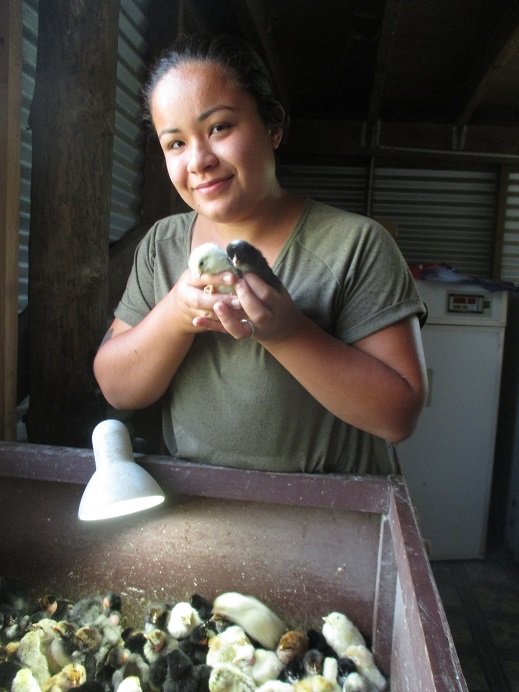 The hatchery is again fully operational, with 250-300 chicks hatching every week. A big obective is to continue improving the local chicken breeds through selective breeding. With that in mind, all of the breeding roosters were changed in April, as the one-year olds were getting too big (4-5kg), and their long and sharp spurs were beginning to hurt the hens. All hens are kept as layers for at least three years. The diversity of feather color and egg color is amazing, the eggs range from brown to tan to white, to light blue and dark green. Eggs- clearly from our chickens- are now appearing for sale in the markets. Productive and happy chickens are making a real impact on the communities and farmers.
Farmers from all over the area want the chicks, which are now clearly recognized as being much better than anything that is available imported from overseaas, or locally hatched. The people come on foot, by car, even on horesback, to purchase the chicks, sold at $2. Fijian = $1 USD each, which is helping make the project more self-sustaining. About 20% of the chicks contiune to be donated free of charge to workshop participants and to the poorest farmers- widows, disabled people, the elderly, etc. Materials for pens and feed are also donated to workshop graduates, selected from the poorest communities and those impacted by the recent hurricanes and floods. We have also sent seven small incubators out to the comunities and we there is a need for purchasing more.
The last week-long workshop, with 18 participaants was in late June. We have since raised up close to 100 chicks to the eight-week stage, and they are now ready for sendng to the interrior vllage of Wairuarua, Naitasiri. Additional chicks are being raised for the trainees from Beqa Island, and fertile eggs are being sent to Koro Island to support the small hatchery we helped establish there.
The big news is that with our increased prosperity from farm sales, we have been able to provide a stipend for a full-time hatchery manager, Mrs. Nicole Raivoka, 23 years old and a graduate of Environmetal Studies at the University of the South Pacific. Nicole is gaining work experence, and she loves the chickens. We are so thankful for the much needed help.
More news! We have secured funding for installing solar power to the hatchery! This will be a BIG help as the power goes out so often at the farm, and for days on-end, during floods and after cyclones. We need to get this done and dusted by November when the cyclone season begins.... for now we are in a drought and eperiencing very cool weather down to 13C (57F) at night. But it is good for the chickens, as they are thriving and producing over ten dozen eggs a day, about 2/3 of which go to the hatchery. Any eggs that are too small, too big (double yolked), deformed, cracked, or dirty are used for food.
Thanks so much to our donors for your generous support, which makes this all possible.