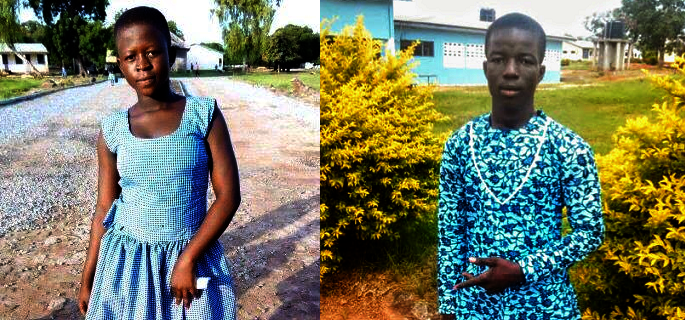 We're happy to bring you stories about two successful students of the Ghana public library Hands-on Computer Classes project. Both children passed the Basic Education Certificate Exam (B.E.C.E.) with excellent grades, and have progressed to secondary school. The project, in which mobile libraries packed with equipment travel to under-resourced schools to conduct practical computer skills classes, helped them pass the subject ICT (computers and the internet).
Cliff from Ashanti Region, achieved a Grade 1 pass for his ICT exam in 2018. He is now a student at Adu Gyamfi Senior High School, where he is concentrating on the subject General Science - his dream is to become a medical doctor. Cliff's family cannot afford a home computer, and the hands-on computer classes have had a great impact on his life. During the gap between basic school and secondary school, he was able to get a job at an internet café. "I could be productive in my holidays, help others - and earn some money," he said.
Mary, from Upper East Region, scored a Grade 2 pass in ICT, and is now at Bongo Senior High School. "What I liked most about the library's weekly classes was learning to use the internet. I now have an email address, I can go into my in-box and receive messages from friends, relatives and teachers. Thank-you for helping me pass my B.E.C.E!" said Mary.
The four regional public library vans have been off the road for a short while, for much-needed refurbishing and maintenance. Newly painted bright green, and packed with solar-powered computers and modem internet bought with your support, the vans will start travelling to schools again in May 2019.
Children from poor and rural areas who fail the B.E.C.E. - the exam that determines progress to secondary school - often drop out because their families cannot afford to keep them in school. In 2018, 85% of the children who attended the libraries' practical computer skills classes passed ICT in the B.E.C.E. In 2015, when the project started, the average pass-rate was just 45%.
"I can proudly say that ICT was the subject with the highest and best grades in the B.E.C.E in 2018," said a teacher from Western Region, Ghana.