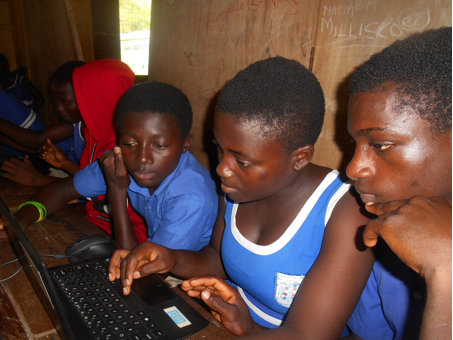 In 2018, a record 847 children who attended public library hands-on computer classes in poor and rural areas of Ghana passed technology (ICT) in the Basic Education Certificate Exam (B.E.C.E).
"I can proudly say that in 2018 ICT was the subject with the highest grades in the B.E.C.E. The project has transformed the children to become computer literates!" said the Head Teacher at Aboadze Catholic Junior High School in Western Region.
The average pass rate in 2018 marks a high-point for the Hands-on computer classes project: in 2015, when the project started, the average pass rate was just 45%; in 2016 it was 65%, in 2017 it grew to 81%, and in 2018 it was 85%.
These results are a tribute to your generous support through GlobalGiving. They are also a tribute to four years of hard work by regional librarians who, every week, travel long distances over rough roads to 20 schools bringing laptops and internet to give thousands of children hands-on experience of computers. Because textbooks are scarce, the laptops are pre-loaded with educational materials, so that the children also have the opportunity to study other school subjects.
The 847 children who passed in 2018 are from schools in Ashanti, Upper East, Volta and Western Regions.
"When we can practice, the examination becomes very easy because we always remember what we practice! The library's classes have also helped us students to do online research - and to acquire more information about what we are taught in class," said a student from Western Region.
Thank you again for your support. Now let's see if we can achieve even better results in 2019.