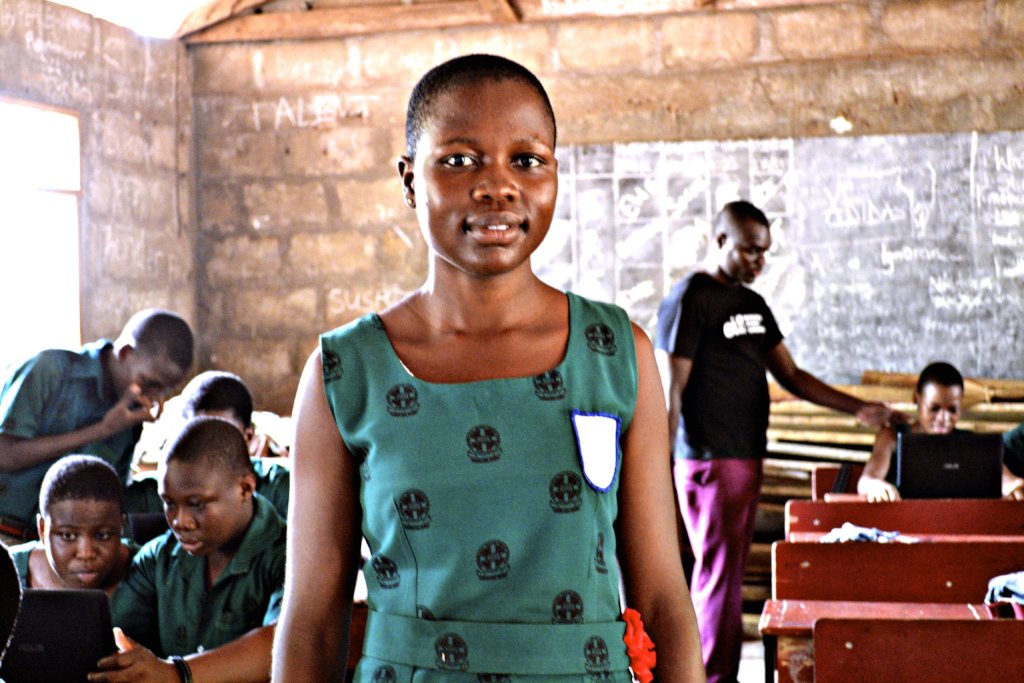 Anna, aged 17, is now a proud student at secondary school, and well on the way to achieving her dream of becoming a policewoman.
Thanks to your support for the EIFL Hands-on Computer Classes project, in July this year Anna (not her real name) passed the crucial Basic Education Certificate Exam (B.E.C.E), which determines progress to secondary school. To get through the B.E.C.E, children must pass their ICT exam.
"The hands-on computer classes helped me pass the ICT exam, and also my English exam, because of the reading," said Anna.
Failing the exam would have been devastating. "It would have been the end of my education. I would have just been at home because to repeat the exam is expensive," explained Anna, whose parents make a living from farming and trading in Volta Region in Ghana.
Anna's story is one of many - and that is why we are asking you to join our #GivingTuesday fundraising campaign on 27 November, when we're hoping to raise another USD5,000 to improve and continue the project.
Through the project, 1,800 children attending 17 under-resourced schools in four regions of Ghana attend practical computer skills classes offered by mobile libraries. Library vans packed with solar-charged laptops, modem internet, screens and projectors travel to each school three times a month. During each visit, librarians conduct two practical computer skills classes. The laptops are pre-loaded with educational materials, and so - in schools where textbooks are scarce - the children also have the opportunity to read and study.
In 2017 the project contributed to an 81% pass rate in the ICT exam at B.E.C.E. level at 17 schools in the four regions. This is a remarkable 36% more than in 2015, when the project started.
Our #GivingTuesday fundraising campaign will help us improve the quality of the classes. Help us to celebrate our project's great results by donating through the GlobalGiving platform, and by sharing our project through your social media and networks with others who might be interested in offering support.
"The library's classes have changed my future. I need the skills, because I know they use computers in the police stations. Thank-you so much!" said Anna.